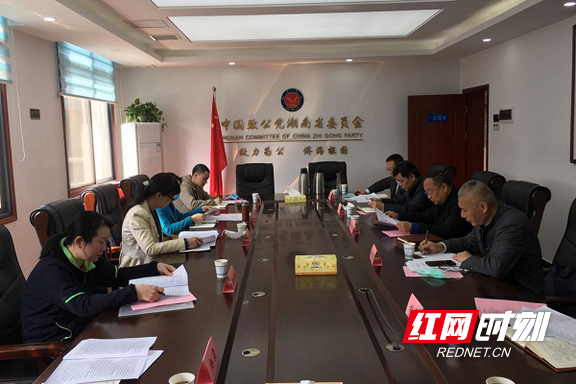 On the afternoon of April 7, huang fang, secretary of the CPC leading party group of Hunan FOC and five members of the delegation paid a visit to Hunan committee of Zhigong party. Xiang Zuoyi, vice chairman oof Zhigong party Hunan committee , vice chairman Liu Danjun attended the meeting.
Xiang Zuoyi introduced to the history of Zhigong party and the highlights of the work of Hunan committee in the fields of political participation and discussion, organizational development, social service and overseas liaison in 2019 and the work plan for 2020. Xiang said that as overseas Chinese related units, the two sides have conducted friendly cooperation for many years and jointly established the characteristic brand of overseas returnees forum. This year, the two sides may conduct further cooperation and research in the areas of political participation and discussion, "opening up and invigorating hunan" and "safeguarding the interests of overseas Chinese", so as to strengthen communication and carry out close cooperation on talents with overseas Chinese background.
Liu introduced the research and supervision of overseas Chinese enterprises and the implementation plan of "double assistance and double action" for Hong Kong, Macao and Taiwan compatriots and overseas Chinese affairs committee of the CPPCC provincial committee. The two sides also exchanged views on the preparatory work for co-hosting the seventh overseas returnees forum.
Huang fang said that Hunan committee of Zhigong party and Hunan FOC have cooperated in the work of new overseas Chinese, creating a brand project with national influence, such as "overseas returnees forum". During this visit, we hope to strengthen the ties between the two sides, strengthen communication and coordination during the activities such as the 7th overseas returnees forum, overseas Chinese enterprises research, and double assistance and double action, so as to make joint efforts in the cause of overseas Chinese.