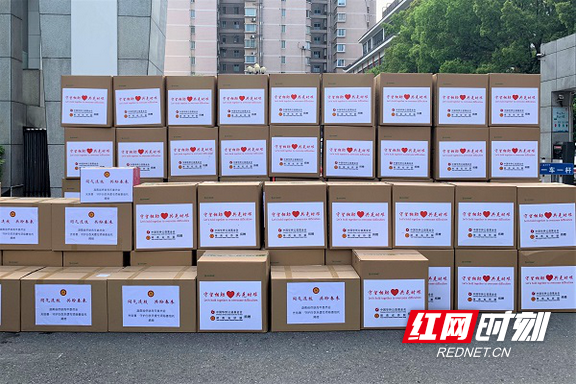 On April 13 afternoon, Hunan FOC and China overseas Chinese public welfare foundation donated 5000 "Chinese love health" kits to Kenya, Germany, the United Arab Emirates (UAE), Laos, Italy, Spain, Britain, the United States, South Africa, Canada, Australia and other 11 countries and 19 communities. The kits included a total of 100000 medical masks, 40000 medical gloves. In addition, the provincial youth committee for overseas Chinese donated 15,000 surgical masks to overseas Chinese groups in UAE, Botswana and Zambia associating with the Guangxinshan White Angel Charity Trust.
Since the outbreak of the overseas epidemic, Hunan FOC has shipped four batches of epidemic prevention materials to help overseas Chinese fight aginst the epidemic. In recent days, Hunan FOC has fully mobilized the forces of the overseas Chinese community to collect information on the local epidemic situation and the needs of overseas Chinese for epidemic prevention materials, extensively collect epidemic prevention materials through multiple channels, and do a good job in overseas donation, so as to provide assistance for the epidemic prevention and control of overseas Chinese to the greatest extent.
China overseas Chinese public welfare foundation is a national public fund initiated by the China federation of overseas Chinese and approved by the ministry of civil affairs of the People's Republic of China. Its aim is to carry forward the fine tradition of overseas Chinese who are enthusiastic about public welfare undertakings, support the development of overseas Chinese undertakings and various public welfare undertakings concerned by overseas Chinese, such as economy, culture, science and technology, education, health and welfare, and serve the society and overseas Chinese.