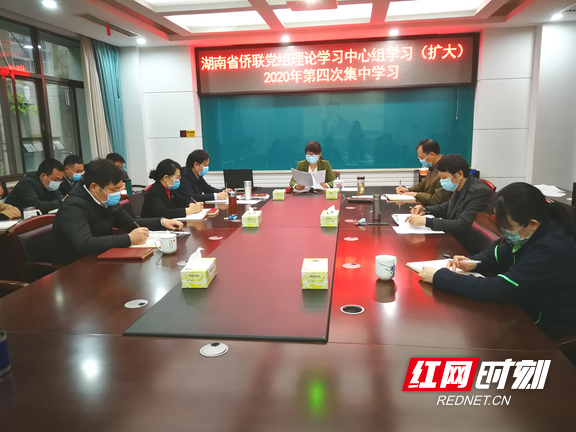 The party group of Hunan FOC held the 4th concentrated study in 2020.
On April 20, the theoretical learning center group of the leading party members' group of Hunan FOC held the fourth intensive learning in 2020, with members of the center group and all party members' cadres attending.
The meeting communicated the central spirit f April 17th propaganda minister meeting of the political bureau, watched the video on Xi Jinping's discussion on the three characteristics of Iideology, learned the" stick to marxist guiding status in the field of ideology the fundamental system of the ideology of work leadership firmly and provincial federation of file system to carry out the ideological work responsibility system.
Li Zuyuan, member of the leading party member and vice chairman of Hunan FOC, said in his speech that it is necessary to firmly grasp the initiative in ideological work, enhance political awareness, enhance learning, enhance the awareness of the overall situation, show the unique work of the federation of overseas Chinese, enhance the sense of responsibility, and strictly implement the responsibility system of ideological work. We will strengthen political guidance for the masses in the overseas Chinese community, and educate and guide them to practice "overseas Chinese's devotion to the party."
At the meeting, members of the central group discussed and communicated about the learning content.
Huang Fang, secretary of the CPC leading party group of the association of overseas Chinese, demanded that we should earnestly study the important exposition of general secretary xi jinping on propaganda and ideological work, and fully understand the significance of ideological work and the complexity and severity of ideological work. All party members and cadres should bear in mind that FOC is a political organ, improve their political standing, and deeply understand the importance of implementing the responsibility system for ideological work. It is necessary to connect with the actual work and fully understand the important position of ideological work in the work of FOC. To strengthen the theoretical study, and constantly improve the ability of ideological work; We must earnestly fulfill our responsibilities, conscientiously fulfill the responsibility system for ideological work, and ensure that ideological work within the scope of our respective work is effectively carried out.