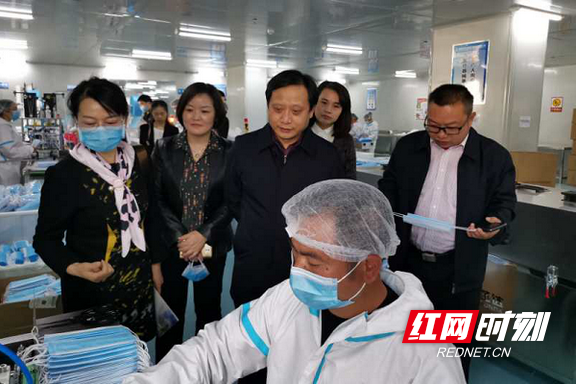 Investigating the production of masks and protective clothing in workshop.
Recently, Sun Minsheng, member and vice chairman of the leading party group of Hunan FOC, went to enterprises and industrial parks in Shaodong and Longhui to investigate the situation of overseas Chinese enterprises' resumption of production and the implementation of preferential policies to support enterprises' production, especially the implementation of special policies for overseas Chinese enterprises.
In Shaodong Longyuan Pioneer park, Liu Chunying, chairman of Thailand Hunan chamber of commerce and Shaodong Longyuan small and medium enterprise pioneer park, said that the outbreak of epidemic, especially affected export trade. Some orders cannot be exported, meanwhile masks, protective clothing raw materials supply gets tight.
Sun Minsheng gave full recognition to the outstanding performance and strong sense of social responsibility of the overseas leaders in the epidemic. He said that the current epidemic prevention work can not be relaxed, especially labor-intensive enterprises. Enterprises ought to do a good job of protection, to achieve a normal outbreak prevention and control. Enterprises should turn the crisis into an opportunity, seize the opportunity, use good policies, and do a good job in production. FOC at all levels should integrate the resources of overseas Chinese, open up channels for overseas Chinese, and do a good job in serving them. Meanwhile, they should strengthen the construction of grassroots organizations, innovate working methods, unite the masses of overseas Chinese extensively, and provide a strong organizational guarantee for the development of the cause of overseas Chinese federations.
In Huaxing industrial park of Longhui, the research group had a detailed understanding of the planning and construction of the park and the production and operation of the enterprises, and conducted field research on the targeted poverty alleviation project of Xiangjia village. Sun Minsheng pointed out that the park should be planned and designed with high standards, highlight local characteristics, continuously improve public service functions, and continuously improve the carrying capacity and attractiveness of the park. Enterprises should fulfill social responsibility and realize social value. Overseas Chinese associations at all levels should provide services for the development of enterprises.