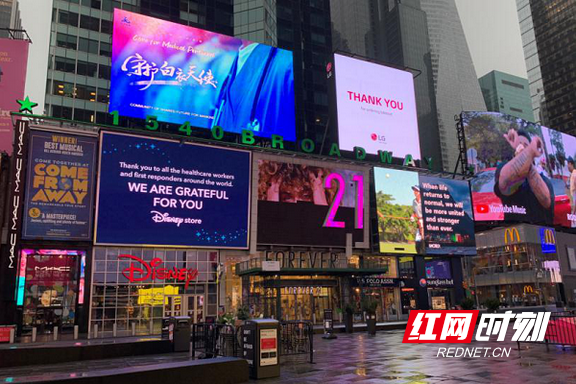 "Care for medical personnel", on the Disney screen in times square, New York
The covid-19 epidemic is a common challenge for humans. "Care for medical personnel" has been playing on the Disney screen in New York's times square since April 13. The public service advertisement, broadcasted by the guardian angels in white charity trust, advocates for community shared future for mankind.
Special charity trust "guardian angels in white" project was launched by Hunan FOC, China Everbright Trust, East Rainbow Waterproof, Beijing Darwin Biology, Hunan Kunyin Medical Industry, Hunan Hengju Media, Hunan Xianghuang construction, Hunan Langdezhian, and jointly sponsored Huang Tiansheng, Tian Zhichao, Quan JiWei, Hua Yuanyuan, Gu Ming, Zuo Fei and other individuals.
The "guardian angels in white" charity trust gives full play to the advantages of the platform and coordinates the resources of all parties to participate in anti-epidemic assistance. Up to now, it has successfully contacted and funded three family members of "frontline personnelS" who died in the line of duty during the epidemic and made important contributions to the prevention and control of covid-19. In addition, the "guardian angels in white" charity trust also donated 3,000 disposable surgical masks to the French hunan chamber of commerce in cooperation with the hunan provincial committee of youth for overseas Chinese. Fifteen thousand surgical masks were donated to overseas Chinese groups in the united Arab emirates, Botswana and Zambia.