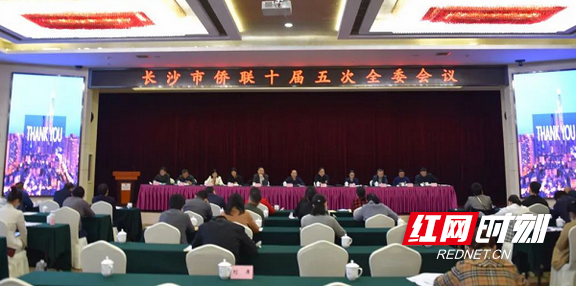 Changsha FOC held the 5th plenary meeting of the 10th session.
On April 21, the 5th full committee meeting of the 10th Changsha FOC was held to convey and learn the spirit of the 3rd full committee meeting of the 10th overseas Chinese federation of China and the 2nd full committee meeting of the 8th Hunan federation of overseas Chinese. Sun Minsheng, vice chairman of Hunan FOC, Tan Xiaoping, member of the standing committee of Changsha CPC committee and minister of the united front work department attended the meeting and delivered a speech.
Chen Hui, chairman of Changsha FOC, on behalf of the 10th standing committee of Changsha FOC, made work report. According to the report, in 2019, Changsha FOC actively carried out overseas fellowship activities around the city's central work, gave play to its advantages to attract investment and wisdom, and extensively pooled the strength of overseas Chinese community to serve the high-quality development of Changsha. In 2020, the federation will carry out thespirit of CPC's 19 fourth plenary session of 2, to solid foundation, improve ability, innovate workstyle, improve influence.
Tan Xiaoping said, to maintain the epidemic prevention and control achievements, prevent the outbreak rebound, and pay attention to the overseas epidemic, guide the overseas Chinese scientific epidemic prevention; We should focus on the overall service of the center, help overseas Chinese enterprises to resume their work and return to production in an all-round way, make overall plans to do all the key work of the overseas Chinese federation well, and constantly improve the work of the federation.
Sun Minsheng fully affirmed the achievements made by Changsha FOC in 2019. He pointed out that overseas Chinese associations at all levels should improve their political positions, closely unite returned overseas Chinese and their relatives, strengthen their ideological and political guidance to the masses of overseas Chinese, actively change their work ideas, pay attention to the construction of grassroots organizations, be a good example of overseas Chinese and returned overseas Chinese and their relatives, and truly unite the masses of overseas Chinese around the organization.
The meeting also heard a report on the fund revenue and expenditure of the municipal overseas Chinese federation since 2019 and the fund-raising and materials raised during the fight against COVID 19 epidemic.
More than 60 people attended the meeting, including Hong Yefan, Mao Binghua, Luo Zhenrong, Yi Zhuo, vice chairmans of Changsha FOC, members of the 10th committee, members of the standing committee, members of the committee, advisers and leaders of all districts and counties (cities) of the federation of overseas Chinese.