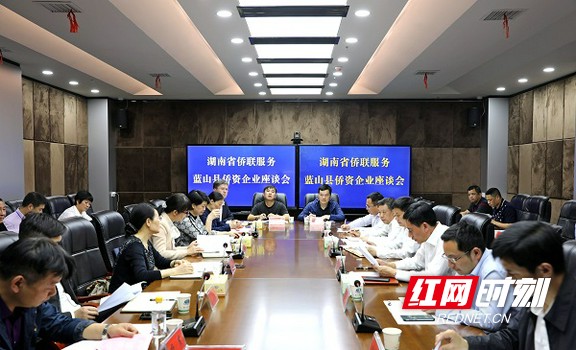 On April 27, 2008, Huang Fang, secretary of the CPC leading group of Hunan FOC, led a team to Yongzhou for ffield research on the resumption of work and production of overseas Chinese enterprises and the implementation of policies at the central, provincial and municipal levels.
Huang Fang has been to overseas Chinese enterprises and hunan overseas Chinese tongxin industrial park (blue mountain) and Wenlei village, the city's overseas Chinese construction demonstration base in Lingjiaotang town. In each place, Huang Fang carefully understood the impact of the epidemic on the enterprise, as well as the current operating situation and existing difficulties and problems, and asked relevant departments at all levels to strengthen the contact with overseas Chinese enterprises, take the initiative to connect, for the enterprises' sustainable and healthy development.
At the symposium for overseas Chinese enterprises, Huang Fang gave full recognition to the achievements made by Lanshan county party committee and government in the development of the park, encouraged overseas Chinese enterprises to tap potential in combination with the actual situation, seize opportunities, do a good job in industrial upgrading, and constantly plan new ideas for enterprise development. She encouraged overseas Chinese to spare no effort to promote overseas Chinese industrial park, further do a good job to promote the relevant resources to overseas Chinese industrial park. She said that we should spare no effort to help overseas Chinese industrial park enterprises products go abroad and make contributions to the development of hunan's open economy. We should spare no effort to solve difficulties for overseas Chinese enterprises in the industrial park, take the initiative to do a good job in connection with the service, and help overseas Chinese enterprises to do a good job in the comprehensive resumption of work and production.
During the research, Huang Fang and his delegation also held a consultation with Jiang Shansheng, the party secretary and chairman of the CPPCC committee of Yongzhou, on the proposal of establish the "fishermen's day".