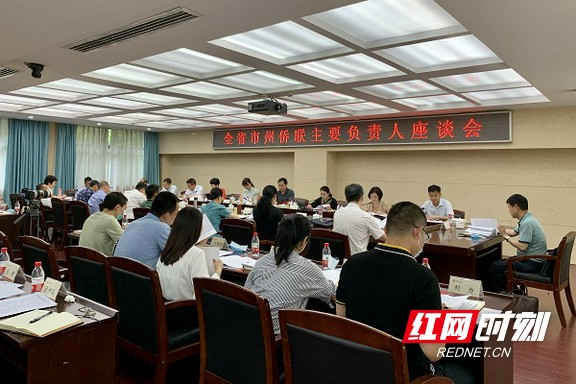 The symposium for principals of municipal FOCs was held in Changsha.
On May 19, Hunan FOC held a symposium for principals of municipal FOCs. Huang Fang, secretary of the CPC leading group of Hunan FOC, attended the meeting and made a speech. Sun Minsheng, member of the CPC leading group and vice chairman of Hunan FOC, presided over the meeting.
The meeting conveyed the spirit of relevant documents of the provincial party committee and the provincial joint prevention and control mechanism for epidemic prevention and control. Principals of the branches of the provinvial FOC and the municipal and prefectural FOCs made speeches on the construction of grassroots organizations, the current situation of overseas Chinese, the prevention and control of the epidemic, and put forward opinions and suggestions on the work the rest year.
Huang Fang gave full recognition to the achievements made by the overseas Chinese federation of all cities and prefectures since the beginning of this year. She pointed out that due to the epidemic, the work of FOC this year should be carried out in accordance with the general idea of "focusing on the grassroots, laying the foundation and practicing internal skills". She urged the officials of the provincial FOC to always adhere to the correct political direction, listen to the party's words, follow the party, and strengthen the political guidance of overseas Chinese and returned overseas Chinese relatives. We would implement the decisions and arrangements of the central, provincial and municipal party committees and focus on the overall situation. We need to continue to prevent the importation of covid-19 cases and provide support for epidemic prevention to overseas Chinese. We should unite and pool the strength of overseas Chinese enterprises in the province to help them resume work and production as well as social and economic development. We need to do a good job in securing a decisive victory in the fight against poverty. We need to make a comprehensive review of the achievements of the fight against poverty over the past five years. It is necessary to do a good job in ideological and information propaganda work, grasp the correct direction of public opinion, correctly understand the role of the overseas Chinese special report, and fully mobilize the resources of the overseas Chinese community to make use of the platform to offer Suggestions and Suggestions. Huang fang also made specific arrangements for the next stage of grassroots organization construction and other work.