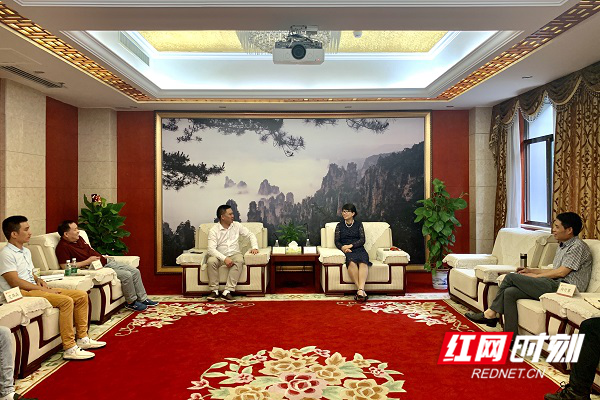 On May 21, Cambodian federation of overseas Hunanese merchants paid a visit to Hunan FOC. Huang Fang, secretary of the CPC leading group of the association, met with the visiting guests and had a discussion with them.
Ai Shengfu, President of Cambodian federation of overseas Hunanese merchants, made a brief introduction on the basic situation and development status of the association. He said that with the promotion of the "One Belt And One Road" initiative, the investment environment in Cambodia continues to improve, and the federation is deploying the next phase of work to provide a better service platform for the Hunan fellow in Cambodia.
Huang Fang extended a warm welcome to Cambodian federation of overseas Hunanese merchants and thanked the federation for raising donations to support the fight against the epidemic in his hometown. She hoped that the federation would unite with local overseas Chinese in the process of development, and unite with other overseas Chinese organizations for friendly and harmonious development, so as to jointly maintain the overall image of overseas Chinese of Hunan nationality, and Mr president would enhance his personal leadership and the influence of the overseas Chinese merchants association in the local area, and promote the development of overseas Chinese associations, enterprises and individuals. The association was willing to provide assistance within its capacity to help the development of the association and the overseas Chinese. At the same time, I also hope to publicize the outstanding cultural and development achievements of hunan to the overseas Chinese in Cambodia and Hunan through the federation, so as to promote the friendly exchanges and development between the two places.
Established in September 2019, Cambodia hunan overseas Chinese merchants association is a bridge linking the Cambodian government with enterprises, enterprises with enterprises, Chambers of commerce with Chambers of commerce, and people from hunan in Cambodia. It is a platform for enterprise members to communicate with each other, exchange information, share business opportunities and help each other. It plays an important role in promoting the communication and cooperation between Cambodian and hunan enterprises.