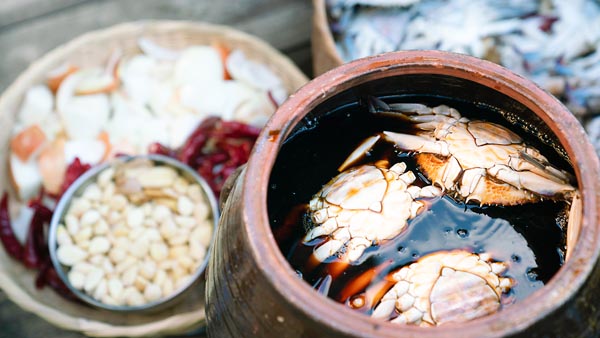 Still image from the second season of Once Upon a Bite features raw crabs marinated in soy sauce.[Photo provided to China Daily]
Documentary maker focuses on dishes from around the world as he serves up interesting facts on a plate, Xu Fan reports.
When China Daily called director Chen Xiaoqing to interview him on his latest hit, the second season of Once Upon a Bite, the man-hailed as one of China's best food storytellers-he was sipping an India pale ale in the United Kingdom.
Even during the most stressful period when he could only sleep four hours every night during the post-production procedure, Chen has tried to cook for himself as much as possible.
Interestingly, a few hours before the call, Chen had just cooked his lunch; bitter gourd with ribs, fried spicy green peppers, luffa soup with dried scallop, and fried rice with preserved vegetables.
"I have to admit I'm sort of picky about food. Even while ordering takeaway dishes, I prefer to tweak them to make them taste better. For many people, cooking might be boring and tiring, but it's always a lot of fun for me," says Chen.
Although Chen says he is still far from being qualified as a gourmet, his enthusiasm for fine food and drink has paid off.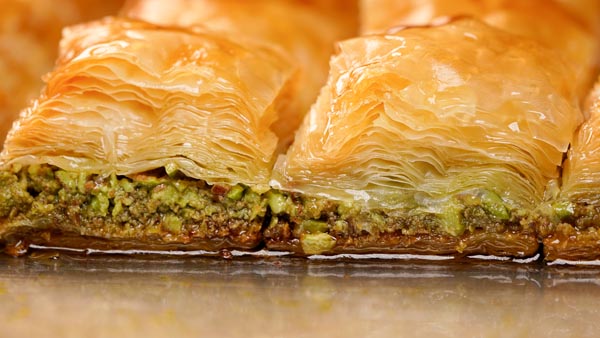 Still image from the second season of Once Upon a Bite features baklava, the renowned Turkish dessert.[Photo provided to China Daily]
Thanks to smash hits like A Bite of China, the 54-year-old Chen has garnered a bunch of TV awards, shooting to fame and accumulating a big fan base, exemplified by nearly 1.9 million fans on Twitter-like Sina Weibo.
Recently, the second season of Once Upon a Bite-which made its debut on the streaming site Tencent Video on April 26-has become an instant hit, notching up 9.3 points out of 10 on the popular review site Douban.
With eight episodes, the sequel revolves around eight themes; sweetness, crabs, chop suey and haslet, chicken, eggs and roes, sauces, sausages and vegetable roots.
The documentary has many mouth-watering close-up shots, varying from king crabs hunted in Norway's icy seas to exquisitely cooked "thousand-layer" pancakes from Yangzhou, East China's Jiangsu province, and spiced goose glittering in the light from South China's Guangdong province.
Within around 16 months, the crew carried out research, polished the script, traveled across 25 countries and regions like the United States, Malaysia and the Philippines, to shoot exotic stories of more than 300 types of delicious food.
But the shooting has yet to be completely finished, as it was halted for around two months by the COVID-19 pandemic, says Chen.
"The microscopic camera team that we cooperate with had purchased microscopes, and used their own kitchens to research the change in food while it is being cooked," he adds.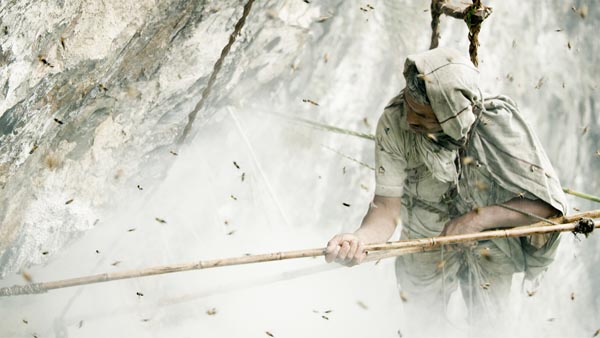 Still image from the second season of Once Upon a Bite features a Nepalese honey hunter working on a vertiginous cliff.[Photo provided to China Daily]
Close-up shots featuring such mouthwatering changes, ranging from the seepage of melted fat from a slice of fried pork to the puffy inflation of a piece of dough in an oven, are the most attractive to audience, according to Chen.
But China's screens have never been short of food-themed productions. What makes this documentary a feast for the viewer is its ability to go beyond merely displaying delicious food.
"We want to trace how similar foods are treated differently in different areas across the world, which could be an interesting perspective to discover the diversity of civilization," Chen explains.
"I often hear debates about which kind of cooking is the best. But I think it may be a bit narrow-minded if people believe there is only one system of criteria to judge cooking," he adds.
"Different cuisines all deserve being treated with respect. That helps us to understand the complexity and diversity of our world."
In addition, Chen and his team-11 directors in charge of different episodes-have turned the lens to some exotic, eye-popping scenes shot from far-flung areas where domestic photographers rarely set foot before.
For instance, the opening scenes of the first episode take on the aspects of a thriller, as a 59-year-old Nepalese man risks his life to scale a vertiginous cliff on a swinging rope ladder in order to get honeycombs of the Himalayan giant honey bee. He only gets a 50 percent cut of the treasure-a tribal tradition states that the collectors take half of the honeycombs, and leave the rest for the hardworking bees.
Aside from the gifts of nature, the documentary also traces the spirit of craftsmanship that has been passed on for generations.
In a story played out in Turkey, a young baker rolls out a dozen layers of dough, pressing them at the same time to ensure each layer is paper thin. But after years of doing this he would not yet describe himself as a master of the renowned Turkish treat, baklava. There are still some aspects of the job that he is not familiar with.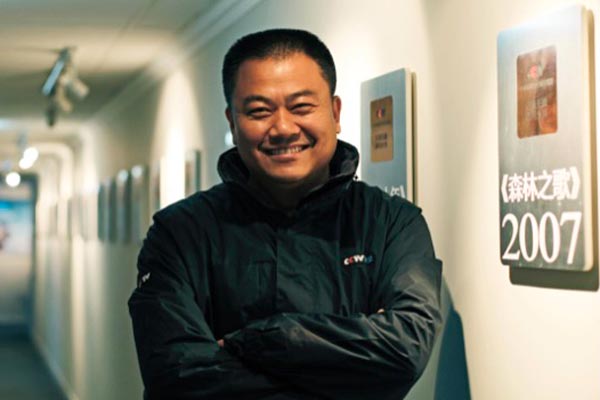 Chen Xiaoqing[Photo provided to China Daily]
The global trips have also brought unexpected challenges to the crew. For director Li Yong, the most impressive journey was to sail with six colleagues to shoot king crabs fishing on a Norwegian ship in a raging sea.
As one of the cameramen tried to stand on the front of the ship to get the best visual effect, the Norwegian captain worried that a swinging iron cage for hunting king crabs may hit him, insisting they stop shooting.
"The temperature is around minus 20 C in the water. No one can survive more than 2 minutes if they fall in," says Li.
In spite of unexpected risks, language barriers and a pressing deadline, director Chen says his team has a passion for documentary, and want to raise the bar for domestic documentaries, a niche in China's TV and streaming market.
Chen wants Chinese documentaries to win a bigger influence with more quality work.
"Six years ago, I visited a studio in the United States and studied some of the cutting-edge technology. I established my own documentary production company after I returned to China. We hope we can be the front-runner in our industry, which not only requires the support of technology, but also needs us to raise our storytelling skills as well as our perception about the world," he says.