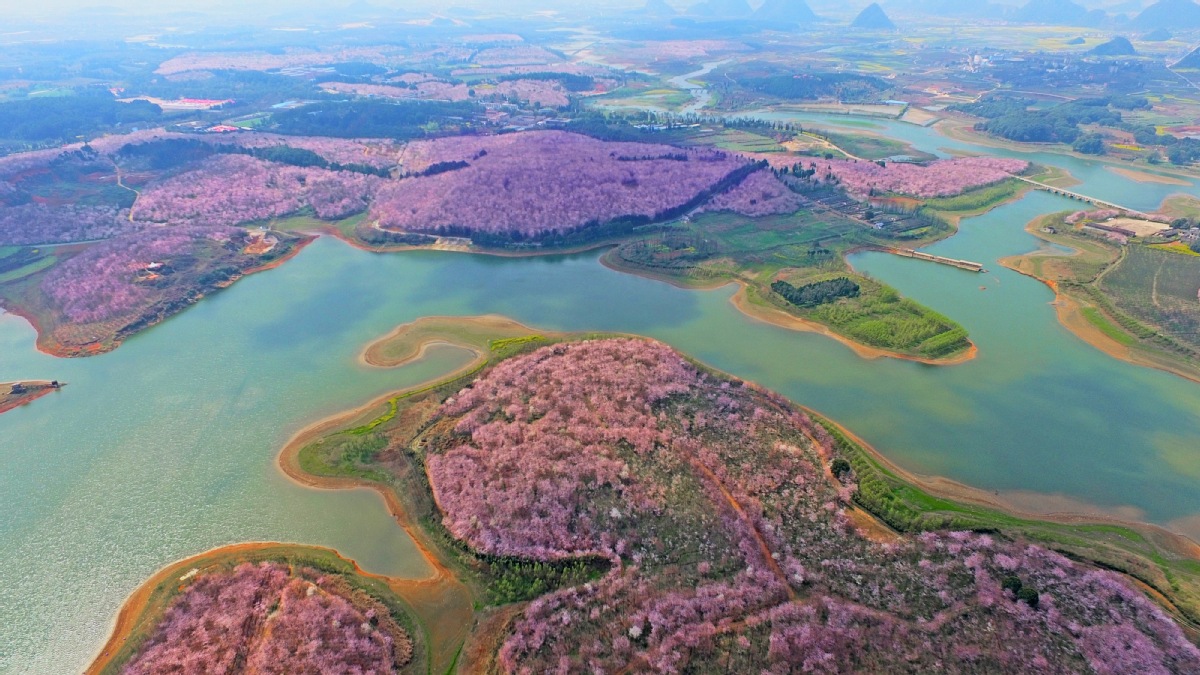 Trees bloom in Guiyang's Gui'an new district's cherry orchard.[Photo provided to China Daily]
Tourists are returning to Jiu'an to enjoy rural cuisine and nature as the novel coronavirus outbreak wanes.
The township in Huaxi district in Guiyang, capital of southwestern China's Guizhou province, has transformed from a coal-mining community into a popular getaway destination.
Resident Wu Shigang's phone has been busy with calls from customers making lunch and dinner reservations since the May Day holiday from May 1 to 5.
Before the COVID-19 outbreak, Wu enjoyed brisk business since he quit his mining job and started serving rural cuisine in 2015.
He says he's very happy that everything is returning to normal.
In 2010, the township shut down all the mines in Jiu'an to protect water and restore the environment. It then used its karst landscapes and ancient tea plantations to develop tourism.
Tea and tourism increased per capita income in Jiu'an by 2,500 yuan ($350) last year.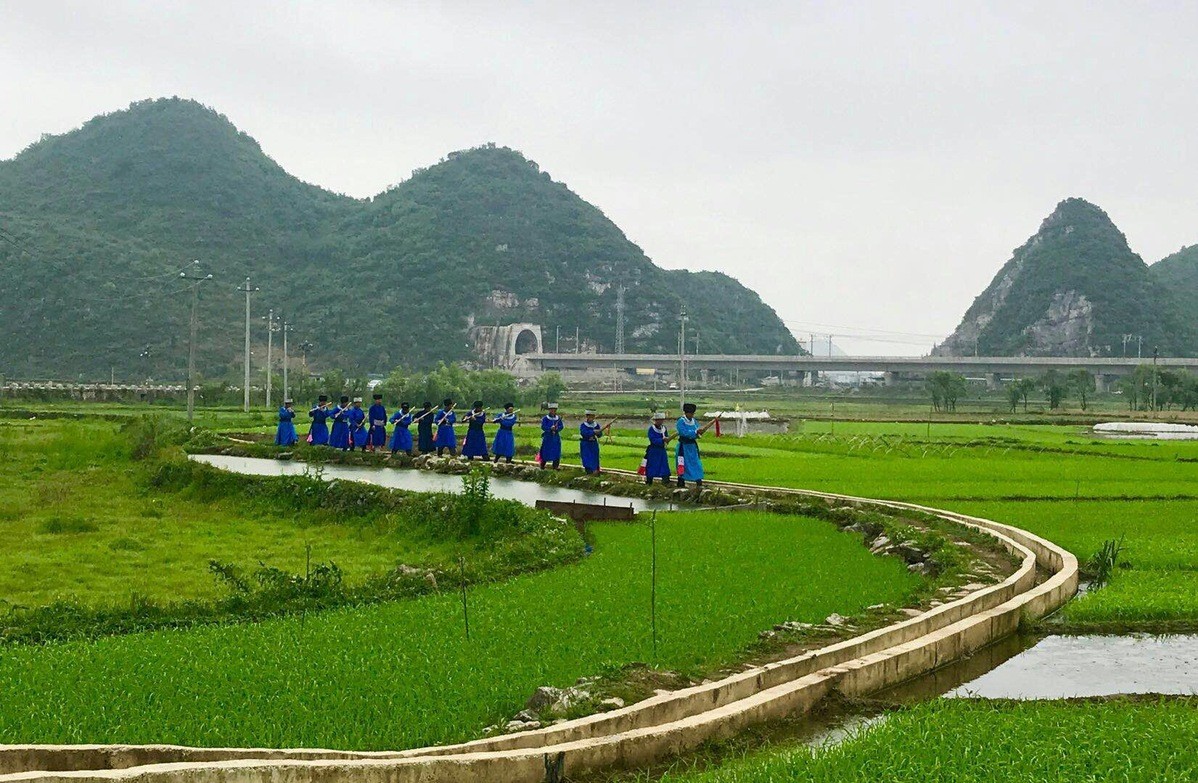 Farmers play reed instruments to beseech the heavens for bountiful harvests.[Photo provided to China Daily]
Wu has developed tea-based dishes that have won him over 800 regular customers, he says.
He also offers them experiences picking, processing and tasting tea.
Jiu'an is one of many areas that have benefited from Guiyang's green development.
The city has put ecological protection first and seeks to maximize economic and social benefits, says mayor Chen Yan, who's also a deputy to the 13th National People's Congress.
Last year, the city's "green economy" accounted for 45 percent of the regional gross domestic product, which reached 404 billion yuan, up 7.4 percent over the previous year.
"We've strengthened top-level designs and made systematic innovations," Chen says.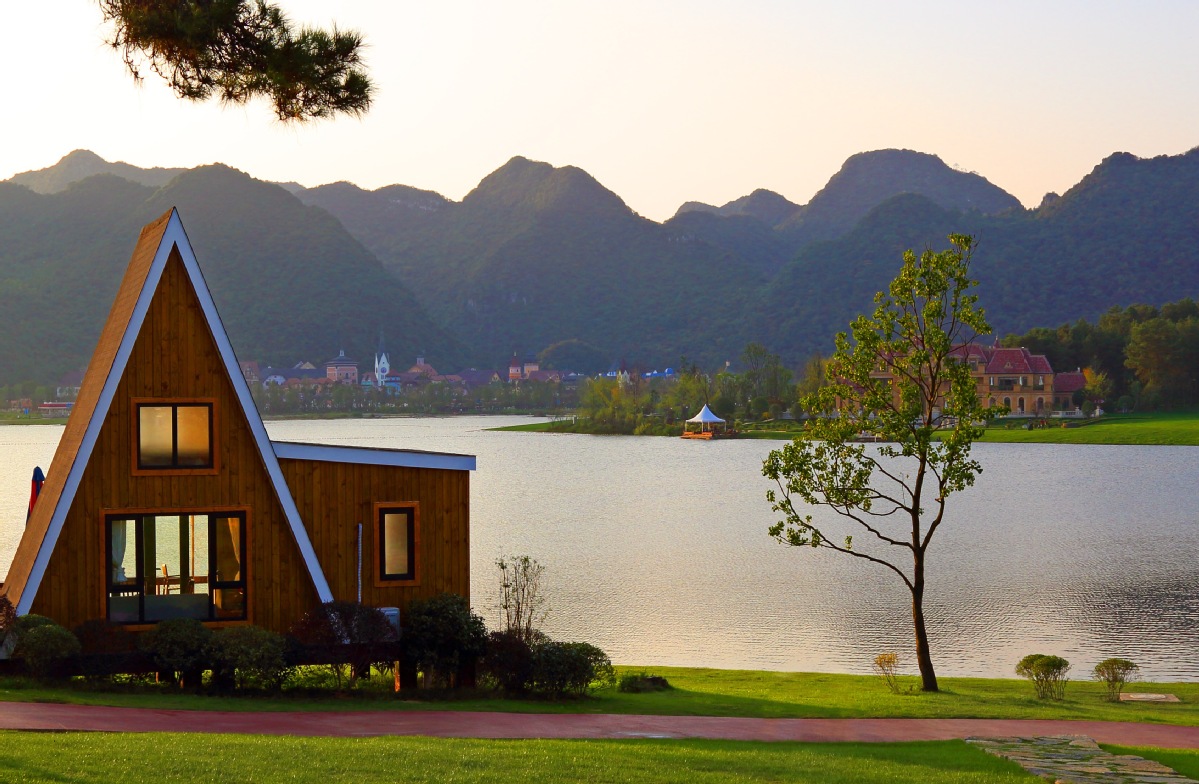 Yunman Lake ecological park in Gui'an new district.[Photo provided to China Daily]
Guiyang has stepped up efforts to reduce industrial pollution, construction dust and, pollution from kitchens. It has also improved air quality by encouraging the use of new-energy vehicles.
The city recorded 358 days of good air in 2019.
Guiyang has also formulated a stringent environmental-responsibility system to protect biodiversity and restore local bodies of water.
It has spent 3.4 billion yuan to address water pollution. Sewage pipelines have been added, and 18 wastewater plants have been built.
"The city's sewage treatment will exceed 95 percent," Chen says.
The city has increased forest coverage by 113.3 square kilometers and urban green spaces by 1.3 square kilometers, he says.
A total of 1,025 parks featuring urban, forest, mountain, wetland and community elements had opened by 2019.
Guiyang has initiated a new round of park construction this year to bring the number to over 2,000, during the country's 14th Five-Year Plan (2021-25).
This new construction will be integrated with ecological protection, soil-pollution treatment and shantytown upgrades, Chen says.
A cluster of culture and creative-industry parks will be built to boost innovation and sustainable development, Chen says.
The continually improving ecology has helped attract tourists from far and wide.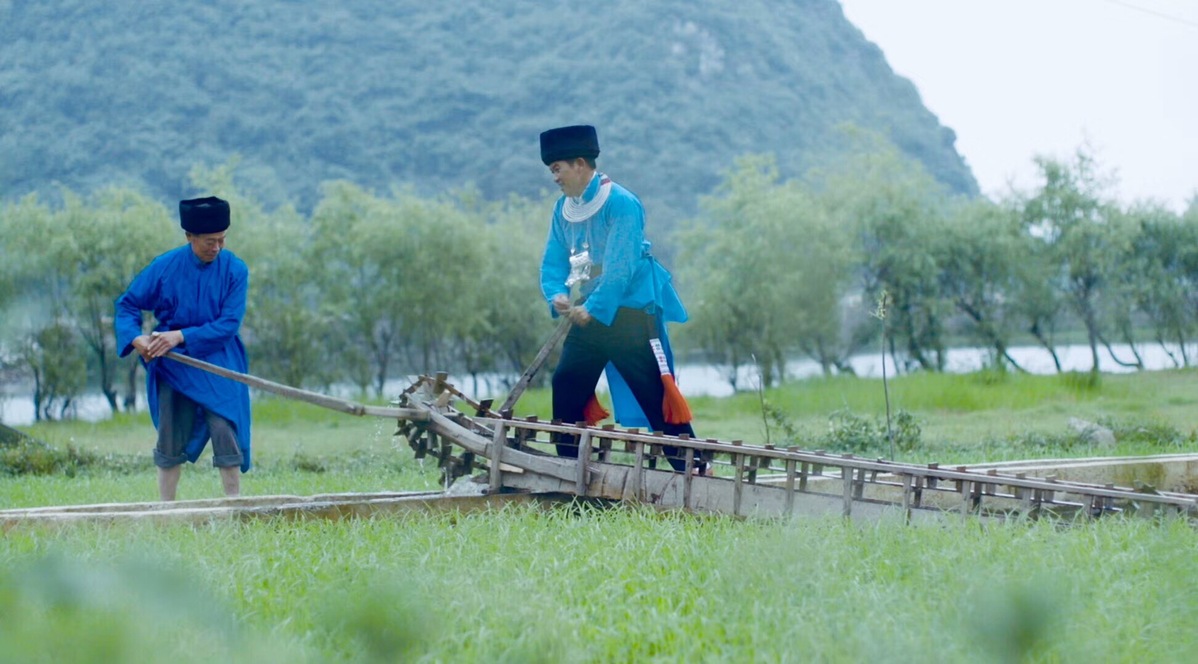 Villagers farm in Guiyang's Gaofeng town.[Photo provided to China Daily]
In 2019, Guiyang recorded 229 million visits, up 21.5 percent year-on-year.
Tourism income stood at 309.8 billion yuan, up 26.1 percent.
The city has been named the best destination to beat the summer heat in an annual tourism summit hosted by the China Tourism Academy and the Public Meteorological Service Center of the China Meteorological Administration over the past five years.
The mindset that has led to reduced consumption since the COVID-19 outbreak is changing at an accelerating rate, Chen says.
The city received 8.26 million visits during the recent May Day holiday, about 63 percent of the same period last year. Tourism income recovered by 66.2 percent to 2.83 billion yuan.
Safety measures, including daily sterilizations of public facilities, personal health code checks and a 30 percent cap on attractions' maximum capacity, have been carried out intensively.
The local government has also reduced rents for severely affected tourism businesses and offered them subsidies. Digital coupons for scenic spots and hotels are boosting tourism spending.
Visitors will be able to enjoy 50 percent off all A-rated attractions by the end of the year.
Benefits from tourism have made Wu more acutely aware of the environment's importance.
He and his family also call on guests to protect the ecology.
With the local government's support, Wu has developed a small sewage-treatment system to produce clean water for plants in the neighborhood.
And he has planted cherry, waxberry and peach trees to enhance visitors' experiences.
The goal is to enable more visitors to enjoy the charm of Jiu'an's healthy environment, he says.