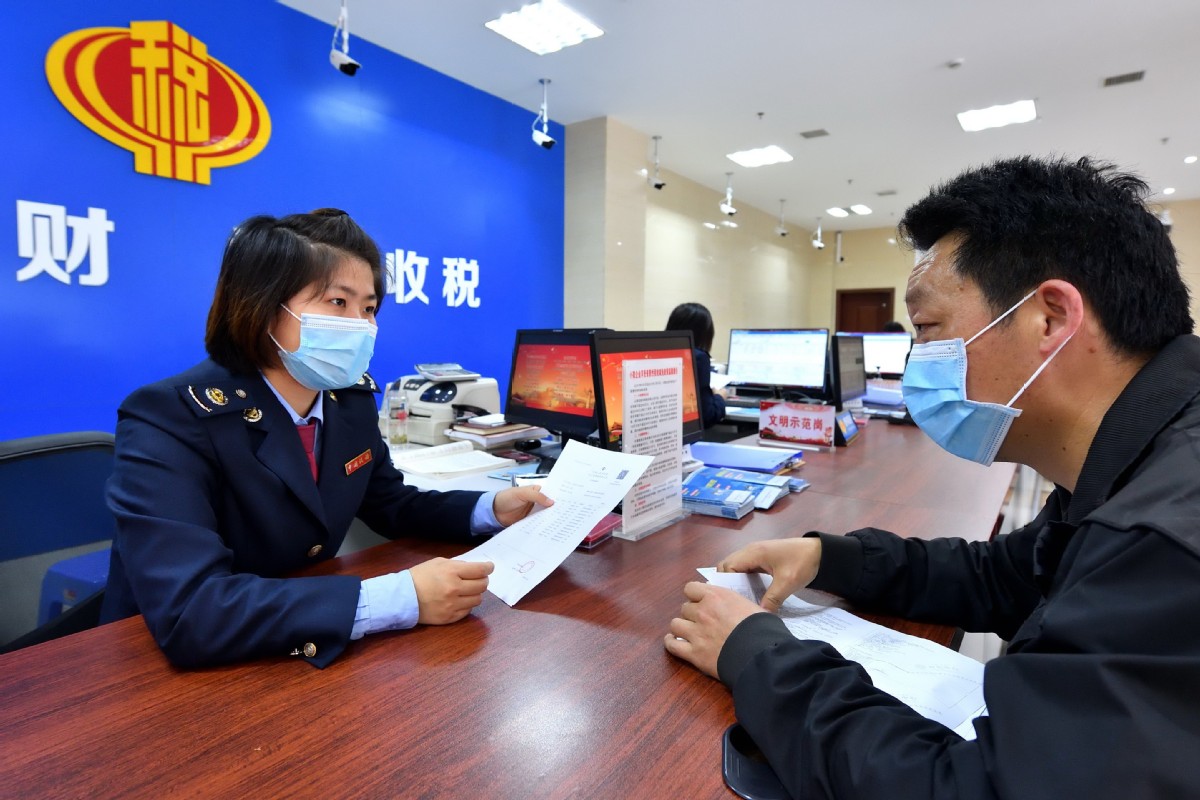 A taxpayer in Baokang county, Hubei province, enquires about filing procedures at the local tax office. [Photo/YANG TAO FOR CHINA DAILY]
China's 2.5 trillion yuan ($351.2 billion) tax relief plan for this year will help ease financial strains and accelerate production recovery of enterprises with key measures like further cuts in the value-added tax rates and social security contributions, experts said on Monday.
From January to April, total tax and fee reductions in China reached 906.6 billion yuan, including 485.7 billion yuan from the newly launched measures, the State Taxation Administration said. The administration will continually implement the tax and fee cut policies to help small-scale and privately-owned businesses offset economic slowdown risks, said a senior STA official.
China reduced taxes and fees by 2.36 trillion yuan in 2019, beyond the annual target of 2 trillion yuan, with manufacturing and micro and small businesses being the major beneficiaries. This year, the target is to make further tax and fee cuts of about 500 billion yuan, according to the Government Work Report for 2020.
Since the COVID-19 outbreak, the tax authorities have launched new policies to cut and exempt taxes and fees to stabilize employment. These policies, introduced early this year, are due to expire by June-end, and will be extended till the end of the year, the report said.
To counter further headwinds during the business resumption process, the government decided to reduce or cancel value-added taxes for small-sized businesses. VAT on services, such as public transportation, restaurants and hotels, tourism and entertainment, and culture and sports, will be exempted.
In addition, the civil aviation development fund contributions and port development fees will be reduced or canceled. The share of employees' basic old-age insurance paid by enterprises will also be reduced.
The government will further exempt micro, small, and medium-sized businesses from contributions to basic old-age insurance, unemployment insurance, and work injury compensation insurance schemes, said the report.
All these measures will result in savings of more than 2.5 trillion yuan for enterprises this year, which is estimated at 2.5 percent of the total GDP, said analysts.
That will be the nation's most aggressive tax and fee cuts within four decades, according to economists, which will lead to a substantial contraction in government's fiscal revenue this year. In the first four months, tax income contracted by 14.5 percent on a yearly basis and the weakness may linger in the coming months.
Total tax and fee reductions will reduce the financial strain on companies, especially privately-owned enterprises, as weak economic growth and other novel coronavirus epidemic disruptions are constraining revenue and profit growth prospects, according to data from Moody's Investors Service.
"The tax and fee cuts are pinpointed at easing the difficulties faced by small and medium-sized enterprises and private businesses due to the disruptions on industrial chains or temporarily weak market demand," said Yang Chengzhang, a national political adviser and chief economist with Shenwan Hongyuan Securities.
Yang called for strengthened efforts to put the tax and fee cuts into place, such as providing more policy explanations, encouraging the development of intermediaries that aid qualified businesses in obtaining the tax benefits, and ensuring the policy consistency among different local governments.
As the efforts bear fruit, this year's bailout policy package-with tax and fee cuts and measures to boost financing to business at the core-is expected to be effective in easing the burden of hard-hit enterprises, said Yang.