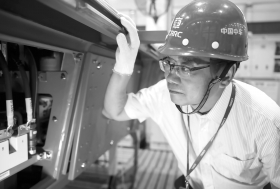 Nine Hunan-based science and technology workers were honored at thesecond scientific innovation and advancement awarding conference in Beijing onMay 30, the nation's sci-tech workers' Day. Feng Jianghua from CRRC ZhuzhouInstitute Co., Ltd. was given the "scientific innovation and advancementaward" medal.
The eight honored sci-tech workers are: Wang Yaonan from HunanUniversity; Liu Zhonghua from Hunan Agricultural University; Yang Yuanzhu from YuanLongping High-tech Agriculture Co., Ltd.; Wu Anhua from Xiangya Hospital of theCentral South University; Chen Zhengqing from Hunan University; Zhao Zhongweifrom Central South University; Hu Dewen from National University of DefenseTechnology; and, Dai Lizhong from Sansure Biotech Inc.
The award, the second highest national honor to sci-tech workers, isgiven once every three years. Ten research groups and not more than 30 sci-techworkers are awarded with the medals, and not more than 300 sci-tech workers aregiven certificates every year.
This article isfrom Hunan Provincial Government www.enghunan.gov.cn.