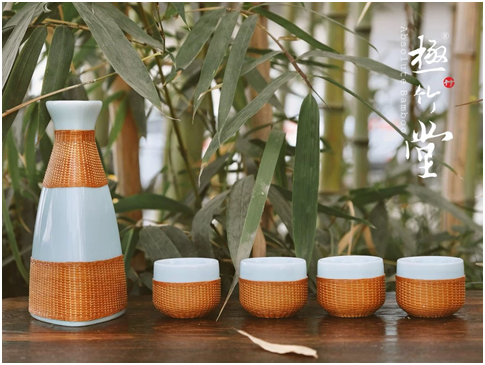 A set of wine vessels features Chishui bamboo-woven covers. Chishui bamboo weaving is a provincial-level intangible cultural heritage in Southwestern China's Guizhou province. [Photo/Taobao.com]
An Intangible Cultural Heritage (ICH) shopping festival will be launched to mark Cultural and Natural Heritage Day, which falls on June 13 this year, the Ministry of Culture and Tourism announced on Monday via an online press conference.
Due to the viral outbreak, the shopping festival, geared to ramp up poverty reduction efforts through promoting ICH products, will be staged online across the country's major e-commerce platforms such as Alibaba, JD.com and Suning.com, as well as Kuaishou, a leading short-video and livestreaming platform.
Over 3,700 events are slated to be organized across the country under the theme of "healthy life", focusing on ICH in the fields of traditional sports, medicine and cuisine, according to the ministry.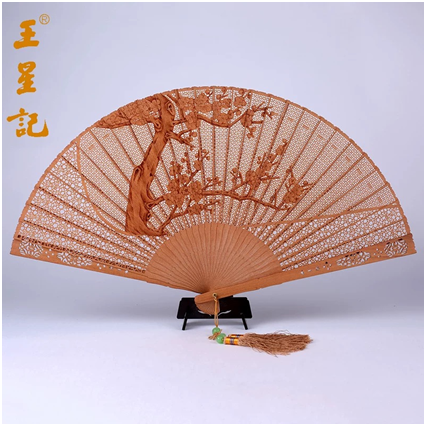 A Wang Xingji fan made of red sandalwood. Wang Xingji fans are a national-level intangible cultural heritage from East China's Hangzhou. [Photo/Taobao.com]
More than 1,000 ICH-related documentaries will be broadcast free online, enabling the public to gain a better understanding of the heritages, their craftsmanship and the stories of their inheritors. A roster of youth-friendly events will also be rolled out on social media platforms to engage younger demographics in ICH protection and promotion.
In addition, over 2,000 ICH workshops aimed at generating employment have so far been built around the country, serving as a driving force for more than 2,200 projects. The workshops have trained nearly 180,000 people and added about 500,000 jobs, thus lifting over 200,000 registered impoverished households out of poverty, the ministry's data shows.