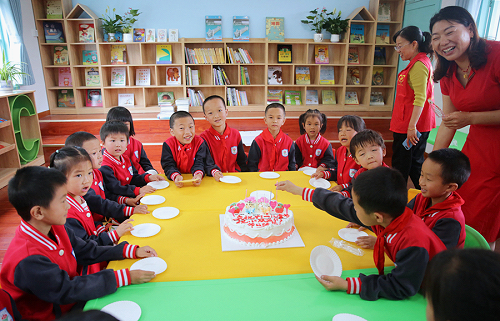 The photo, taken on June 1, shows pupils share a cake on Children's Day at a "village dream classroom", which was just completed at Shangdong Primary School, Oujiang Town, Guidong County. (Photo/Deng Renxiang)
On that day, the project of "village dream classrooms" was launched at the school. It was a poverty alleviation project initiated by the working team of China Railway Group Limited in Guidong to improve education there. It helped renovate abandoned classrooms at primary schools of impoverished villages. With the thinking of "Internet+", it created a "dream space" that enable students to read, do handwork, paint, dance, listen to music, practice remote interactive teaching, and carry out group activities. It aimed to open a window for needy children, especially the left-behind ones, to learn more about the world beyond the villages.
This article is from Hunan Provincial Government www.enghunan.gov.cn.
Translator: Wu Lirong
Chinese source: hunan.gov.cn