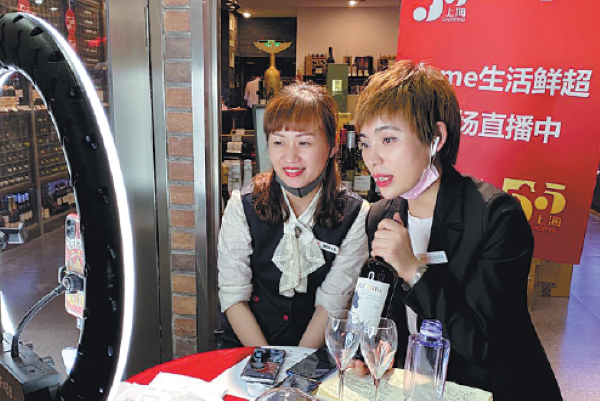 Bailian Group employees sell wine through livestreaming at a shopping mall in Shanghai on May 2. [Photo/HE WEI for CHINA DAILY]
Selling via online interactions seen as way out of contagion-battered economy
Livestreaming, an increasingly popular tool in China's digital marketing landscape, is quickly turning from novelty to necessity.
With COVID-19 wreaking havoc on physical commerce across the country, livestreaming is starting to propel more enterprising undertakings that are perceived by industry players as a way out of the contagion-battered economy.
Taking off in 2016, livestreaming loosely refers to the practice wherein online influencers market brands and sell products by introducing their merits through video conversations over the internet.
This interactive approach to entice shoppers is growing in popularity thanks to a mixture of factors including the near-ubiquity of smartphones, speedy internet connections and a growing penchant among younger consumers to socialize virtually.
While the growth of digital marketing budgets in China will likely slow because of downward growth pressure, social media marketing will remain a hot sector this year with online influencers taking center stage in the thriving social media scene, according to the China Digital Marketing Trends 2020 report.
"Among the majority of the companies we've spoken to, digital marketing budgets account for somewhere between 30 percent and 60 percent of entire marketing expenditures, which represents a considerable proportion," said Maggie Wang, president of AdMaster, a data marketing technology firm.
At the same time, average growth in social media budgets is projected to hit 15 percent, with online influencers at the forefront of the phenomenon.
"Using top-tier influencers such as Li Jiaqi or Viya Huang for brand endorsements will continue to be the trend in 2020. But it's not necessarily true that the current popular key opinion leaders will prevail, as Chinese internet users are generally accustomed to changes," Wang said.
Meanwhile, the phenomenon is rewriting the marketing playbook for brands, propelling them to make personnel changes, diversify resources and adjust assessments for key performance indicators.
Brands are also waking up to the fact that they need to have a firm grip on their own traffic to turn clicks into cash. More marketing dollars will likely flow into so-called private online domains such as indigenous online stores and virtual followers' clubs.
For example, a livestreaming matrix is taking shape at L'Oreal Paris, one of the best-selling beauty brands in China, where the function is effectively embedded in the brand's daily marketing routine.
"We normally run several sessions per day, whether conducted in offline stores or via e-commerce channels," said Zong Guoning, L'Oreal Paris China Brand general manager.
Livestreaming at L'Oreal Group was initially the brainchild of the cosmetics giant to turn its beauty advisors into online celebrities in 2016, Zong said, adding that the duo soon added new touch points for consumers at a time when digital channels faced bottlenecks in attracting new customers and expanding revenue.
The beauty adviser to online influencer metamorphosis nurtured the likes of Li Jiaqi, then a fledging but promising beauty adviser at the company. His remarkable selling skills have earned him the fame of being "the best lipstick seller in the country".
L'Oreal Paris' livestreaming team is comprised of three parts: top-tier KOLs, dedicated, full-time hosts cultivated by the brand and staff members on marketing and sales teams who take turns stepping into the virtual showroom camera frame.
Chinese electronic appliances maker Joyoung is adopting a similar approach. Since last year, livestreaming has become an integral part of digital marketing and a mandatory task for all marketing personnel at Joyoung, according to marketing director Xu Nan.
"It means a compulsory eight hours' livestreaming per month is assigned to each employee in the marketing section," Xu said.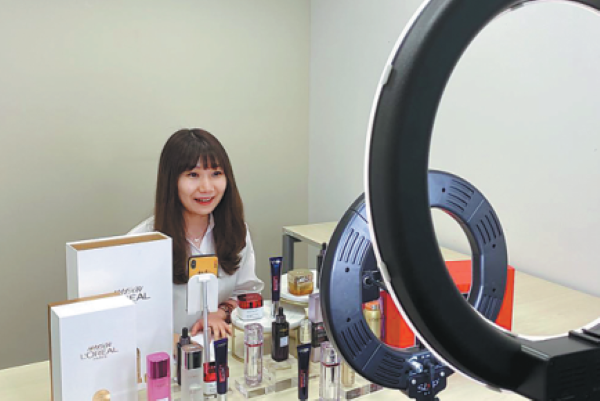 A livestreaming host promotes cosmetics products of L'Oreal at the company's office in Shanghai on May 13. [Photo/HE WEI for CHINA DAILY]
In its virtual broadcast showroom, hosts introduce new features of a suite of gadgets that simplify cooking and food preparation. In light of the novel coronavirus epidemic, the campaign has become even more regular since February, with the number of daily broadcasts and the duration of each show both rising by 10 percent.
Her remarks echoed AdMaster's report, which found that 53 percent of surveyed marketers place more emphasis on short videos and livestreaming for better engagement with customers and the creation of original and compelling content.
Debates abound as to whether livestreaming is the new benchmark for branding and sales purposes.
For the likes of Xiaohongshu, a social media and e-commerce platform featuring the recommendation of goods and lifestyles, its KOL-led livestreaming is positioned to divert traffic to offline malls and drive sales.
As part of efforts to drive spending-especially in brick-and-mortar stores-the site is on course to unveil a series of online-to-offline marketing campaigns in collaboration with over 100 physical stores in Shanghai, Beijing, Wuhan in Hubei province and Guangzhou and Shenzhen in Guangdong province.
Influencers and KOLs can then shop in these stores and share their experience and insights online. By influencing other users, they could help boost consumption and consequently drive economic growth, said Xiaohongshu's founder, Qu Fang.
For instance, by joining an influencer's livestreaming session on Xiaohongshu, a jewelry designer under the avatar Judy has received warm responses from her millions of viewers, who expressed an eagerness to purchase certain earrings from her store outright after watching the shows.
L'Oreal's Zong also sees the potential for livestreaming to bring in new groups of customers, and in her case that translates into the particular addition of older generation of customers who are now embracing phone-based socializing and shopping.
But if it has to be an "either or" question, Zong would choose the former.
"Compared with simply promoting sales, providing premium services is more of an end in itself. Answering questions posed by livestreaming spectators has proved to be an effective way of engaging with customers," Zong said.
The benefits of livestreaming for brands like Signify are somewhat more complicated.
Like many others, the Dutch lighting giant has incorporated livestreaming as an essential part of its digital marketing team, and it adopts a combination of KOL resources and in-house online hosts for the livestreaming.
But since the company sells both to business customers in large quantities and individual end-users, the best strategic positioning for livestreaming varies.
"For B2B businesses, our definition of 'livestreaming' is more akin to that of a webinar, where experts and sales representatives share product and technology know-how through regular online sessions," said Xiao Dan, head of integrated and marketing communications at Signify in China.
It is in part because the wholesale system works in a far more complicated manner than that of the retail model, where a link could easily lead to payments. "In the B2B case, you always need to double confirm the orders through regular contacts. So driving sales doesn't really suffice."
And unlike goods in the fast-moving consumer goods sector-which can easily spur impulse-purchases-even consumer-facing bulbs and lighting systems are mainly considered durable goods whose decision-making prior to purchase is normally based on a series of prudent studies rather than endorsements and impulse.
That has propelled Signify to convert its livestreaming studio into a showroom, where it gets to display everything from how a complicated tool works to comparisons with rival products.
Xiao sees livestreaming as a powerful complementary strategy to offline product launches or customer events. But the power of face-to-face interactions is irreplaceable.
"We do offer special coupons if customers secure a deal through our livestreaming sessions. But that's not the sole purpose driving what we do," she said. "It's more a bonding opportunity between us and our customers and our partners."