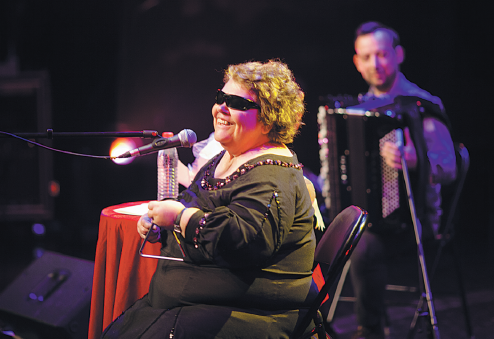 Portuguese fado singer Dona Rosa performs with her band at Tianqiao Performing Arts Center in Beijing on April 16, 2017.[Photo provided to China Daily]
The COVID-19 pandemic has left street performers around the world without an audience. One of them is blind Portuguese fado singer Dona Rosa, who makes a living by performing on a pedestrian street in downtown Lisbon.
Her cooperative record company, Jaro Medien, which is based in Bremen, Germany, has released an announcement to support the singer, saying that "as a blind singer, she is particularly affected by the isolation", which was caused by the coronavirus pandemic.
"We are all facing challenging, uncertain and difficult moments in this pandemic crisis. Dona Rosa is a blind 63-year-old singer that still needs to sing in the streets of Lisbon for her survival," the announcement says. "As the pandemic continues, Dona Rosa finds herself in an increasingly desperate situation. We have decided to support her with a campaign to show that we have not forgotten her and to help her financially."
According to Uli Balss, Rosa's agent, the donations started on May 21 and the announcement has been released on social media platforms, reaching people from 11 countries.
"We are lucky how things have worked out so far, and the support is better than we expected," says Balss in an email interview with China Daily.
Beijing-based company, Stallion Era Cultural Communication, which organized Rosa's debut China tour in 2017, also contributed to the donation. According to Liu Zhao, founder of Stellion Era Cultural Communication, the donation was made through selling a mini digital album featuring five of Rosa's songs, including Oxala, Canta Canta Amigo Canta and The Tide. Priced at 20 yuan ($2.8) per copy, the goal was to raise 10,000 yuan.
After announcing the donation campaign on the company's social media platform, over 200 albums were sold overnight, and by June 1, the target of 10,000 yuan was reached.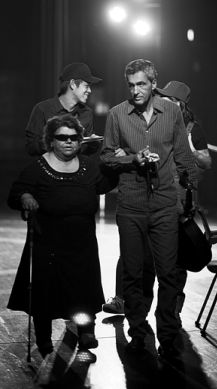 Dona Rosa walks with the help of Raul Abreu, her band's guitarist, who takes care of Rosa in Lisbon.[Photo provided to China Daily]
"Before she came to China, Dona Rosa had never performed in a theater. She performs on streets mostly," recalls Liu, adding that the debut China tour took Rosa and her band-Raul Abreu on Portuguese guitar and vocals, and Tiago Pirralho on accordion-to three Chinese cities, including Beijing, Wuhan in Hubei province and Baotou in the Inner Mongolia autonomous region. "She performs onstage in a wheelchair. Though she went through hardships, she still smiles warmly."
Liu adds that he got to know Rosa after being introduced by the traditional Tuvan group Huun-Huur-Tu and was soon captivated by the singer's voice, which is powerful and full of stories.
"Many fans who watched Rosa's concerts in China donated and sent messages saying that Rosa's voice moved them deeply and has haunted their memories ever since," Liu says. "With the viral outbreak, which affected everyone's life, we want to help each other."
Throughout the pandemic, Liu's company has also donated masks for artists from all over the world with which the company has collaborated during the past few years, including Sainkho Namtchylak, a singer from Tuva, Japanese rock band Turtle Island and French duo Deep Forest.
Born in a poor family in 1957 in Oporto, Portugal, Rosa lost her sight at 4 years old after falling ill with severe meningitis. Her family made a living by begging in the streets. Rosa traveled to Lisbon when she was 9 to attend a school for the blind. There, with the help of other blind homeless people, Rosa quickly learned to use her beautiful voice as a livelihood. She translated her bitter fate into music.
One day in 1999, when Rosa was singing in downtown Lisbon, she met the well-known Viennese artist and impresario Andre Heller, who was looking for a fado singer for a TV production by an Austrian television company. The blind woman's singing touched Heller deeply. He invited Rosa to travel to Marrakech, Morocco, to participate in the production, which opened the door for Rosa's musical career to flourish. During filming, she met Balss, who now produces CDs and organizes concerts for Rosa all over the world.
So far, Rosa has released four albums and has become one of the fado genre's most notable performers.
"Her music is deeply rooted in the folklore of Portugal. The songs of her childhood, which she heard on the streets, determine her music. In addition, she adds arrangements and compositions by her musicians to her repertoire. As Dona Rosa was unable to enjoy a formal musical education, she taught herself everything by listening. Her voice is strongly influenced by her emotions and her mental state," says Balss.
"Fado is a way of expressing our feelings from the depth of our soul. We'll invite the audiences to share and listen to the open language that comes from inside. Sometimes I sing crying inside-by singing you are able to throw away some of the sadness," Rosa told China Daily in an interview when she toured China in 2017.
Contact the writer at chennan@chinadaily.com.cn