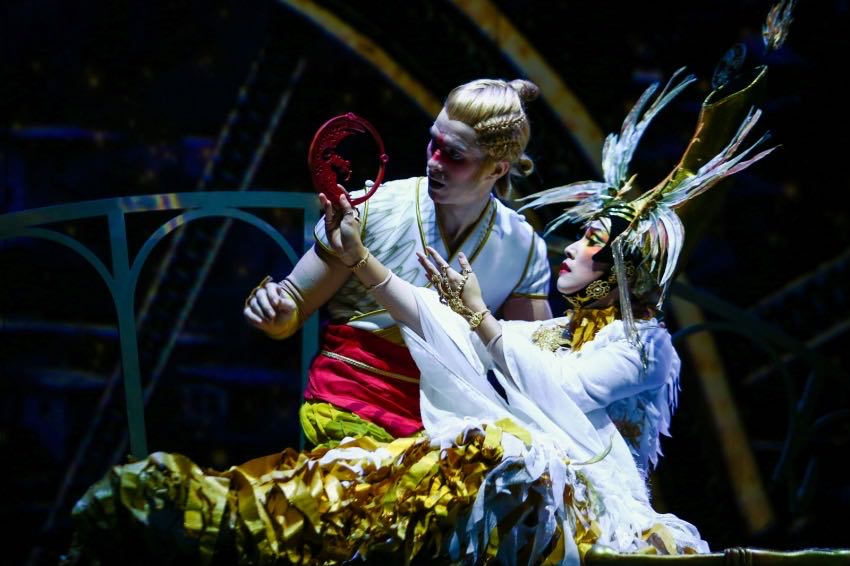 Cirque du Soleil'sX: The Land of Fantasy, a resident show in Hangzhou, East China's Zhejing province, will resume performances on June 3, 2020. [Photo provided to chinadaily.com.cn]
Cirque du Soleil'sX: The Land of Fantasy, a resident show in Hangzhou, the capital city of East China's Zhejiang province, will be the first production by the Canadian circus company to resume performances on June 3.
The June 3 performance will be attended by medical workers and those who have worked on the frontlines of the fight against the novel coronavirus, according to Xia Xiaoyu, deputy general manager in charge of the culture and tourism department at Hangzhou Xintiandi group.
Xia was speaking before a rehearsal attended by members of the media on May 31.
Jointly produced by Cirque du Soleil and the Hangzhou Xintiandi Group,X: The Land of Fantasypremiered on Aug 9, 2019. The company has since put up 111 shows that were seen by more than 90,000 people.
According to local regulations, the theater will be able to open 50 percent of its more than 1,400 seats the performances.
Although hosting below full capacity means not being able to cover operational costs, Xia said: "The show must go on. We cannot let the fire die out…for months we were training and waiting, believing this will pass and life will come back to normal."
Due to the COVID-19 pandemic, Cirque du Soleil was by late March forced to shutter almost all of its operations and lay off 95 percent of its staff.
On May 6, the company announced that it received an emergency injection of $50 million from three shareholders, among which was China's Fosun Group.
In Hangzhou, the production team behindX: The Land of Fantasyhas been largely unaffected, except for the absence of 20 expat staff workers who are unable to return to Hangzhou because of travel bans.
"We have managed to hire a few Chinese artists, whose international contracts were canceled because of the pandemic," Xia said.
"We are also in close contact with our overseas colleagues and are looking forward to their return."