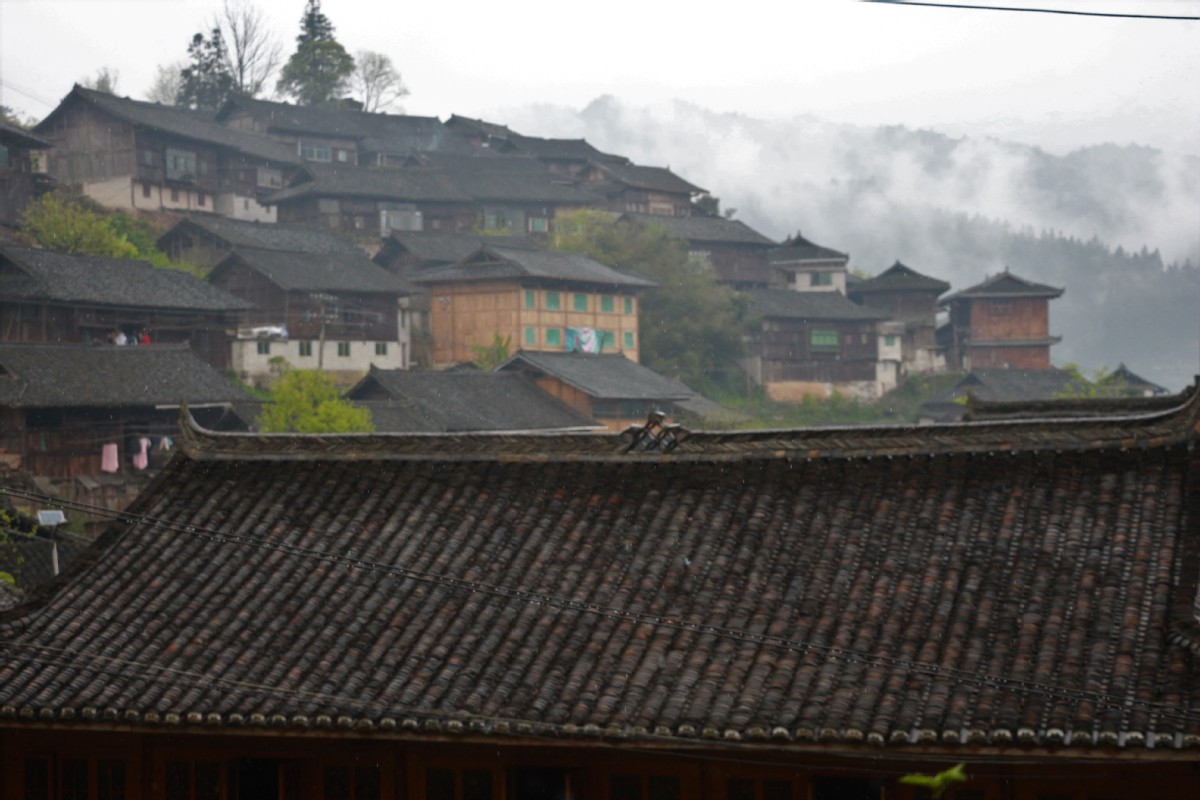 A view of Maliao village, Leishan county, Guizhou province.[Photo/Xinhua]
GUIYANG-The making of a silver hairpin involves melting, forging, carving and brushing, and takes at least three hours. But the thriving tourism in Li Dongjun's village has made it worth his while.
Li and his wife Lu Ying run a silver jewelry shop in Maliao village, Leishan county of Southwest China's Guizhou province.
Most of the villagers from a total of 176 households belong to the Miao ethnic group. The Miao people maintain the tradition of wearing silver jewelry both in their daily lives and on formal occasions.
In the village, over 70 percent of the locals have mastered the Miao silver jewelry-making technique, which has a history of over 600 years.
However, due to a lack of transportation, young villagers have to make a living with their techniques in other places and only come home once a year for the lunar new year, leaving the elderly and the young behind.
The couple used to run a shop in the neighboring city of Kaili. In 2007, they went back home because Li's father was seriously ill.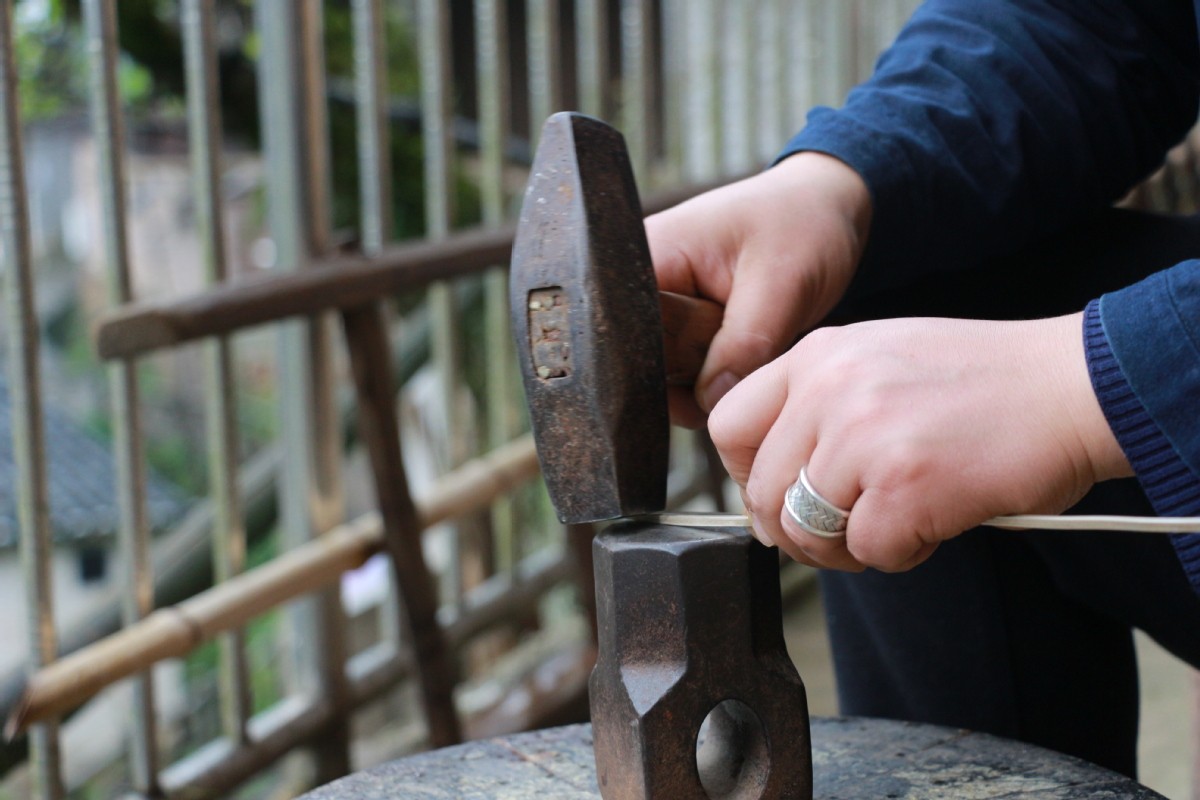 Li Dongjun, owner of a jewelry shop in the village, makes a silver hairpin.[Photo/Xinhua]
Supported by the local government, they opened their current shop in the village. Last year, the shop brought in a net profit of about 50,000 yuan ($7,057).
"I earn a proper income in my home village, and the blessing is that I can look after my family," says Li.
The Miao silver jewelry-making technique was listed as a national intangible cultural heritage in 2006. To inherit and develop this technique, an increasing number of young people like Li and Lu decided to return home and revitalize the craft.
"When I was running a silver shop in a popular ancient town in Hunan province, I always wondered when there would be so many tourists in our village, making it possible for me to make money at home," recalls Pan Shixue, who had been working elsewhere after graduating from high school in 2006, and went back home in 2018.
As tourism picked up in the area surrounding the village which features stilted houses, his dreams gradually morphed into reality.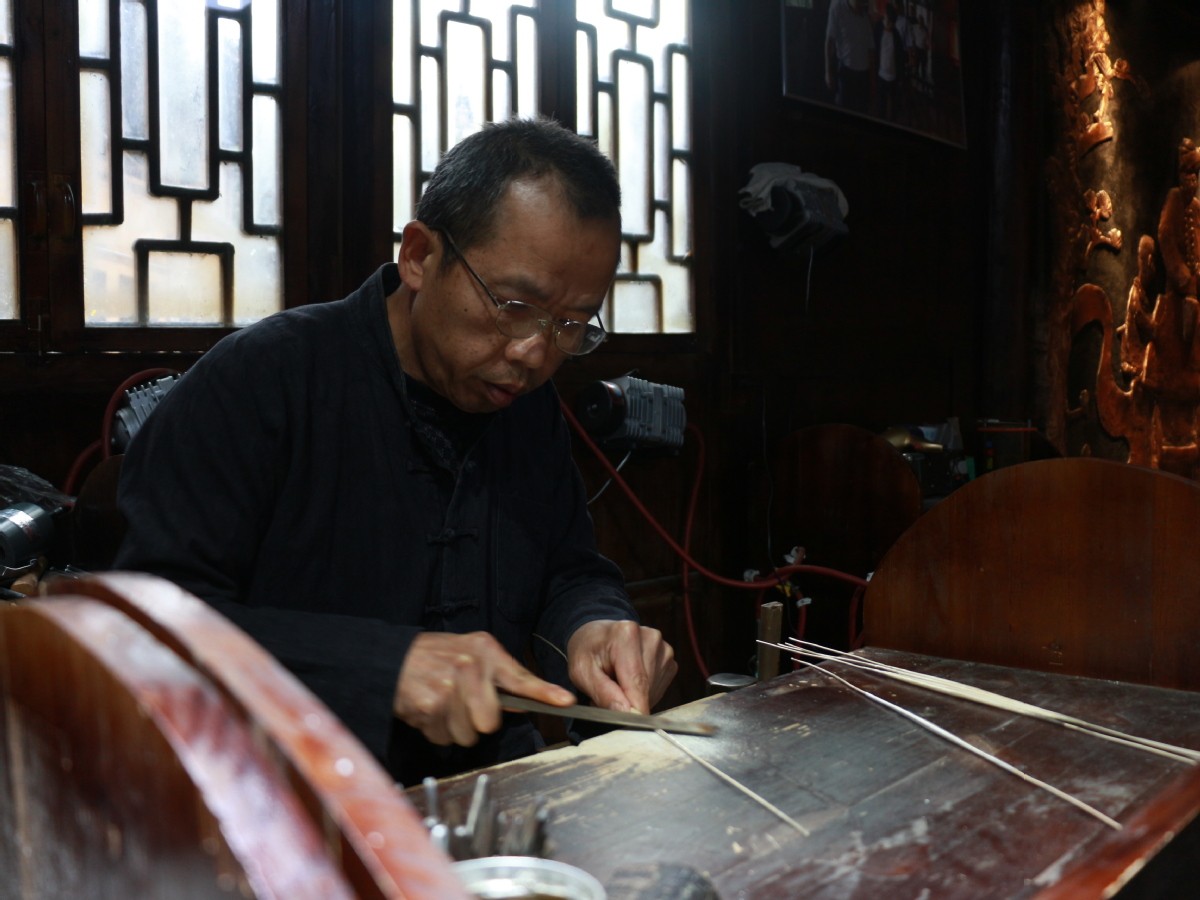 Li Guangheng, another artisan, polishes a silver wire to make a bracelet.[Photo/Xinhua]
Pan employed two craftsmen in the village to work at his workshop. Meanwhile, he created job opportunities for another 16 artisans fulfilling orders from home.
Inspired by Pan's workshop, 20-year-old Pan Yuanding decided to return home from Hainan province in southern China two years ago.
"I earn 3,000 yuan a month here. The most important thing is that I am finally able to learn true technique in my hometown," he says.
Having made some progress in silver processing, he plans to invest one more year in improving his techniques before opening a workshop in the coming year.
Due to his hard work, his family shook off poverty in 2018.
Behind the growing number of young people in the village is the increasing importance attached to the protection and inheritance of the traditional craft.
In 2017, 140 villagers raised 1 million yuan to set up a Miao silver jewelry and embroidery company, and applied for a government poverty-relief fund of 580,000 yuan for renovating an abandoned elementary school into a museum.
"Tourists can learn Miao ethnic culture in the museum, and experience making the silver jewelry firsthand," says Li Linshu, president of the company.
Li Guangheng, 51, works as an artisan in the museum. Whenever there are tourists, he teaches and demonstrates the silver-making technique.
"I make 5,000 yuan a month here. Including the earnings from selling jewelry, my total monthly income is comparable to that from working outside," says Li. "It's also a good opportunity to promote our traditional craft."