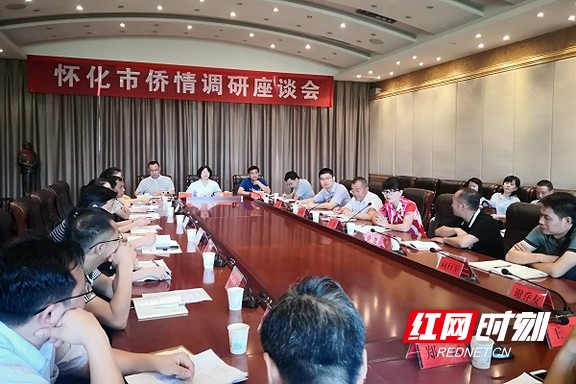 Fieldresearch forum in Huaihua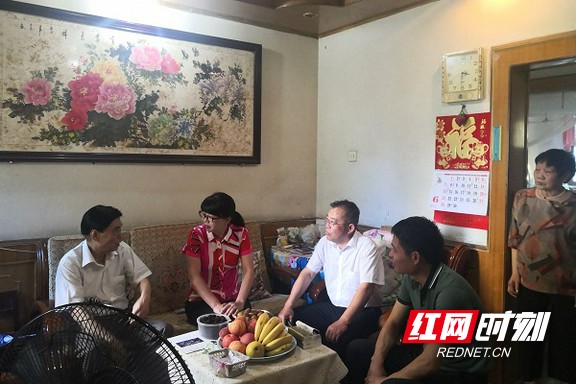 Huang Fang visited returned Indonesian overseas Chinese Xie Jinfa
During June 10th and 12th, Huang Fang, secretary of the party group of Hunan FOC, went to Huaihua to investigate the work of the grassroots federation of overseas Chinese. Tong Shaobin, secretary and chairman of Huaihua FOC, participated in the survey.
At the research symposium of the grassroots FOC, the leaders of the united Front Work departments, grassroots FOCs and FOC of Huaihua University introduced the organization construction of overseas Chinese federations, investigation of the situation of overseas Chinese, liaison and friendship, maintenance of overseas Chinese interests and poverty alleviation, and put forward Suggestions on the existing difficulties and problems.
Luo Kai, deputy director of the United Front Work Department of Huaihua Municipal Committee of the CPC, said that the work of FOC is an important part of the united Front work. We should plan and serve the overall interests of our work in five areas: economic development, targeted poverty alleviation, contribution and contribution of overseas Chinese, public welfare undertakings, and science and technology education. We should give prominence to serving overseas Chinese, give full play to their strength and do a good job of rallying people's support. To improve their own quality, do a good job in the basic work, huaihua overseas Chinese affairs work to a new level.
Huang Fang pointed out that due to the impact of the epidemic this year, the key work of the provincial FOC is to lay a solid foundation at the grass-roots level. She asked that we should improve our position, earnestly study and understand the spirit of the relevant documents of the CPC Central Committee and provincial Party Committee on the work of overseas Chinese Federation, enhance our self-confidence, take a broad view of overseas Chinese affairs, and cultivate high-quality overseas Chinese resources. We should perform our duties well, have some qualifications, focus on the six functions of the Overseas Chinese Federation, combine their own characteristics and advantages, do what we can, and form features and highlights. We should continuously consolidate the foundation of overseas Chinese federation, make great efforts in investigating the situation of overseas Chinese, enhancing our own abilities and abilities, and connecting with each other. At the same time, we should make good use of the Special Report of Overseas Chinese, make good use of the cooperation with China Construction Bank to build the "home of Overseas Chinese", and intensify the publicity of poverty alleviation among overseas Chinese.
During the research, Huang Fang and her team also visited Xie Jinfa, a difficult returned Overseas Chinese from Indonesia. They also visited the Overseas Chinese Love Project Wuxing Overseas Chinese Heart Primary School and Xiaoxinxing Kindergarten in Hecheng District, Huaihua, to learn about the relevant situation.