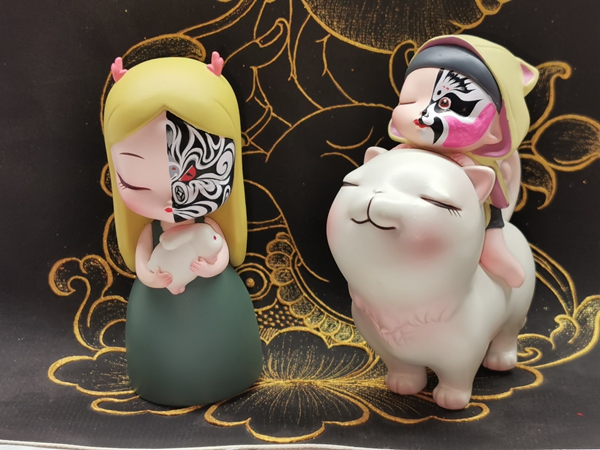 The traditional Peking Opera face painting takes on a modern look in toys.[Photo provided to China Daily]
Practitioners of old arts and crafts are using video-sharing platforms to reach out to young people, Deng Zhangyu reports.
Qiao Xue, a craftswoman of leather items in the Ningxia Hui autonomous region, sold handmade products worth 10,000 yuan ($1,400) in a minute on video-sharing platform Douyin, known as TikTok outside China, during a livestreaming session on June 10.
Hundreds of viewers, mostly young people, commented that they watched her video or bought her products to support the intangible cultural heritage of leather work.
Some other inheritors of traditional crafts also presented their videos online to show their skills and mark China's Cultural and Natural Heritage Day on Saturday.
The presentations were part of a series of activities held by the Ministry of Culture and Tourism on video and social media platforms to attract people's attention, especially the youth, to traditional Chinese culture.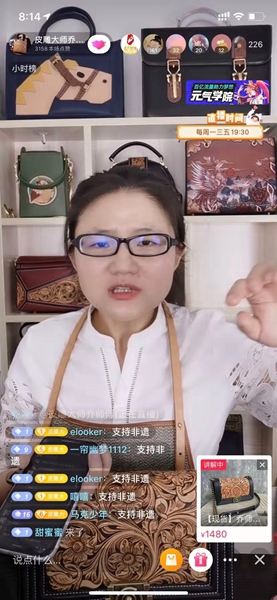 Qiao Xue hosts a livestreaming program on Douyin, or TikTok, to promote the traditional leather crafts.[Photo provided to China Daily]
Hundreds of documentaries about intangible cultural heritage can be watched for free on major streaming platforms, including Youku, Tencent and iQiyi. Video-sharing platforms popular among young people such as Bilibili and TikTok set up special sections to invite viewers to share their own videos related to intangible cultural heritage.
Since 2006, as part of the central government's efforts to promote intangible cultural heritage, 1,372 items were put on a "protection list", covering folk literature, traditional music, crafts, sports and folk customs. National-level inheritors, most of whom are elderly, will be supported by the government, according to the Ministry of Culture and Tourism.
Xiao Jun, a researcher at the media development studies center in Wuhan University, says video-sharing platforms play an important role in protecting and promoting intangible cultural heritage. A lack of artisans has pushed some forms to the brink of extinction. "Videos help to revitalize traditional crafts."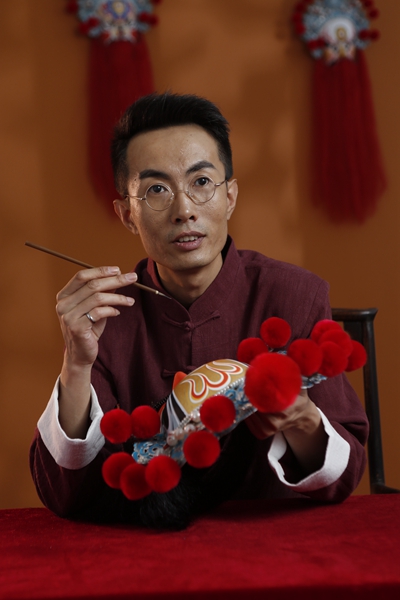 Guo Shigang injects new life into the age-old Peking Opera face painting.[Photo provided to China Daily]
Wen Shishan, an inheritor of Fuyang paper-umbrella making in Zhejiang province, became known online after he shared a video on how to make paper umbrellas last year. The craft originated more than 100 years ago. The paper is adorned with painted landscapes, flowers or birds.
Now, Wen has more than 800,000 followers on TikTok and sales of his umbrellas have reached up to 100,000 yuan every month, he says.
"This is the first time that so many people have liked the umbrellas I make," says Wen, who learned the craft from his father 30 years ago.
To help more people learn about Peking Opera face painting, artist Guo Shigang, 40, says he plans to share videos online. He has applied for accounts on video-sharing platforms Kuaishou and TikTok.
The traditional art form requires people playing different roles onstage to wear special makeup. With the number of viewers shrinking, the art of making Peking Opera "face masks" is also drawing fewer people.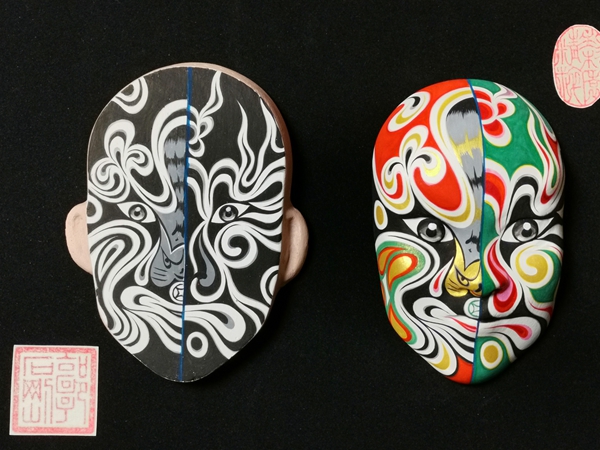 Guo Shigang injects new life into the age-old Peking Opera face painting.[Photo provided to China Daily]
Guo has joined an online group of about 300 followers of the art, most of whom are in their 50s and 60s. He learned Peking Opera face painting from his father as a little boy.
To attract young people, he has created fashionable designs based on Peking Opera makeup and has painted Peking Opera faces on toys and half a side of the face with only black lines on other items.
He has also held classes in communities and schools and provided online lessons in the past few months due to the COVID-19 pandemic. He says he will design more innovative makeup for his future videos.
"I believe the internet and video-sharing platforms can get more people to notice this art," he says.
Data released by video platforms suggests that younger generations are interested in traditional culture when it is put online in an innovative way.
According to Bilibili, over 80 million netizens watched traditional culture-related content in 2019, 83 percent of whom were younger than age 24.
As of May 31, the number of videos related to intangible cultural heritage programs posted on TikTok had reached 48 million, with more than 200 billion views, since the launch of the platform in September 2016, TikTok says in an email to China Daily.
Music app Kugou says related music has been played more than 57.4 billion times by people born in the 1990s and the 2000s.