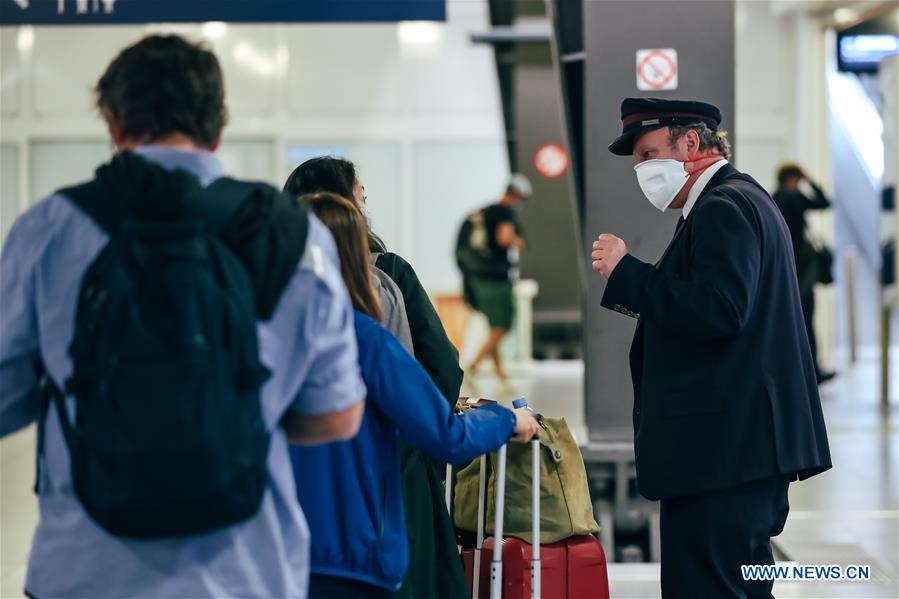 A staff member checks tickets at the Brussels-Midi station in Brussels, Belgium, June 15, 2020. Belgium on Monday reopened its borders to and from the United Kingdom, European Union (EU) member countries and four other countries of the Schengen zone (Iceland, Norway, Switzerland and Liechtenstein). (Xinhua/Zhang Cheng)
BRUSSELS, June 15 (Xinhua) -- After three months of isolation, Belgium reopened its border on Monday to other European Union (EU) member states, non-EU Schengen countries -- Switzerland, Liechtenstein, Iceland and Norway -- as well as Great Britain.
While Belgium gives the green light to other European countries, the same does not necessarily apply in the other direction. According to the information posted online by the Belgian Ministry of Foreign Affairs, Belgians can currently only visit Germany, France, Italy, Luxembourg, the Netherlands, Poland, Sweden, Liechtenstein and Switzerland without restrictions.
Non-essential travel outside the EU and Schengen area is still prohibited.
With the reopening, Belgium's flag carrier Brussels Airlines also resumes its flights.
After 12 weeks of inactivity, the airline will take its first passengers to Madrid, but passengers need to undergo 14-day quarantine upon arrival. In total, Brussels Airlines will operate 11 flights on Monday, carrying around 2,000 passengers, which is about 10 percent of a normal-day capacity in June last year.
Each passenger will have to wear a mask and comply with health safety measures, mainly physical distance and hand hygiene with hydro-alcoholic gel.
The downward trend of COVID-19 continues in Belgium, with six coronavirus-related deaths in the last 24 hours, 17 hospital admissions versus 21 discharges and 71 new contaminations recorded on Monday by the public health institute Sciensano. This brings to 60,100 the total number of known cases in Belgium since the beginning of the epidemic.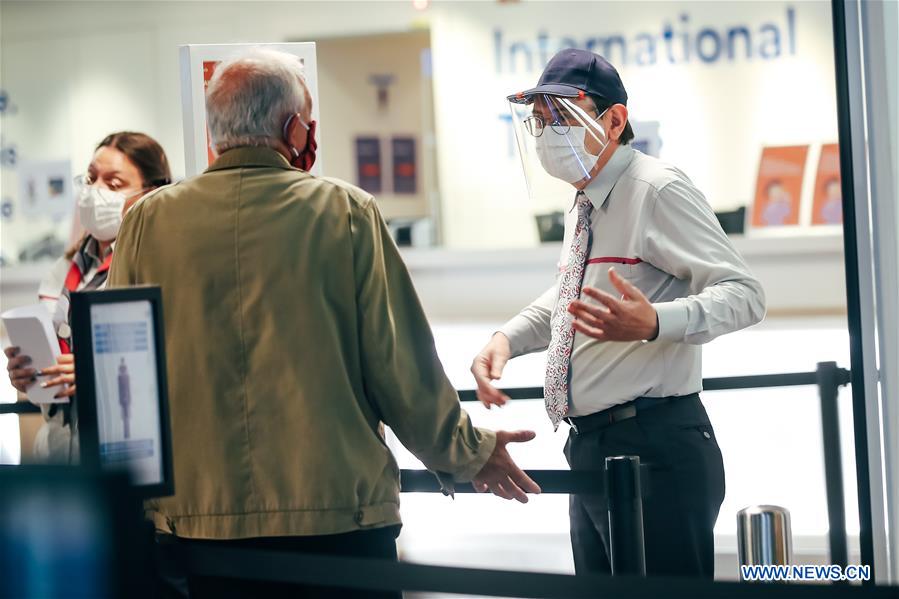 A staff member guides a passenger buying tickets at the Brussels-Midi station in Brussels, Belgium, June 15, 2020. Belgium on Monday reopened its borders to and from the United Kingdom, European Union (EU) member countries and four other countries of the Schengen zone (Iceland, Norway, Switzerland and Liechtenstein). (Xinhua/Zhang Cheng)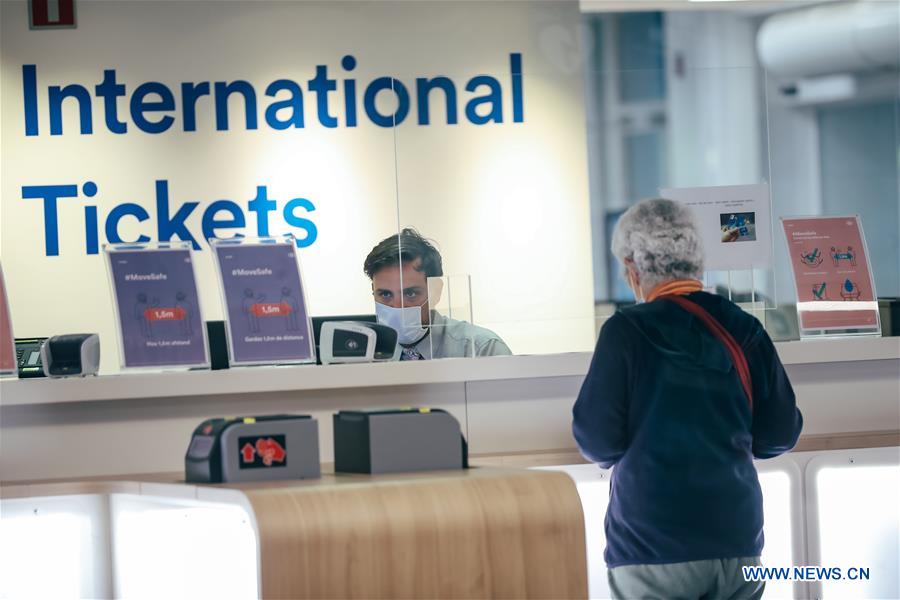 A passenger buys tickets at the Brussels-Midi station in Brussels, Belgium, June 15, 2020. Belgium on Monday reopened its borders to and from the United Kingdom, European Union (EU) member countries and four other countries of the Schengen zone (Iceland, Norway, Switzerland and Liechtenstein). (Xinhua/Zhang Cheng)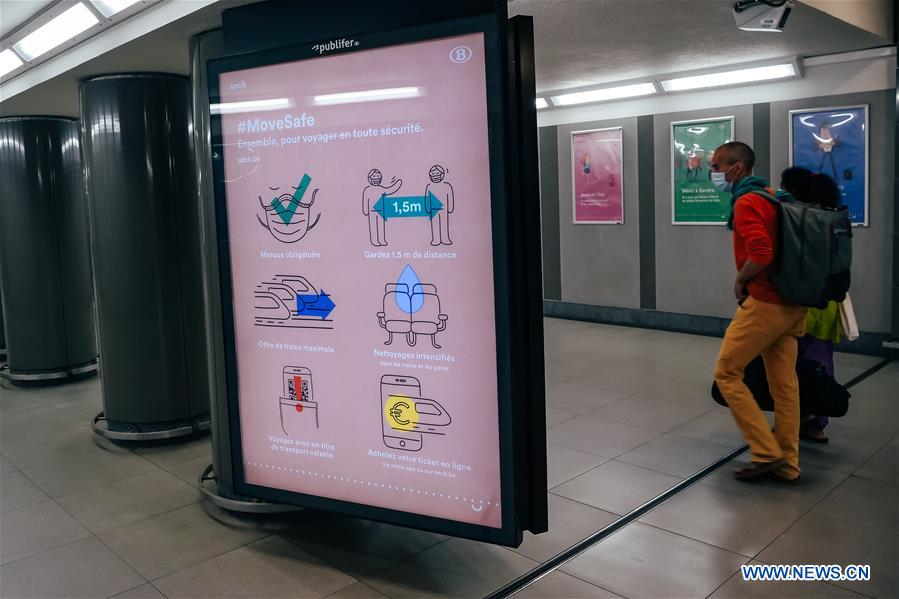 Passengers walk past a sign reminding people to wear face masks and keep distance at the Brussels-Midi station in Brussels, Belgium, June 15, 2020. Belgium on Monday reopened its borders to and from the United Kingdom, European Union (EU) member countries and four other countries of the Schengen zone (Iceland, Norway, Switzerland and Liechtenstein). (Xinhua/Zhang Cheng)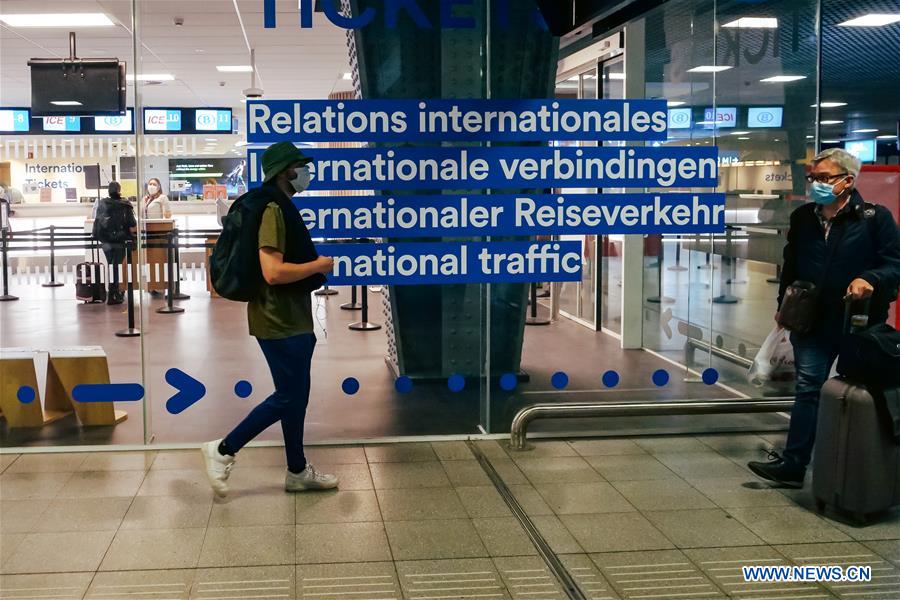 Passengers walk past the ticket office at the Brussels-Midi station in Brussels, Belgium, June 15, 2020. Belgium on Monday reopened its borders to and from the United Kingdom, European Union (EU) member countries and four other countries of the Schengen zone (Iceland, Norway, Switzerland and Liechtenstein). (Xinhua/Zhang Cheng)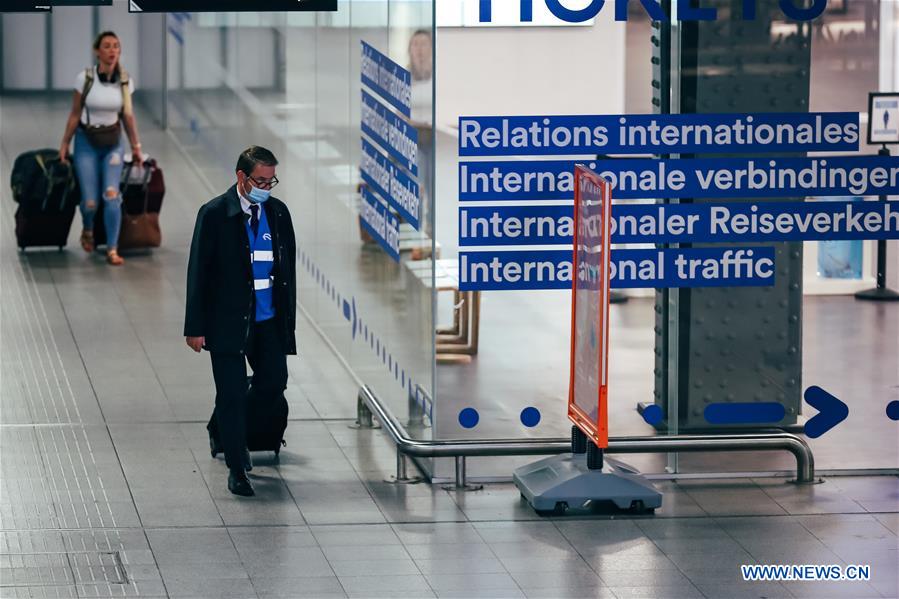 Passengers walk past the ticket office at the Brussels-Midi station in Brussels, Belgium, June 15, 2020. Belgium on Monday reopened its borders to and from the United Kingdom, European Union (EU) member countries and four other countries of the Schengen zone (Iceland, Norway, Switzerland and Liechtenstein). (Xinhua/Zhang Cheng)