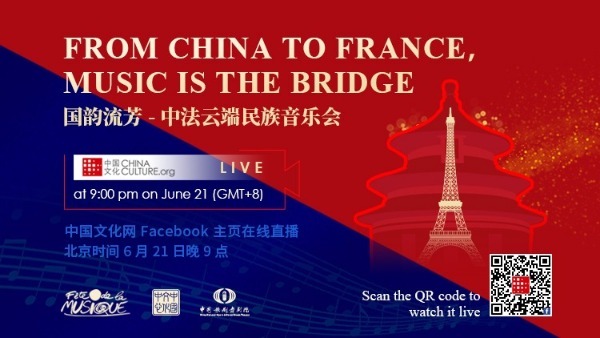 [Photo/chinadaily.com.cn]
To convey the profound friendship between the people of China and France, and as the European Music Festival unfolds, the China Cultural Center in Paris joins hands with China National Opera & Dance Drama Theater, along with Chinese artists in France and students at the center and will holdPoetic Fragrance from China: Traditional Chinese Music Concert, an online concert of traditional Chinese music on June 21.
Since COVID-19 broke out in Wuhan of China, renonwed cultural figures in France have sent out their timely support to China's fight against the pandemic. More than 300 artists and cultural workers have jointly issued a public letter, 40 theater performing artists lent their voice to the collaborative song Together, and players of the Paris Saint-Germain Football Club wore jerseys with "Be Strong, China" printed on them. When France met rising cases of COVID-19, the Chinese government provided tremendous assistance in shipping out medical supplies. Both countries played their due part in supporting each other.
At the concert, many revered folk songs of China will be performed, including the percussion pieceDragon and Tiger; Shanxi folk songWoodwindand percussionWatching Yangge Dance; the chamber musicKorean Folk Songs; the chamber musicShining Snow and Rouge Flowers, a national intangible cultural heritage from the Tajik ethnic group;erhuandguqinOde to the Deity, which was listed as a masterpiece of the oral and intangible cultural heritage of humanity; renowned Peking Opera numberDeep Night, and a folk rendition of classic French songsLa Vie en RoseandLes Champs-Elysées. Nearly 75 minutes of performance will cover some of the most well-known pieces from both China and France, with sounds that integrated the traditional and the modern to give the audience a true taste of the charm of traditional Chinese music.
With the support and approval of the 39th French Music Festival committee,Poetic Fragrance from China: Traditional Chinese Music Concertwas included as part of the European Music Festival and was introduced to French audiences as a highlight of the festival. The festival, which was established in 1982, has gradually gained influence as one of the most important music festivals in Europe, attracting participants from nearly 120 countries and more than 300 cities to participate annually. This year, it will be broadcast live globally through media in Chinese, French and English on online platforms including People's Daily, CCTV News, Xinhua, Chinanews, China Daily website, China Culture & Tourism app and Cmedia TV, as well as social media platforms including YouTube, Twitter and Facebook. The world can now appreciate the everlasting beauty of Chinese and French art and touch the youthful pulse in the cultural exchanges between China and France.
Traditional Chinese Music Concert – Playlist
1. PercussionDragon and Tiger5'
Composer: Li Minxiong
This piece derives from traditional gong and drum music in East China's Zhejiang province. With a unique ethnic style, it reveals the different characteristics of each drum, building up a rich experience of drum music ensemble.
2.Woodwindand percussionWatching Yangge Dance6'
Shanxi folk song
Adaptation: Jing Jianshu
One of the popular tunes among Yangge music in North China's Shanxi province, this song demonstrates the flexibility of suona and Chinese harmonica. It depicts a scene where a couple of country girls hurry to see the Yangge dance despite rainy weather.
3. Chamber musicKorean Folk Songs7'
Composer: Wang Yunfei
Integrating multiple Korean folk songs, this piece highlights the specific style of Korean music.
4.ErhuandguqinOde to the Deity5' (Performed by China Cultural Center in Paris)
Erhu:Guo Gan
Guqin:Yang Lining
This is one of the major songs played on guqin. Listed as a masterpiece of the oral and intangible cultural heritage of humanity in 2003, this song expresses good wishes for good weather and an abundant year.
5. Chinese and FrenchSongs May We Last Forever;La Vie en Rose(Performed by China Cultural Center in Paris)
May We Last Foreverwas inspired by litterateur Su Shi'sPrelude to Water Melodyfrom the Song Dynasty (960-1279). It shows the poet's reflection on secular emotions and the philosophical quest for truth and eternity.
La Vie en Rose, a master work by French singer Edith Piaf, is deemed one of the most famous love songs in France.
6. Chamber musicShining Snow and Rouge Flowers7'
Arrangement: Wang Danhong
Imbued with rich ethnic charisma from Northwest China's Xinjiang, this is a piece that celebrates the gorgeous natural landscape and the industrious people living on that land.
7. Jinghu and the bandDeep Night6'
Composer: Wu Hua
Deep Nightwas originally a popular Peking Opera song, depicting the epic love story between legendary hero Xiang Yu and his beloved concubine Yu.
8. EnsembleMarching on the Bright Road5' (Sino-French Ensemble)
Composer: Liu Tianhua Adaptation: Peng Xiuwen
Incorperating some Western composition techniques, it showcases people's pursuit of a better future.
Bonus scene:Les Champs-Elysées
Les Champs-Elyséesis a classic song by Joe Dassin and very well-known in France.