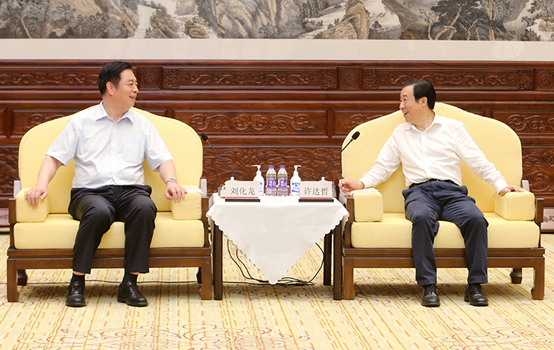 The People's Government of Hunan Province and the China Railway Rolling Stock Corporation (CRRC) held talks in Changsha. Xu Dazhe, CPC Hunan Provincial Committee deputy secretary and Hunan governor, and Liu Hualong, CPC CRRC Committee secretary and chairman, met with each other.
Vice Governor Chen Fei and Secretary General Wang Qun also attended.
Zhuzhou City of Hunan Province now has gathered five subsidiaries including CRRC Zhuzhou Locomotive Co., Ltd., CRRC Zhuzhou Institute Co. Ltd., CRRC Zhuzhou Electric Co., Ltd., CRRC Zhuzhou Investment Holding Co., Ltd., and CRRC Electric Vehicle Co., Ltd. The city's rail transit industry has an average annual growth rate of more than 13%, with an output value of 116.8 billion yuan. It has developed a number of high-end products.
Governor Xu thanked CRRC for its long-term concern and support for Hunan's economic and social development. He pointed out that in recent years, Hunan has implemented the innovation-oriented development and opening up strategy. It is committed to building a modern manufacturing base with China's intelligent manufacturing demonstration and leading area as the goal. Its rail transit industry has maintained rapid development momentum and has become China's largest rail transit R&D and production and export base. We expected that CRRC will give full play to its advantages in capital, technology, management, talents, and market; continue to increase investment and overall project management force in Hunan; and, make greater contributions to building Hunan into a manufacturing powerhouse and a world-class rail transit industrial cluster. Hunan will provide first-class services for enterprises, create sound environment, and promote mutual benefits and win-win results, he added.
Chairman Liu believed that CRRC and Hunan shared solid cooperation foundation, broad prospects, and a promising future. CRRC will continue to increase its investment in Hunan; fully promote high-end equipment manufacturing base construction for Hunan's rail transit; and contribute to Hunan's high-quality development and comprehensive well-off society construction.
This article is from Hunan Provincial Government www.enghunan.gov.cn.
Translator: Yu Jiangjiang
Chinese source: hunan.gov.cn