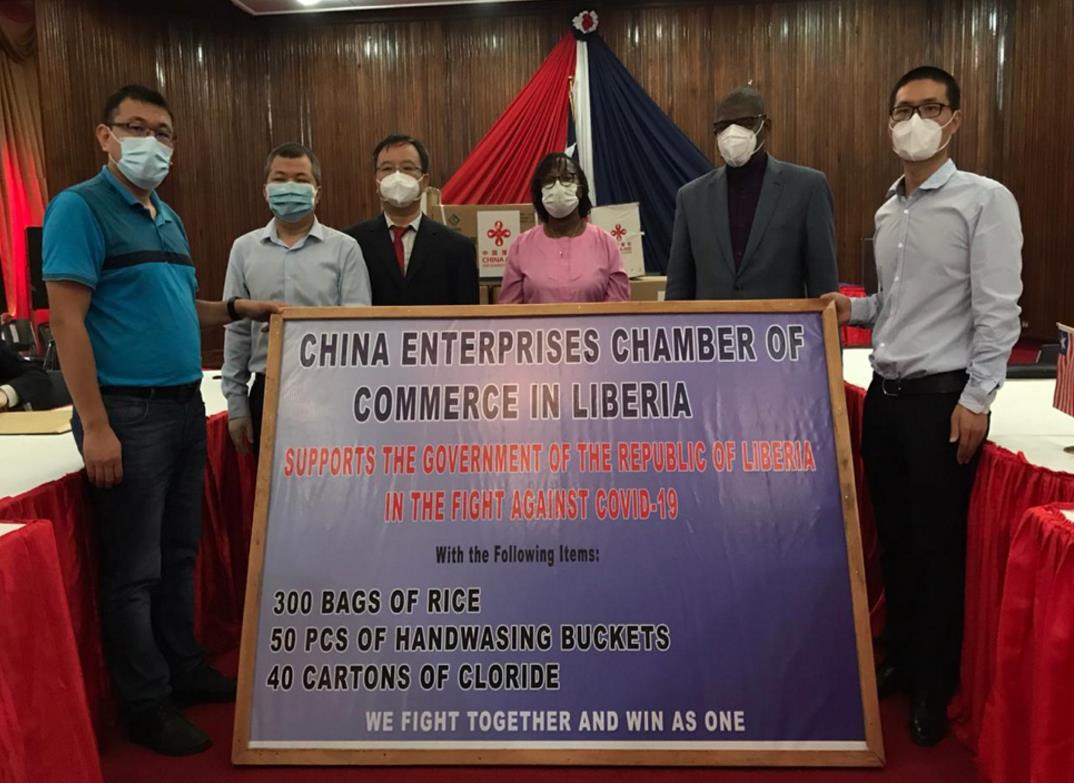 Chinese Enterprises of Commerce in Liberia donates a batch of medical supplies and food to help the Liberian government stop the spread of the COVID-19 epidemic. [Photo/Frontpage Africa Online]
Chinese business companies have stood firmly behind African countries in the fight against COVID-19, with both State-owned enterprises and private companies becoming vital forces.
Chinese Enterprises of Commerce in Liberia donated a batch of medical supplies and food to help the Liberian government stop the spread of the epidemic.
Donations, including 300 bags of rice, 50 hand-washing buckets and 40 cartons of bleach, were handed over to the Ministry of Foreign Affairs, Frontpage Africa Online reported Monday.
The institution is committed to developing economic and trade cooperation between Chinese enterprises and the government of Liberia, as well as the business community, said Sun Yongbo, president of China Enterprises Chamber of Commerce in Liberia.
Chinese enterprises have created many employment opportunities in Liberia, covering several sectors, such as construction, mining, fisheries and agriculture, Sun added.
Faced with the sudden attack of COVID-19, China and Africa have been supporting each other and making concerted efforts, said Foreign Ministry spokeswoman Hua Chunying at a press conference on Friday.
According to a communique issued on Saturday by the African Union, China has ensured the supply of 30 million testing kits, 10,000 ventilators and 80 million masks each month for Africa.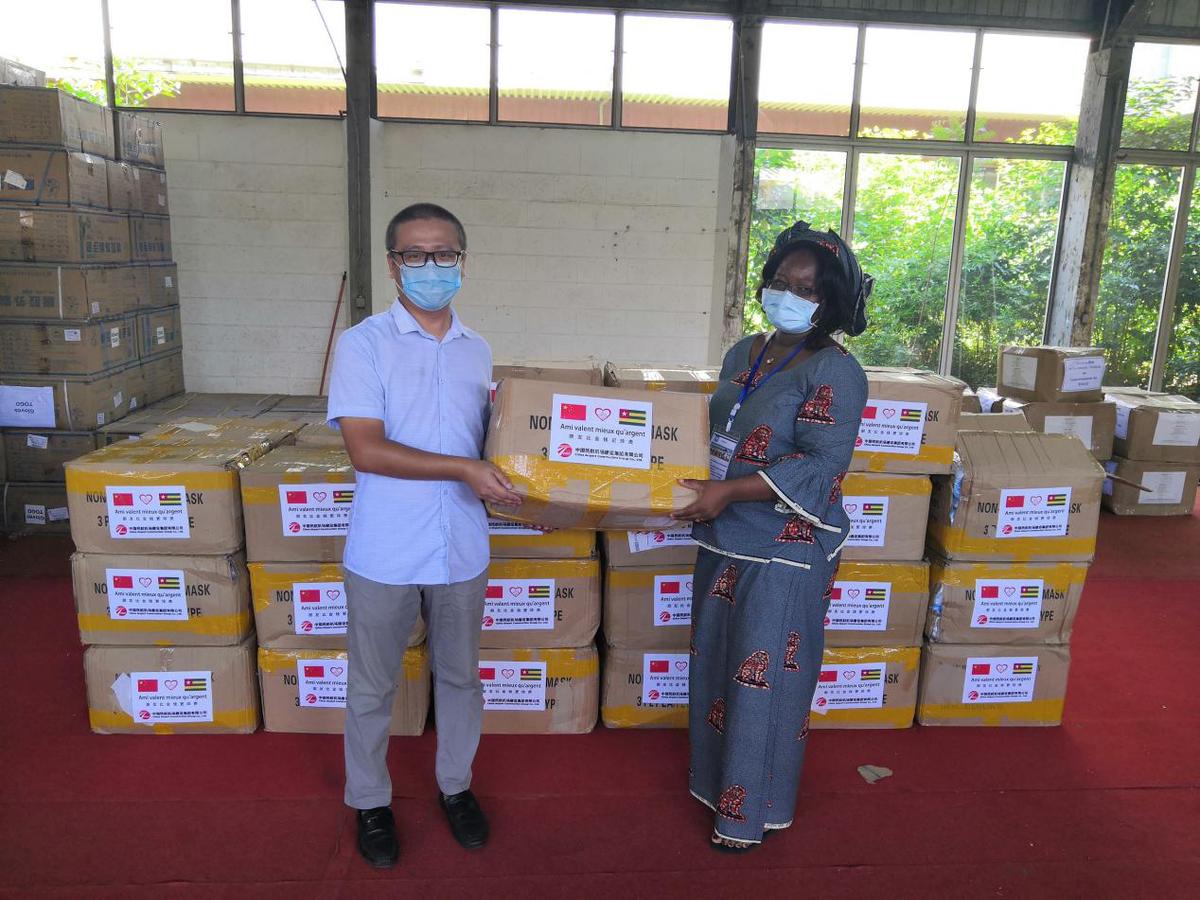 China Airport Construction Group Corp donates medical supplies to help Togo fight against the COVID-19. [Photo/mofcom.gov.cn]
China Airport Construction Group Corp donated 100,000 medical masks to Togo on May 26, devoting efforts to provide support and help to the African country.
A representative from the government thanked the Chinese side for donating the COVID-19 pandemic response commodities, which are greatly needed in Togo. It demonstrated that Chinese enterprises are taking on more social responsibility and the friendship between Togo and China is becoming closer and closer.
Last month, Cosco Shipping (Africa) Inc also donated 10,000 medical masks and 200 bottles of hand wash gel to Transnet, South Africa's national freight and logistics group, to support local port enterprises to fight against COVID-19.
Shipping enterprises are a key part of global logistics chain, Zhou Ronghua, general manager of the Container Management Department of Cosco Shipping (Africa), said, adding that the company will carry on its social responsibility and join hands with local people in fighting the virus.
Reagent and testing equipment manufacturer Sansure Biotech Inc, a Hunan, Changsha-based biotech company, also responded in a timely manner to help African countries fight COVID-19. The company adopted video calling to help African peers solve training problems and provide technical guidance.
Africa's confirmed COVID-19 cases surpassed the 250,000-mark to reach 251,866 with 6,769 deaths as of Tuesday afternoon, maintaining a mortality rate far below the global average.
The continent's anti-epidemic efforts have achieved better-than-expected results, thanks to strict preventive measures, a young population and COVID-19 cooperation with China, according to a Xinhua report.