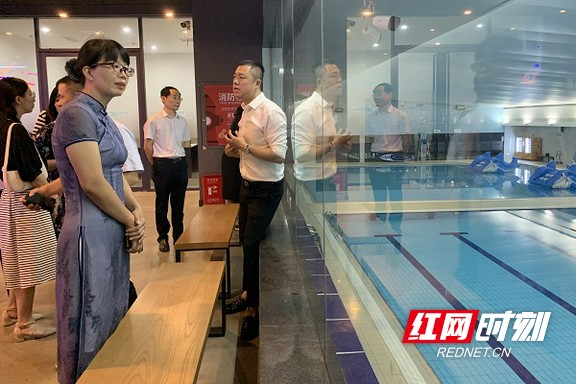 Huang Fang in Leyunmofang.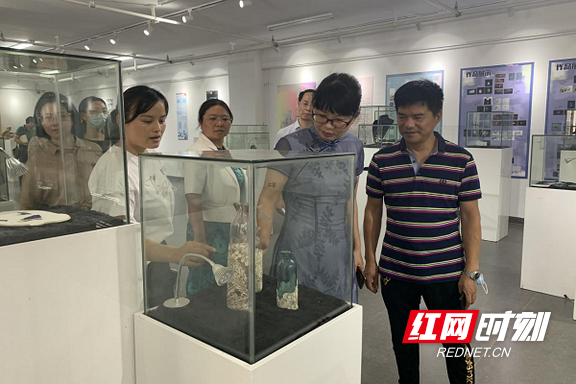 Huang Fang in Hunan Embroidery Industry Park.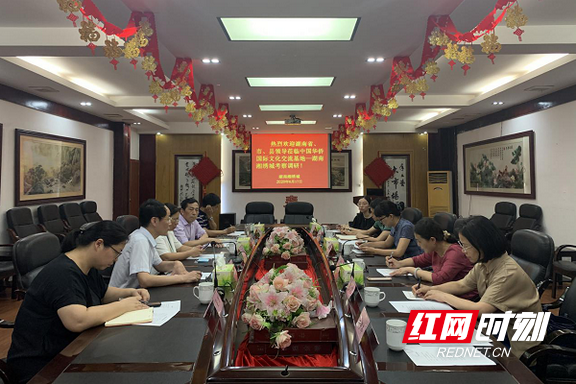 Symposium in Hunan embroidery city.
On June 17, Huang Fang, the party secretary of Hunan FOC, and her team fieldresearched Leyunmofang, heldby the member Hunan FOC Youth Committee, and overseas Chinese enterprise Hunan Embroidery City Group (hereinafter referred to as "Hunan embroidery city") and held a symposium.
In Leyunmofang, Huang Fang investigated the characteristic projects, Hunan Lehui Sports culture Communication Co., LTD., Siphon Coffee and Hunan Xinyu Education Management Group Co., LTD., and listened to the introduction in its brand concept, development process, market analysis, future planning and other aspects.
Huang spoke highly of the innovative ideas of leaders of member enterprises of the Hunan FOC Youth Committee. She said that since its establishment in 2019, the provincial Overseas Chinese Youth Committee has done a lot of work in uniting, leading and serving member enterprises, which is worthy of recognition. As the "mother family" of returned overseas Chinese, Hunan FOC would further integrate its forces and coordinate its resources to reflect and help solve the difficulties encountered by enterprises in their development. Meanwhile, Hunan FOC is willing to strengthen the publicity of high-quality overseas Chinese enterprises, guide and protect the enthusiasm of returnees to start businesses, and promote the healthy development of overseas Chinese enterprises.
In Hunan Embroidery City, the works of Hunan embroidery in the film "National Gifts" came into sight. Hunan Embroidery City as "Overseas Chinese international cultural exchange base" and "national cultural industry demonstration base", the creation and production of China's first Hunan embroidery film feature film "National Gifts", and won a number of honors, has become a unique local charm of the international business card.
On symposium, Huang Fang listened to the introduction on Changsha county basic situation, county overseas Chinese union work. Huang Fang pointed out that, as a provincial capital city, Changsha is rich in high quality overseas resources. As an international entry point, we hope that Changsha FOC will continue to contribute to the regular prevention and control of the epidemic. Next, Xiang Embroidery serves as national gift product and one of cultural products that provincial overseas Chinese federation key supports, ought to become the key product that communicates overseas Chinese, strengthen overseas social friendship, city, county overseas Chinese federation wants to unite the role tha Hunan Embroidery City gave full play to cultural product, help Hunanese embroidery "go to the whole world", polish the cultural name card of Hunan.
Huang Fang expressed, Hunan Embroidery city as "Chinese overseas Chinese international cultural exchange base", should be built into a national-level, unique cultural base worthy of the name. Relevant offices of Provincial HOC, Changsha city, county FOC should increase support and guidance, let the Hunan embroidery art and Huxiang culture rooted in the hearts of the "overseas Chinese second generation" and "overseas Chinese third generation". She pointed out that Changsha county's strong economic strength and excellent business environment should become an important base for Changsha to attract overseas talents.
Mao Binghua, vice chairman of Hunan FOC and chairman of Hunan Overseas Chinese Youth Committee, Chen Hui, vice chairman of Changsha FOC, And Zhou Qian and Lai Kunming, leaders of Changsha County participated in the fieldresearch.