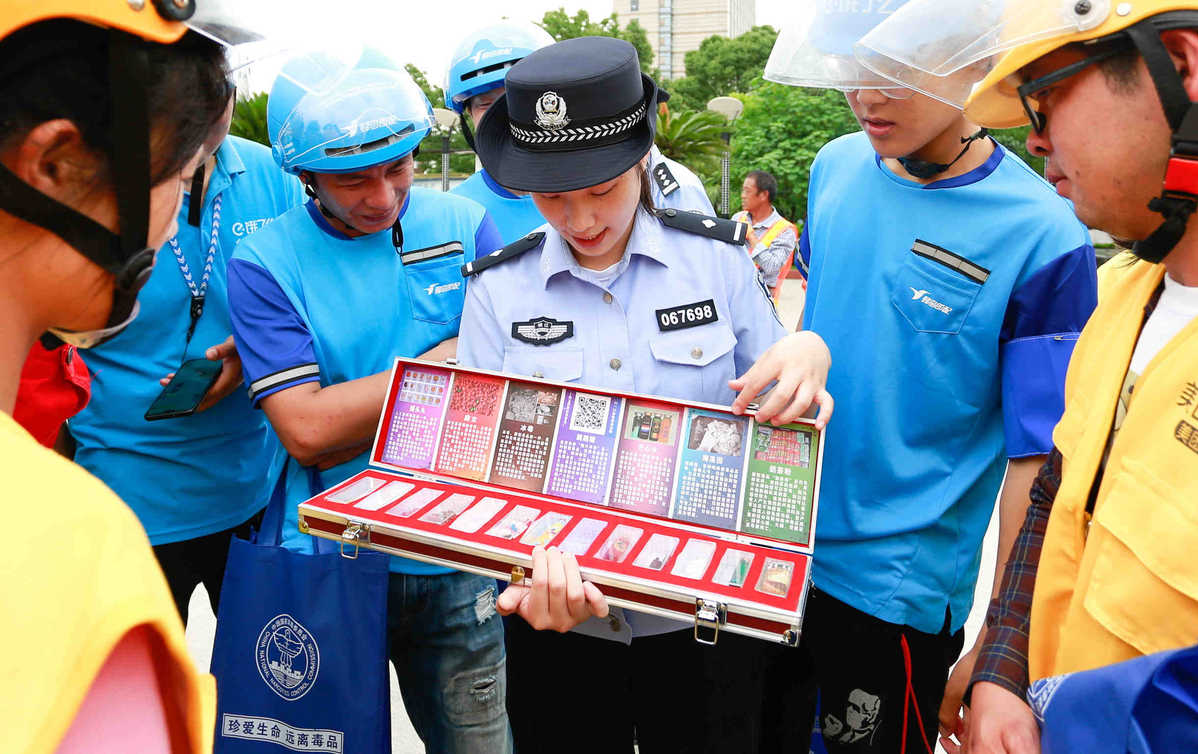 A police officer teaches deliverymen how to discern drugs in Zhoushan, Zhejiang province, on Tuesday.ZOU XUNYONG/FOR CHINA DAILY
Number of related first-trial cases drop from 2015 amid joint crackdowns
China's top court demanded on Tuesday that courts nationwide pay more attention to drug cases in which defendants are accused of using new materials to make drugs, even though the country has seen a sharp decline of such cases.
Chinese courts concluded a record 139,000 first-trial criminal cases related to drugs in 2015, but the number has been dropping since 2016 amid joint crackdowns on drug crimes, according to Li Shaoping, vice-president of the Supreme People's Court.
Li said the figure decreased to 86,000 first-trial cases last year.
As he hailed the achievements in combating drug-related offenses, he also expressed concerns about some new problems, saying the fight against drugs "is still grim" and calling for judges to "keep harsher penalties for the crimes".
For example, cases in which defendants produced drugs with new materials have been increasing, he said, adding that some chemicals or medicines used for production, including ephedrine and hydroxylamine, have also been found to be abused, he said.
"Such drugmaking cases in the past were more often seen in Guangdong and Sichuan provinces, but now they have started extending across the country," he added.
Drug smuggling in coastal and border areas, such as Guangdong and Yunnan provinces and the Guangxi Zhuang autonomous region, remains high, while crimes related to psychoactive drug substances are also increasing, according to Li.
Furthermore, more drug-related crimes have been committed through the internet.
"Defendants have frequently used instant messaging tools, including WeChat and QQ, and online forums to exchange purchase information," he said.
As for those who have produced, smuggled, sold, bought or transported large quantities of drugs, as well as those who have committed violent crimes after taking drugs, "Chinese courts have always harshly punished them without hesitation," he noted.
For instance, Zhang Wei, a drug user from Xinshao county, Hunan province, was executed on June 17 after his death penalty sentence for intentional homicide was approved by the top court. He was given capital punishment because under the influence of drugs he killed a 7-year-old boy on Dec 21, 2016 and then threw the body in a field.
From 2015 to 2019, the annual felony rate of drug-related crimes was about 22.4 percent, much higher than the rate of defendants who committed other felonies, Li said. Under Chinese Criminal Law, the minimum punishment for felony convictions is five years.
While highlighting the significance of retaining tough punishments to serve as a deterrent, Li suggested courts work with other anti-drug departments and colleges to develop more drug-related research to root out and solve new problems in a timely manner.
Shi Jinghai, a senior legal searcher at the Southwest University of Political Science and law, lauded the moves made by courts in recent years, but he said: "A better way is to distinguish areas with serious drug-related crimes from other regions first, as it can ensure a more accurate and effective fight."