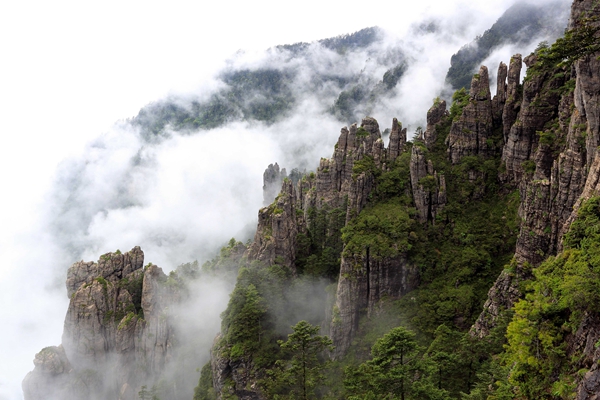 Shennongjia's green mountains stand among mist.[Photo provided to China Daily]

Attractions in the province most affected by COVID-19 are gradually reopening while employing strict infection-prevention measures, Xu Lin and Liu Kun report.

The tourism industry in Hubei, the province hit hardest by COVID-19 in China, is gradually recovering.

Scenic areas, museums and hotels have been actively marketing themselves through livestreams and short videos. They're also offering discounts for visitors with extra consumption coupons provided by the government.

Travelers must make reservations so that attractions can limit visitor numbers in real time.

They must also present their health QR codes and undergo temperature checks at the entrances. And they're required to wear masks and practice social distancing. Dining facilities require customers to eat separately and use serving chopsticks.

Hubei's Shennongjia National Park reopened its scenic areas on March 25 with daily visitor numbers limited at 30 percent or less of its capacity.

"Shennongjia is known as a natural oxygen bar. This is typically its peak visitor season because of the blooming flowers and good weather. Visitor volumes are recovering," Shennongjia's culture and tourism bureau's deputy director Ming Lei says.

"Visitors enjoy the unique fauna and flora. Many ride horses, practice archery and see cute spotted deer."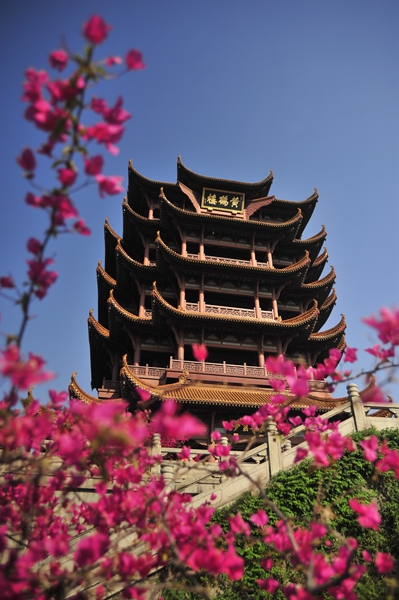 Wuhan's landmark Yellow Crane Tower.[Photo provided to China Daily]

Many visitors drive themselves. Most are from Hubei, especially Wuhan, Yichang and Xiangyang cities. Some independent travelers arrive by motorcycle or bicycle, he says.

The park received over 184,000 visits between the reopening and May 12, a 50 percent decrease over the same period last year.

Before May 1, travelers could visit Shennongjia's six scenic areas for free.

From May 1 until June 25, visitors can buy a ticket for all these zones at the reduced price of 169 yuan ($24).

Yichang's Tribe of the Three Gorges scenic area has suspended its indoor performances and closed a cave that contains narrow spaces.

Tourists can still enjoy open-air performances of ethnic Tujia wedding ceremonies and folk-culture shows.

"We're cooperating with online influencers to market the scenic spot… It's an efficient way to promote the stunning scenery and cultural items that tourists like to buy as souvenirs," says Qu Jiachun, assistant to the general manager of the company that runs the scenic area.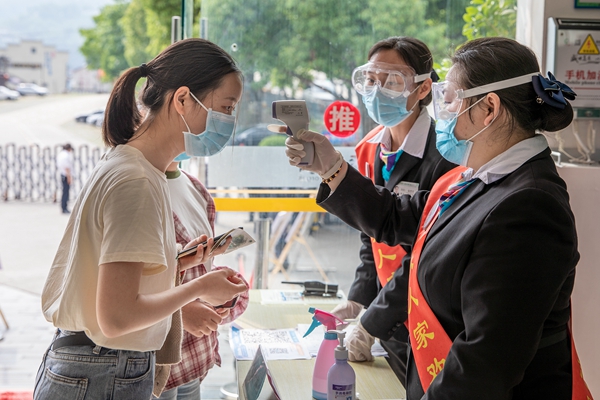 Tourists have their temperatures taken at the entrance of Yichang's Tribe of the Three Gorges scenic area.[Photo provided to China Daily]

He hopes greater government support and media exposure can accelerate the tourism industry's recovery.

The province hosts such resources as magnificent landscapes and ethnic culture. And its central location ensures convenient transportation to other places across China.

These advantages can support local tourism's revival, he believes.

Wuhan's tourism recovery started later than other cities' in the province because of its situation during the epidemic.

Its landmark Yellow Crane Tower reopened on April 29, with indoor areas remaining closed.

The site received around 5,400 visitors during the five-day May Day holiday. About half were annual-membership-card holders or enjoyed free admission, such as medical workers and people older than 65. The number is nearly 2 percent of the same period last year.

"Most visitors are locals. Many are in their 30s and 40s, and bring their children to enjoy the outdoors. Our current visitor numbers are still low because most people feel uncertain (about going out)," says Wang Hongnian, head of marketing of the tower's management.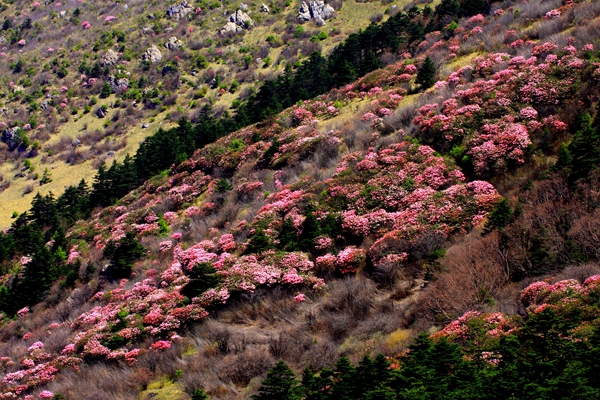 Shennongjia National Park features blooming flowers.[Photo provided to China Daily]

Tourists can visit the corridors of the 51.4-meter-high tower, and the halls of each floor will reopen incrementally, since they're well ventilated. The attraction will also be meticulously disinfected.

In April, the Yellow Crane Tower started to ask staff members to host livestreams showing the attraction's views and introduce its history. Each averaged over 1 million views.

"Netizens across the country are interested in the historical tower and comment that they want to visit in the future. The livestreams also enable some locals to learn more about the tower and entice them to visit," she says.

"But the key is to make visitors feel safe …There's still a long way to go."

She expects numbers will recover gradually until September, when the fall semester begins.

"The tower's fifth floor offers marvelous bird's-eye views of the city, including the bridges that span the Yangtze River. My favorite is watching the sunset."

Visitors to the tower can also head to nearby Hubuxiang to enjoy local snacks and stroll through the Tanhualin historical and cultural block. Or they can hop a ferry across the Yangtze to explore Hankou district.

The city's indoor attractions, such as the Hubei Provincial Museum, remain closed.

Hubei was part of the powerful Chu kingdom during the Spring and Autumn Period (770-476 BC) and the Warring States Period (475-221 BC).

"Our online exhibitions and livestreams promote Chu culture and history, and its people's strong spirit and character," says the museum's curator, Fang Qin.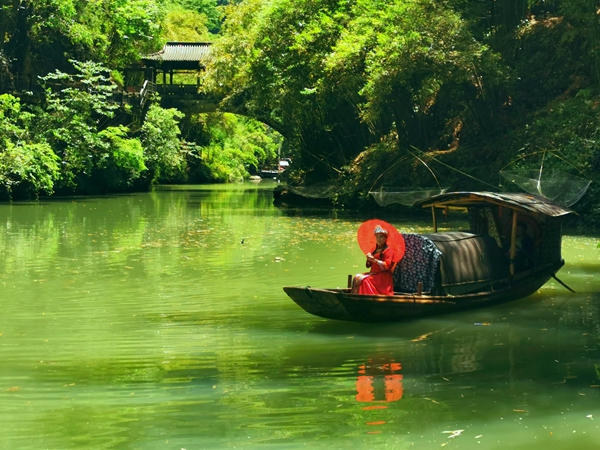 The Tribe of the Three Gorges scenic area attracts tourists with its natural views and ethnic culture.[Photo provided to China Daily]

"The internet offers new opportunities to popularize museum culture, and we should continue to use this approach."

Chinese travel agencies' interprovincial and outbound services remain suspended. CTG Travel resumed its business in Hubei on April 26.

Its packages offering attraction tickets and accommodation are popular among travelers who drive themselves.

The company also organizes small-group tours. Buses are regularly disinfected, and at least half of seats are required to be unoccupied.

Wuhan's authorities initiated ongoing testing of all residents after new cases of COVID-19 were diagnosed, raising concerns over its tourism recovery.

"The new cases will affect Wuhan's tourism and interprovincial travel in the short term. But over the long term, the influence will ebb as confidence in the market is gradually restored," says Yan Qi, who's in charge of CTG Travel's business in Wuhan.

China Tourism Academy associate research fellow Zhan Dongmei says Hubei's tourism industry, especially Wuhan's, is recovering at a slower pace than its counterparts.

But she's confident it'll catch up over time.

"Chinese, and especially people from Hubei (now), tend to postpone their travel plans because of safety concerns," she says.

"The epidemic may have influenced their psychology. Tourism players should be patient and prepare for the recovery during this period in such ways as developing products that appeal to visitors."