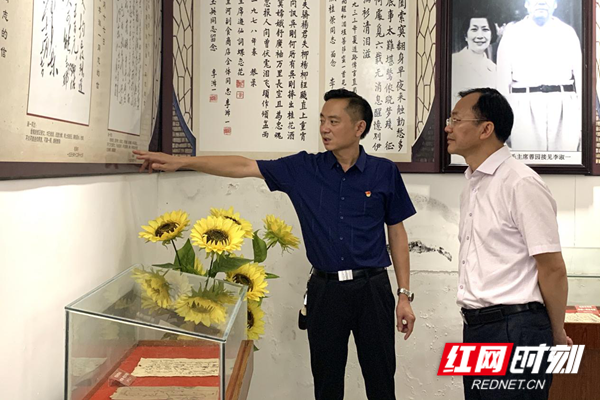 Li Zuyuan in Li Shuyi Museum.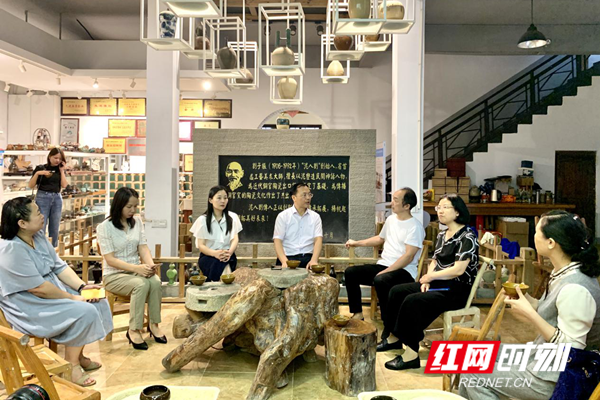 Li Zuyuan in Tongguan Nirenliu Pottery Museum.
On June 24th, Li Zuyuan, the party member and vice chairman of Hunan FOC, visited overseas Chinese cultural exchange base and overseas Chinese enterprises in Wangcheng, Changsha.
In Li Shuyi Museum, there are various kinds of letters, clothes, commemorative medals and other historical relics. In Nirenliu Pottery Museum in Tongguan, the porclains with unique features are small and delicate; In Changsha Mengdizhuang Art Gallery, the rare precious collection is breathtaking. Li Zuyuan, said the overseas Chinese cultural exchange base is a important way of expanding the cultural exchanges at home and abroad. We must strengthen the contact with overseas Chinese, the use of overseas brands activity to overseas Chinese nationals, hunan overseas Chinese continue to make "mouthpiece", Hunan new countryside and traditional culture to the world, speak good story of Hunan.
In Jinlong Group, Mao Binghua, vice chairman of Overseas Chinese Federation and vice chairman and President of Jinlong Group, briefly introduced the enterprise's development history, classic projects, product introduction, industrial service platform and resumption of work and production. Li fully recognized the achievements of Jinlong Group in technological innovation, operation and management, public welfare undertakings and expressed his gratitude for the contributions made by jinlong group during the epidemic. He pointed out that Jinlong Group is a dynamic enterprise with broad development prospects, and its innovative ideas and spirit are worth learning from more overseas Chinese enterprises. It is hoped that Jinlong Group will increase the display of enterprise development context in the future, truly tell the story of Jinlong, make the enterprise bigger and stronger, play a leading role in demonstration, and make contributions to the high-quality development of Hunan economy.