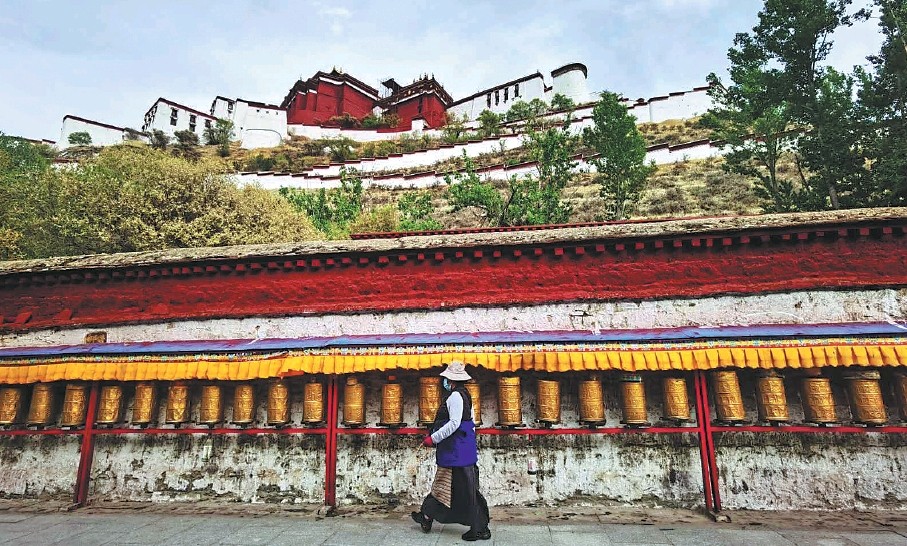 Reopened in early June, the Potala Palace is one of the most celebrated scenic areas in Lhasa, capital of the Tibet autonomous region. [Photo provided to China Daily]

In Rongpo Monastery, about 5,100 meters above sea level, Feng Jiaqi was livestreaming picturesque views of Qomolangma, known as Mount Everest in the West.

To protect the environment, visitors have been banned from climbing above the temple since December.

But the scenery is much the same as that of the base camp, at an altitude of 5,200 meters, where they were allowed to visit.

Feng told the story of the first Chinese mountain climbers to reach the planet's highest summit six decades ago and the recent remeasuring of its height by Chinese surveyors and mountaineers.

Feng is marketing director of an online tourism retailer based in Lhasa, capital of the Tibet autonomous region. It has become her regular job to livestream the region's beautiful scenery and cultural heritage, and answer questions about travel.

"I like to share Tibet's beauty and culture. Livestreaming makes you feel like you're personally at the scene. I've also made many friends via livestreams," she says.

She says many fans aren't sure if they'll visit Tibet soon but say they'll consider her services if they do. The company's business has recovered to 40 percent of what it was before the COVID19 pandemic.

Feng is among a growing number of travel-industry players using livestreams to increase interest in destinations to court customers who may arrive after the pandemic.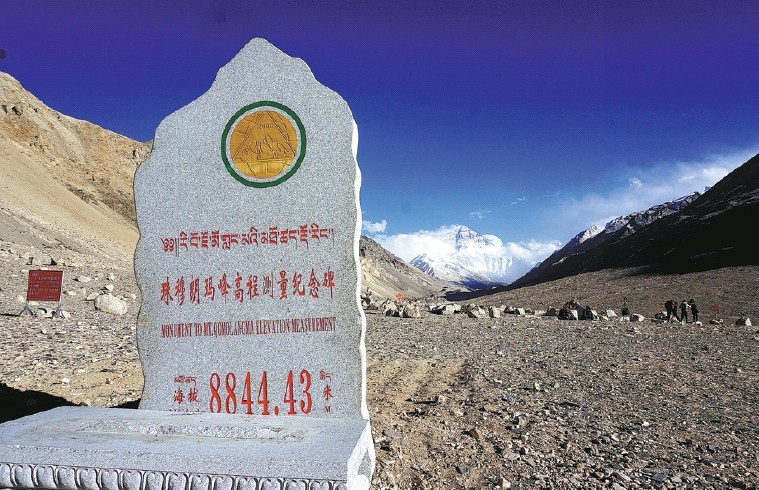 A stone tablet marks the summit of Mount Qomolangma at 8844.43 meters above sea level. [Photo provided to China Daily]

Chinese travel website Mafengwo says it has recently organized over 10,000 livestreams by travel influencers, agencies and retailers from home and abroad since March. Views increased by 96 percent in May compared with April, and the viewing times increased by 180 percent over April.

"Livestreaming is a new direction for tourism marketing and can be a sustainable business in the industry," says Mafengwo's vice-president, Zheng Xun.

"Video-travel tips are like an upgrade of visitors' demands for travel content, and livestreams are a necessary part. It takes time for customers to decide whether or not to buy a tourism product. So, you need quality livestream content to promote your products."

He says the livestreams offer detailed travel tips. They cover a range of topics like the location of parking lots and how to order local dishes, and viewers can ask questions whenever they like.

"Livestreaming is more direct and true in representing travel experiences," he says.

"You can retouch and edit photos to make them perfect. But during a livestream, viewers watch everything that happens during your trip, such as the scenery outside the car window and some small accidents."

He says the website assists hosts to produce livestreams with good content in ways like helping them pitch topics and design interactions with netizens. For example, a hostess may help netizens seek divine guidance by drawing lots in a Japanese temple.

Feng says it's better to visit the Rongpo Monastery from June to September due to weather. Netizens want to know what to prepare if they plan to visit, like warm down coats, portable oxygen and sunblock.

She suggests travelers check the risk levels of where they're from since Tibet has different measures for visitors from different regions.

Feng says local tourism is recovering gradually. Prices are much lower than normal, and the scenery is at its best with fewer visitors.

"It's best to learn about the culture and lifestyle when you visit a new place. Our customized itinerary includes taking guests to observe people making traditional Tibetan incense and painting thangka (traditional Tibetan Buddhist scroll paintings)."

Feng also livestreamed at the Potala Palace when it reopened in early June and other celebrated scenic areas in Lhasa.

He Lu, product manager at Lijiang United Holiday Travel Agency in Lijiang city, Yunnan province, and her colleagues also started to livestream local scenic spots, such as the Yulong Snow Mountains, at the end of April. The company chooses themes that appeal to visitors, such as boutique bed-and-breakfasts, delicious food and cultural heritage.

"People are most interested in the number of visitors to the scenic area and whether it's convenient to travel there," she says.

"Many are still taking a wait-and-see approach to travel plans. Several fans won free trips to the snowcaps through our livestream. But we haven't yet had such winners from other provinces."

She believes tourists enjoy livestreams because they satisfy inner needs.

Only a few people are actually traveling, due to safety concerns. Those who are waiting can use livestreams to choose their destinations.

"It's the right move for traditional travel agencies like us to use livestreaming, which has become a national topic. At first, it is essential to draw people interested in visiting Yunnan," she says.

"Popular spots were often overcrowded. But there are fewer tourists since the pandemic."

When Lijiang Old Town's bars were closed, their regular singers sat on the streets, playing instruments, singing and selling drinks.

Some tourists would sit and sing with them.

And local volunteers watered flowers and grass, and cleaned the cobblestone streets.

She says the agency's popular products are short trips to areas surrounding Lijiang, especially for independent travelers, some of whom are from other provinces. The minibus is meticulously disinfected and visitor numbers are capped at half of capacity. Travelers also undergo temperature and health QR-code checks.

"Customized domestic trips are faring comparatively well since people who've had to give up international trips have higher budgets and requirements," she says.

"Some families may prefer tailored groups rather than traveling with a larger group of strangers during the outbreak."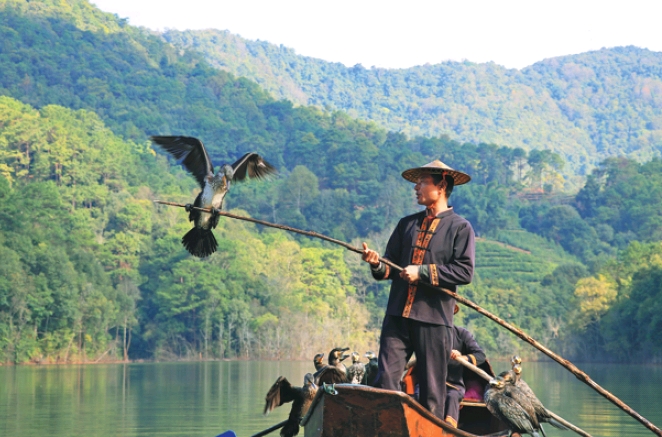 Many visitors to Pu'er are from Yunnan. It's a popular destination for families. The city is a good getaway to avoid the summer heat. Pu'er is less commercialized and has maintained its authentic ethnic culture. [Photo provided to China Daily]

Yunnan Mekong Group marketing director Wang Mingxia says the group owns three scenic areas in Pu'er, Yunnan, including Sun-River National Park and Tea Horse Road Scenic Area.

"Attractions' group-traveler numbers were down by 95 percent in May compared with May of last year, since agencies have suspended interprovincial travel. Individual-tourist bookings decreased by 30 percent year-on-year during the period, following a gradual recovery."

Many visitors to Pu'er are from Yunnan. And many drive themselves. It's a popular destination for families, she says.

"The city is a good getaway to avoid the summer heat. And its healthy ecology attracts visitors who stay longer. Unlike such destinations as Lijiang, Pu'er is less commercialized and has maintained its authentic ethnic culture," she says.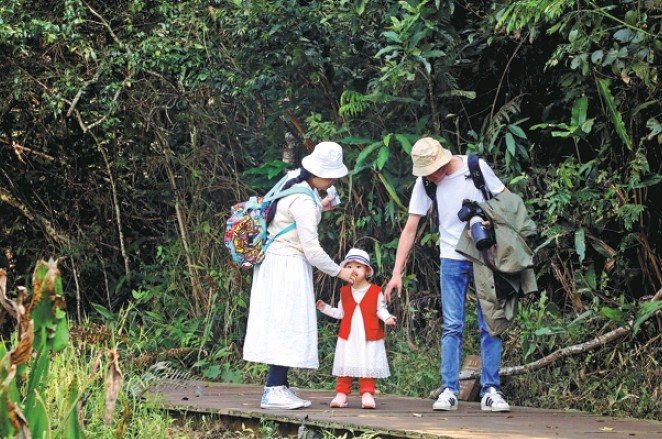 Many visitors to Pu'er are from Yunnan. It's a popular destination for families. The city is a good getaway to avoid the summer heat. Pu'er is less commercialized and has maintained its authentic ethnic culture. [Photo provided to China Daily]

Some travelers come for its famous Pu'er tea and to enjoy a slow pace of life.

Livestreaming is more like online marketing because consumers won't make decisions instantly while watching, unlike how they purchase snacks.

She says travelers are more selective about travel due to budgets limited by the pandemic's economic impact. They prefer products with a high performance-price ratio. And many hotels, scenic areas and travel agencies are offering unprecedented discounts.

She expects the recent localized cluster of COVID-19 infections in Beijing will influence China's tourism recovery. It may make some people take a wait-and-see approach.

She says her agency's focus is on serving more tourists during the Dragon Boat Festival and the summer holiday. She hopes the domestic tourism market will recover to a higher level before the weeklong National Day holiday in early October, since it's the year's last peak travel season.

China Tourism Academy associate research fellow Zhan Dongmei says livestreaming has played an important role in tourism's recovery.

It allows those who are confined to their homes or are otherwise postponing travel to learn about scenic areas and museums from new perspectives.

"Those who work in the tourism industry should be used to the normalcy of prevention and control work of COVID-19 and improve their products in line with the situation. Tourists should also make proper and safe travel plans under such circumstances," she says.

"The recent cases in Beijing will only affect the tourism recovery within a certain scope. And the public is already aware of scientific ways to prevent and control the virus."

Contact the writer at xulin@chinadaily.com.cn