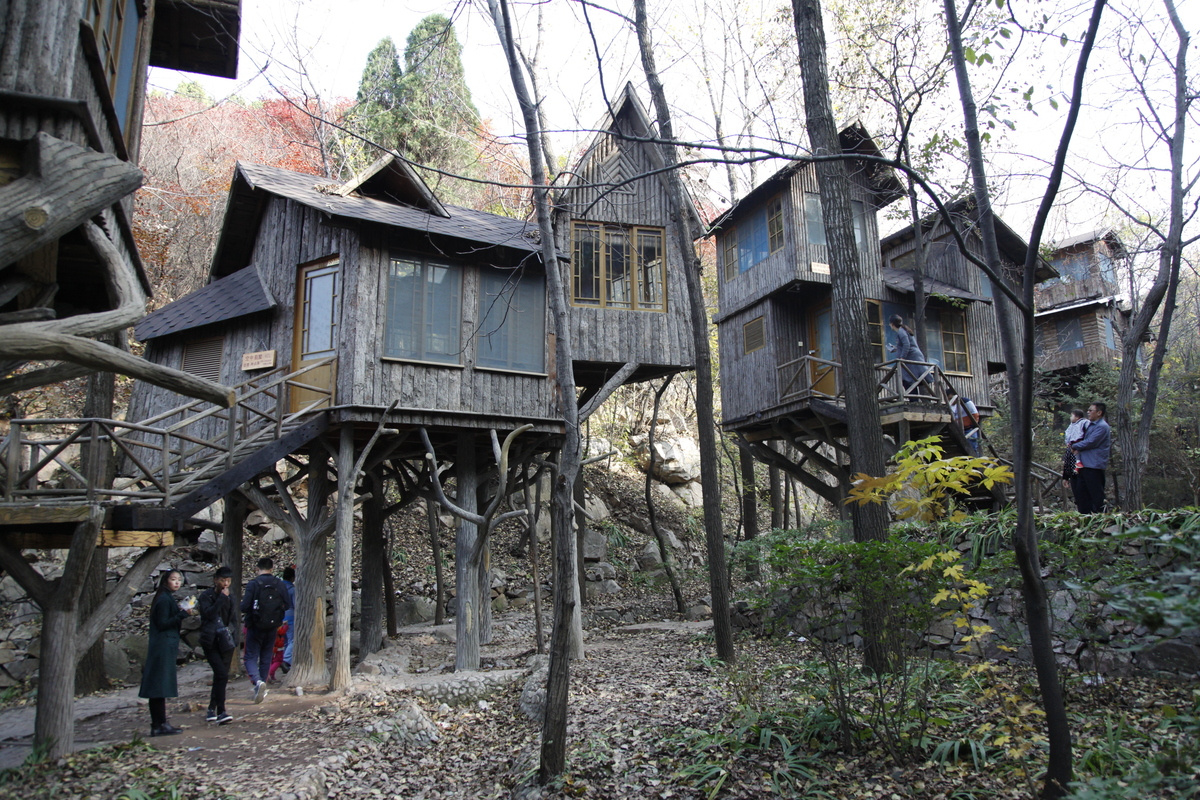 Tree houses in Red Leaf Valley, Jinan, Shandong province, provide accommodation for tourists, and are equipped with furniture such as beds and chairs. [Photo provided to China Daily]
Chinese travelers are no longer satisfied with staying at traditional standard-fare hotels. Personalized and distinctive accommodation such as tree houses and boathouses have become increasingly sought after, as the domestic tourism market matures.
With an investment of 1.17 billion yuan ($165 million), Senbo Resort Hangzhou is a newly opened high-end vacation resort that features natural elements such as forests and lakes in suburban Hangzhou, Zhejiang province.
Chen Miaolin, founder of Hangzhou-based New Century Tourism Group, which operates Senbo Resort Hangzhou, began shooting his first livestreaming session as an anchor to promote various hotels packages in late May.
During the session, a popular package of tree houses (meaning cabins built on trees or located on a mountain and surrounded by trees), was sold out within a few seconds. On average, the session clinched one deal per second within an hour.
"Young travelers are pursuing more diversified traveling experiences. Besides simply viewing beautiful sights at scenic spots, they would also like to participate in some fun and experiential events, so we should offer more such options," Chen said.
Behind the popularity is a multibillion-dollar livestreaming market, where Chinese consumers are increasingly enticed to spend money through the promotion of various goods and services in livestreaming events.
Since February, Fliggy, the online travel agency arm of Alibaba Group, has staged over 25,000 livestreaming sessions. They were hosted by online celebrities, officials and tourism business executives, and have attracted more than 70 million viewers (potential consumers).
Tropical island province Hainan promoted its various distinguished accommodations through a livestreaming session in late May. They included coastal fishing villages, rooms in tropical forests and rural fields, boathouses, and rooms with swimming pools, which have been very popular. Bed-and-breakfast stays on boathouses sold out online within one hour.
As COVID-19 is steadily receding in some parts of China, vacation resorts, bed-and-breakfast homestay villages and hotels that feature visits to wineries have become more popular this year, and the booking volumes of some have resumed to the level of the same time last year.
Hotels that are equipped with swimming pools and children's park are particularly welcomed by families, according to Beijing-based online travel service provider Qunar.
Besides, with summer vacation approaching, demand for summer camps has spiked. For instance, summer camps that feature building tree houses, and those that allow parents and kids to experience countryside life - like going fishing, planting rice paddies and two-day camping trips in Beidaihe, a coastal area in Hebei province - are very well received, Qunar found.
"Chinese tourists are increasingly seeking individualized and distinctive experiences. Unlike before, they are more willing to slow down their pace and enjoy trips with certain themes, encouraged by their growing spending power and evolving tastes," said Dai Bin, director of the China Tourism Academy.
In May, 72 cities in China saw the number of their bed-and-breakfast room bookings surge over 100 percent compared with that of April, led by the bookings logged in Hangzhou, Chongqing, Chengdu of Sichuan province and Changsha of Hunan province, according to San Francisco-based lodging and short-term vacation rental provider Airbnb.
The company said tours of neighboring areas, countryside trips, cleanliness and high quality are buzzwords that netizens searched for frequently recently. It expects more people will take shorthaul trips to experience countryside lifestyles.
"I would like to have some immersive experiences of local cultures and customs when I go traveling, and I prefer to stay at some unique places with interiors with traditional characteristics," said Tian Shen, a 28-year-old bank employee in Beijing.