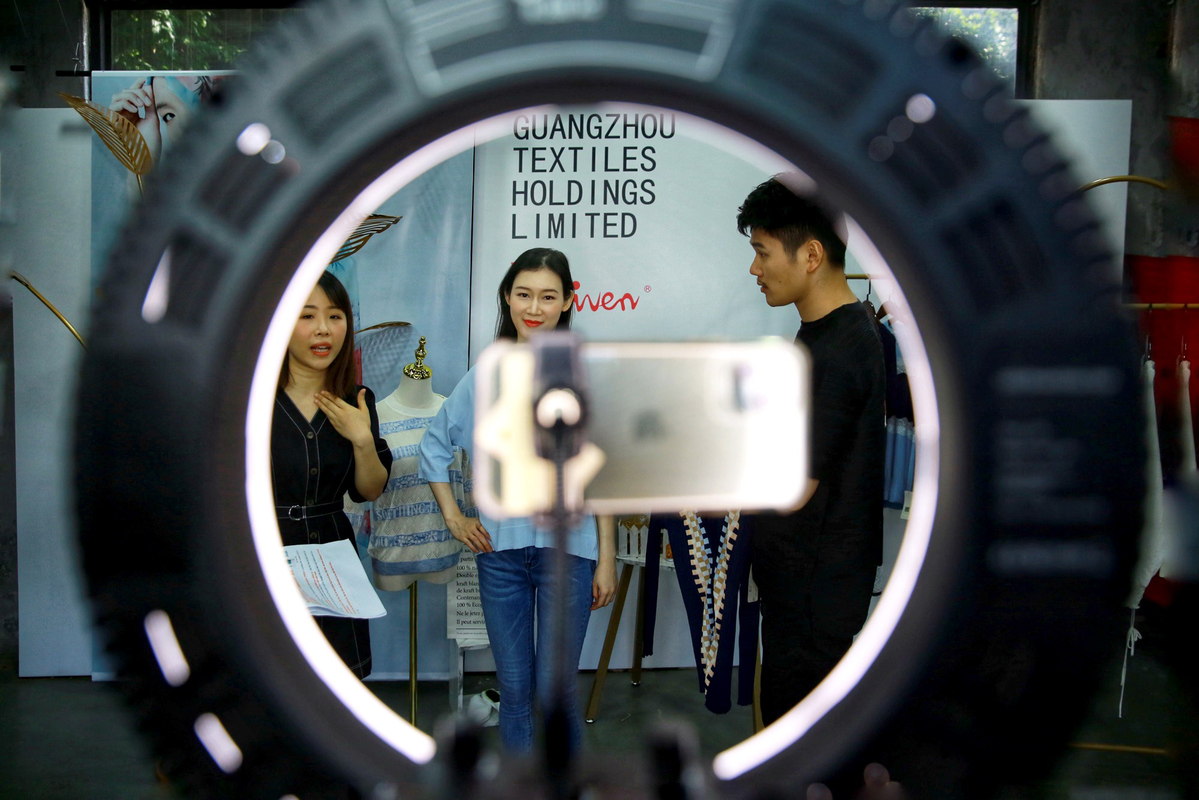 Employees of a Guangzhou, Guangdong province-based clothing company promote products during the online Canton Fair via a livestreaming platform on June 15.[Photo by Song Jinyu/for China Daily]
Digital tools and technology take mega expo online to stabilize international trade amid constraints of COVID-19 pandemic
The 127th edition of the biannual China Import and Export Fair, better known as the Canton Fair and held from June 15 to 24 in Guangzhou, Guangdong province in South China, presented an unprecedented challenge to Guangzhou Light Holding Ltd.
Since the launch of China's pre-eminent foreign trade expo in 1957, the locally administrated State-owned enterprise specializing in foreign trade never missed a single event for 62 years. En route, it benefited from new orders, new clients, growing networks, all of which helped it to grow in a steady and sustained manner.
But, in late March, Guangzhou Light Holding, and thousands of other Canton Fair regulars, learned that for the first time in its history, the fair would be held in a virtual dimension or online, rather than in physical space, due to COVID-related constraints.
To maintain solid economic fundamentals, the government later emphasized the importance of focusing on the "six priorities": 1) safeguarding employment; 2) people's livelihoods; 3) the development of market entities; 4) food and energy security; 5) the stable operation of industrial and supply chains; and 6) the smooth functioning of society.
Given the crucial role of the Canton Fair in the global supply chain, could the digital avatar of the mega expo cost Guangzhou Light Holding and other participants big time, in terms of business deals clinched?
As it turned out, Canton Fair participants realized the online event has its own advantages.
Michael Schumann, chairman of the board of directors of Berlin-based German Federal Association for Economic Development and Foreign Trade, said: "The organizer of Canton Fair took a different approach to hold it online for free for exhibitors and buyers. This is courageous and a worthy reference for German exhibitions. This session of Canton Fair would create more trade opportunities for global exhibitors and buyers."
For one, the virtual platform offered longer exposure by being online 24 hours a day, facilitating businesses and clients across different time zones to connect at mutual convenience.
It also saved a lot of time, energy and costs for participating companies by obviating the need for transcontinental travel, hotel room bookings, exhibition fees, and expensive stalls.
Unlike in the past when visitors would get tired just going around the humongous venue and visiting as many stalls as possible, this time it was easier to figure out who is where in the virtual space and e-connect with them in a jiffy.
What's more, the online event enabled makers of capital goods to showcase even large machinery as well as production processes and technologies.
Use of secure digital tools and e-channels offered private and confidential e-spaces to conduct business negotiations and close deals without compromising on trade secrets.
Best of all, given the nature of the contagion, the online event preempted the spread of the virus among expo participants and stoked new business orders against the backdrop of a seemingly impossible situation.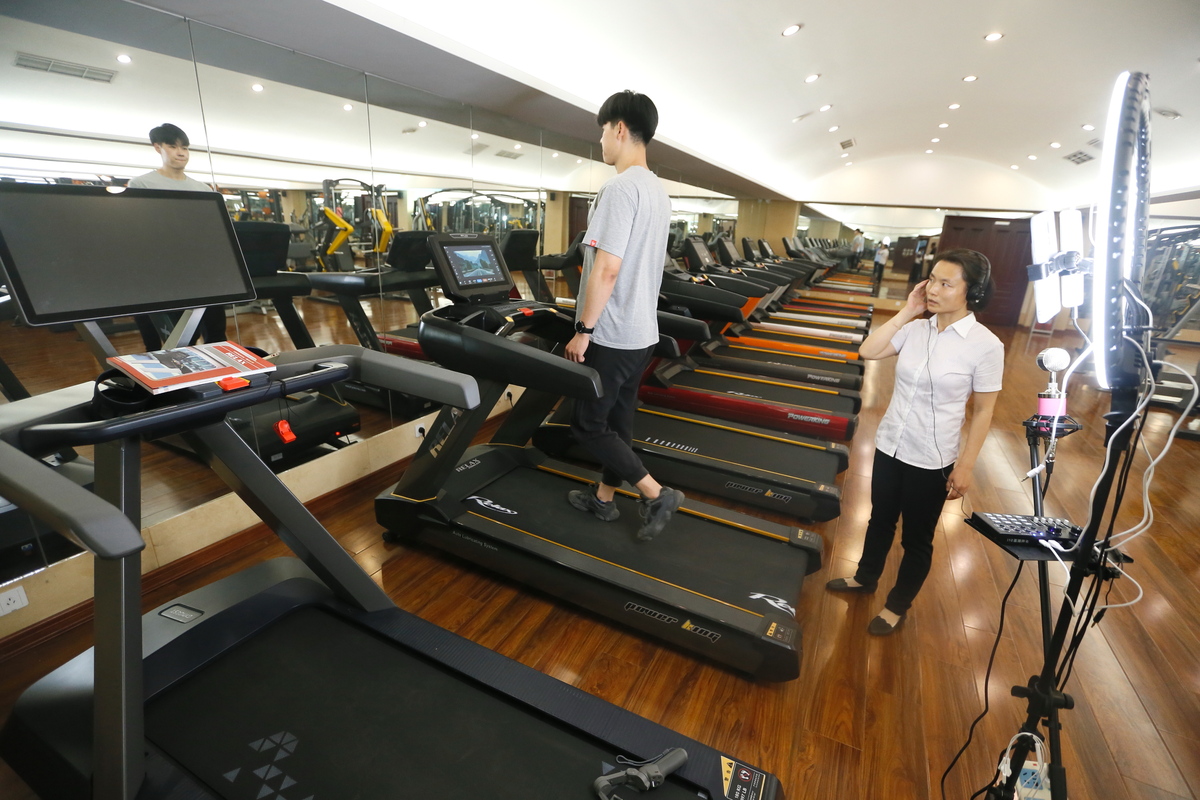 Employees of a Qingdao, Shandong province-based treadmill company display products via livestreaming during the Canton Fair on June 15.[Photo/Xinhua]
Like thousands of other companies, Guangzhou Light Holding has no complaints, and could have gone laughing all the way to the bank.
Industry experts believe this year's summer session of the Canton Fair, which coincided with the incipient post-COVID economic recovery in China, may have helped stabilize the global supply and industrial chains.
"The decision to turn the fair into an online event this summer was quite unexpected. Our foreign buyers feel fresh and are very interested in knowing about it. For our clients in Colombia, Chile and other faraway places, it wasn't easy to come to China, given the COVID scene," said Liu Zhou, sales manager of Guangzhou Double Fish Sporting Goods Group Co Ltd, during the event.
The company held 20 livestreaming sessions to display and sell its products online.
To be sure, the Guangzhou event did have physical stalls at the regular venue. But it was open only to exhibitors (sellers), organizers, and select invitees.
There were 50 exhibition areas covering 16 categories of commodities and goods, like home appliances, food, chemical, textiles and clothing. The event attracted over 25,000 Chinese and foreign sellers and more than 200,000 buyers, including those online.
Liu said although foreign buyers have been accepting livestreaming, the challenge is for sellers to be sincere toward buyers.
Zhu Puzhen, general manager of Guangzhou Light Holding, said the company hired highly paid professionals including online celebrities to train its business staff, and to promote online sales.
Zhu said the online event is a pioneering initiative because no trade fair was held entirely online ever before. When international travel was still restricted, holding the trade fair online was the best option.
The sellers showcased 1.8 million products and services in various forms, including images, videos and 3D formats, to match their suppliers with buyers round the clock.
Foreign buyers could register on the 24-hour livestreaming platform and start purchase negotiations at any time during the exhibition period. All companies were exempt from exhibition fees to bolster international trade during the challenging period.
Gu Jin, deputy general manager of the overseas business department at China General Technology Group, a State-owned machinery exporter, said the company did not experience any time or location limitations. It could showcase its products and service solutions with ease.
"In the previous fairs, due to the relatively small booth size, we were able to exhibit only certain small equipment," sad Gu. "But this time, we could display large machinery on the digital platform, and even demonstrate our production processes and technologies online, not just the products."
Apart from using well-known digital platforms such as Google and Facebook, as well as a number of social media apps, buyers from home and abroad could easily access exhibits while watching livestreamed content, said Li Jinqi, deputy director-general of the Canton Fair's organizing committee.
Li said there were a variety of online communication tools to help buyers and sellers interact in real time as well as improve the efficiency and effectiveness of online negotiations.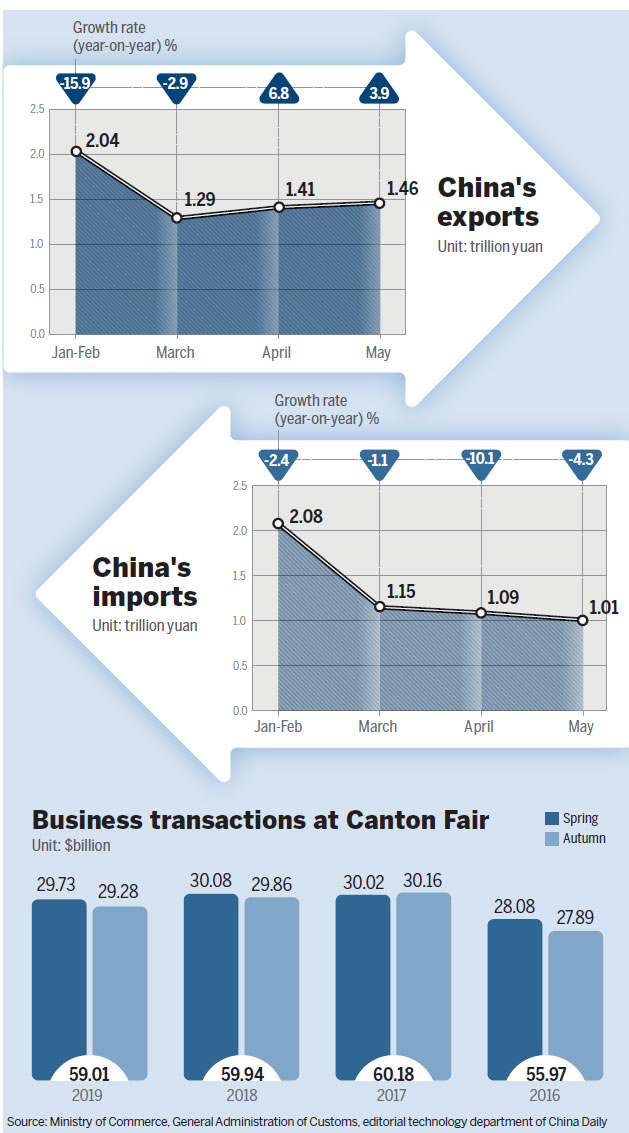 As the sole official technology partner for the digital mega-expo, Chinese internet giant Tencent Holdings Ltd provided technological support to ensure the event is efficient, productive and secure.
The group's products and solutions supported virtual meetings, instant messaging and 24-hour livestreaming. These helped exhibitors and buyers alike to connect seamlessly, transcending the limitations placed on in-person meetings by COVID-19.
Unlike mass livestreaming for consumer products where consumers interact with online hosts in a public domain, online interactions between prospective buyers and Canton exhibitors are encrypted to protect their privacy and enhance efficiency, said Yan Min, a Tencent product manager responsible for the fair's digital solution package.
"The instant messaging tool is backed by simultaneous translation services developed in-house. Virtual meetings allow 300 people to participate in real time, and these can support online contract signings if needed," she said.
Mohamed Sabry, chairman of the Alexandria Business Association of Egypt, said the digital Canton Fair is a rare opportunity for Egyptian buyers. It will not only help Egyptian buyers improve sourcing efficiency and save on costs but set up a platform for Egyptian and Chinese entrepreneurs to communicate with each other in another format. Besides, it will provide new opportunities for the development of bilateral economic and trade cooperation during the current tough period.
China-Egypt economic and trade relations have been enjoying a sound momentum of development. Bilateral trade amounted to $13.2 billion in 2019. Every session of the Canton Fair typically attracts more than 2,500 Egyptian buyers, said officials of the Guangzhou-based China Foreign Trade Center.
Owing to the pandemic, the World Trade Organization expects this year's global trade to fall by between 13 percent and 32 percent. The epidemic is also taking a toll on the world's second-largest economy. China's foreign trade in goods dropped by 4.9 percent year-on-year to 11.54 trillion yuan ($1.63 trillion) in the first five months, Customs data showed.
Taking the Canton Fair online is not only a flexible measure to deal with the pandemic but an innovative way to upgrade the traditional fair, as the internet and smartphones already play a big role in people's lives and business activities, said Zheng Jianrong, director-general of Guangdong's provincial commerce department.
Zheng said his department sent out invitations to buyers from economies related to the Belt and Road Initiative and also to member-states of the Association of Southeast Asian Nations to facilitate new global trade opportunities.
This year's online expo will continue to drive trade cooperation between China and markets related to the BRI to a new high, said Zhang Li, deputy director-general of the department of foreign trade under the Ministry of Commerce.
He said buyers from the BRI markets have accounted for 45 percent of total buyers at the annual event in recent years, and that figure will continue to grow.
Schumann of the German chamber said despite the decisive role the exhibition industry played in both countries, the German industry is facing severe challenges posed by the pandemic and many large-scale exhibitions in Germany have been canceled or postponed. They would now draw inspiration from the successful online Canton Fair, he said.
In addition to waiving exhibition fees for companies to cope with the impact of the pandemic, the Canton Fair lowered entry fee for many sessions. It also relieved pressure by waiving booth fee for enterprises from poverty-stricken areas. This would have saved over 2 billion yuan for enterprises, according to its organizer.
Even after COVID-19 is subdued, the online dimension should be made an integral part of the Canton Fair, said Liu of Double Fish Sporting."It should be preserved as part of the physical event in the future. The e-fair will solve many issues like distance."