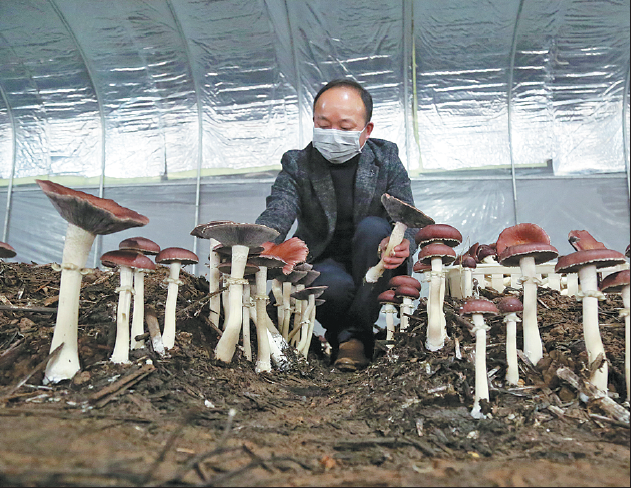 Shi Yuelong picks mushrooms in a Hunan Guangya greenhouse in Yuanjiang, Hunan province. [Photo/Xinhua]
Dongting Lake mushroom growers find a fresh way to utilize natural resources
CHANGSHA-Rotting reeds, once considered a scourge in Yuanjiang, Hunan province, are now the basis of a flourishing new industry in the city-mushroom cultivation.
"These high-quality mushrooms are worthy of promotion, given the abundant reed resources here," said Wu Zhengkun, deputy director of the Edible Fungi Research Institute at Hunan Agricultural University.
Tasty, nutritious and high-yield mushroom varieties grow on the residue of the reeds and have become a cash cow for residents. Using the reeds for commercial gain has also helped solve an environmental problem around Dongting Lake, China's second-largest freshwater lake.
The reeds have historically played a key role in the local economy. For years, paper mill operators across China envied their peers based around Dongting for their seemingly inexhaustible supply of reeds in the wetland. As an alternative to timber, low-cost reeds provided the perfect raw material for high-quality pulp and helped curb deforestation.
However, that "natural advantage" turned out to be an ecological threat. As paper production accelerated, millions of liters of toxic waste were discharged into the environment every year.
In 2018, local authorities ordered that papermaking, a mainstay of the local economy, stop and all paper and pulp mills around Dongting Lake closed by the end of last year. The closure of the Yuanjiang paper mills came amid a nationwide campaign to eradicate environmental threats.
What was intended as a blessing for the environmental health of the lake was a disaster for mill workers who suddenly found themselves laid off. Despite a government pledge to solve the unemployment problem, few of the mill workers wanted a job in a new industry.
The shutdown of the papermaking industry also created an unexpected problem. After losing their commercial value, about 90 percent of the reeds rotted on the lake's shore, causing eutrophication with high nutrient concentrations stimulating excess algae growth. That, in turn, affected the wildlife of the lake.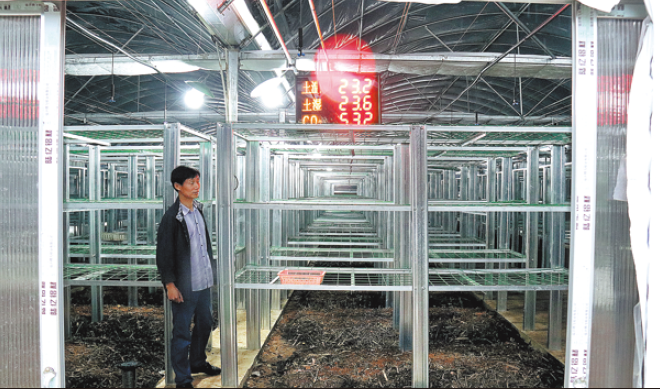 Wu Zhengkun, from the Edible Fungi Research Institute, checks environmental data in a mushroom cultivation greenhouse in Yanzhihu village, Yuanjiang.[Photo/Xinhua]
Fresh idea
Even before the paper mills were shut, local authorities had been racking their brains trying to find eco-friendly and economical ways to utilize the reeds.
The solution arrived one rainy day when Shi Yuelong, a local working in the reeds for more than 30 years, came across a vast group of "little umbrellas", which looked like edible fungi, growing out of rotting reeds.
"It was like a surprise encounter with a gem," Shi, now general manager of the Hunan Guangya mushroom-cultivating company, recalled with excitement.
Without hesitation, he collected five or six types of the wild mushrooms and sent them to biological institutes for identification and nutrient analysis.
"We identified from these reed mushrooms three edible varieties for commercialization," said Wu from the Edible Fungi Research Institute, pointing out a white spring mushroom, a mayonnaise-colored one and a bulbous fungus.
In 2017, Shi asked several biologists to experiment with domestication and cultivation of wild reed mushrooms, which proved a difficult task as they had no precedents to follow.
The breakthrough came last year with a successful small-scale trial cultivation of the three domesticated mushroom varieties from soil containing reed residue.
Shi said it is an "awesome" way to utilize reed resources and avoid pollution, as 0.067 hectares of mushrooms needed up to 20 metric tons of reeds.
Reed mushroom seeds are cultured at a production base in Yanzhihu, Yuanjiang.[Photo/Xinhua]
Greenhouse growth
A greenhouse was also equipped to monitor temperature, humidity, carbon dioxide concentration and other parameters of the reed mushrooms. Conditions in the greenhouse can be controlled remotely via mobile phones or automatically for an optimal growth environment.
"With the multifunctional greenhouse, we can guarantee stable and unaffected growth of the reed mushrooms for three seasons each year and dramatically increase output per unit area," Wu said.
To further support the industry, Yuanjiang set up a special office in March that employs a large number of local farmers who no longer have to leave the city to find work.
With increased production capacity, city officials and growers are expecting the industry to produce 100,000 tons of reed mushrooms by 2022.
Shi also hopes to build an organic fertilizer plant, utilizing the reed residue from mushroom cultivation.
"This is how we will push toward green recycling and comprehensive transformation of the reed industry," he said.
Xinhua