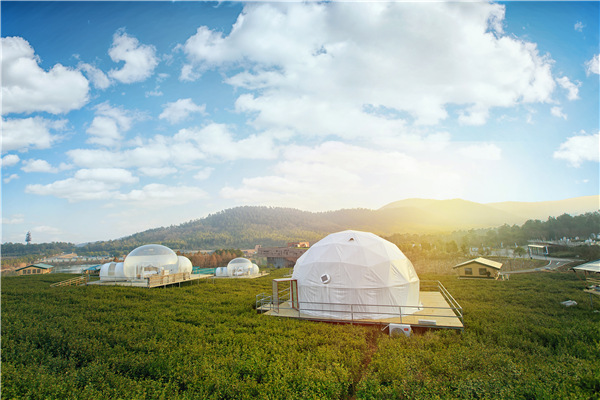 A tent hotel at Baoshengyuan, Maoshan Mountain scenic area.[Photo provided to China Daily]

Improved development is bringing increased numbers of visitors to Maoshan to enjoy much more than just the holy Taoist peak.

Tourists are again flocking to Jiang Fangjun's farm since the COVID-19 epidemic was brought under control in April. About 2,000 tourists visited his place, the First Farm, during the May Day holiday, 20 percent more than during the holiday last year.

Jiang's farm sits in the Maoshan Mountain scenic area in Jiangsu province's Changzhou city. It offers immersion in nature and fresh air while guests are surrounded by forests and bodies of water.

"It seems like the result of a pentup desire to travel and spend," Jiang says.

Most visitors are from neighboring cities, including Jiangsu's capital, Nanjing, and Shanghai.

Programs featuring forest and farm experiences are especially popular with children, Jiang says. They can feed small animals, plant vegetables, grind soybeans to make soymilk and make paper the old fashion way.

"We added these programs to ensure tourists can enjoy a full vacation here," Jiang says.

Jiang founded the farm in 2011, with the idea of developing organic agriculture, growing vegetables, fruit, grain, tea and traditional Chinese herbs.

"Everything was clean, from the water to the air," he says.

However, transportation wasn't convenient then. So, few tourists passed through.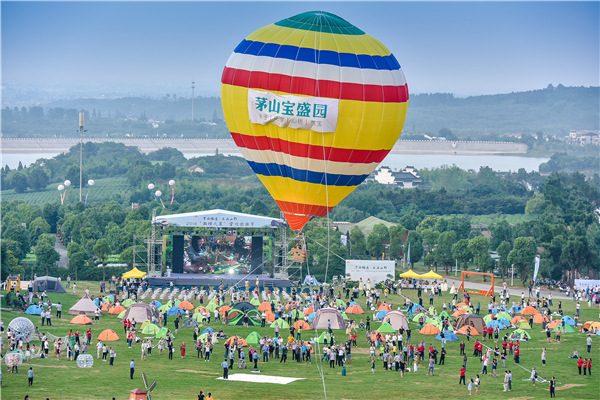 Balloon rides are a popular attraction.[Photo provided to China Daily]

Things changed when the local government began to develop tourism in 2013.

Authorities have since invested 3 billion yuan ($424 million) in infrastructure, including roads, public toilets and lighting.

A path around Maoshan Mountain has been built to allow tourists to fully appreciate its Taoist and natural elements.

"We've also introduced a batch of (tourism) projects," says Yang Guozhong, a senior official with the scenic area's administration.

The Oriental Salt Lake Resort was completed in 2016. Visitors can immerse themselves in Taoist culture and art performances. Families can join study tours.

It also offers a flower garden, bonsai park and recreational-vehicle camping.

Lunar New Year celebrations have been staged annually to attract visitors to Xiangu village, where Jiang's farm is.

The village was named one of the country's 10 most beautiful at the Beautiful Country Boao International Summit in Hainan in 2018, which helped put Maoshan on the tourism map.

The upgraded environment and roads have also brought more guests to Jiang's farm, which opened to visitors in 2016.

His tourism business has since grown by 20 to 30 percent annually, he says.

A tourism highway that connects the Maoshan Mountain scenic spot and downtown Changzhou opened last year, cutting travel time to less than an hour.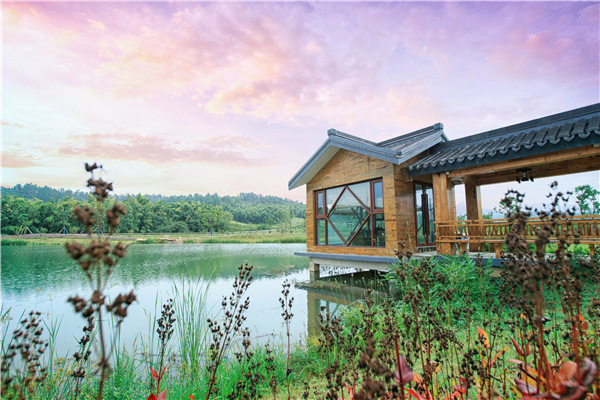 A pastoral scene at Xiangu village.[Photo provided to China Daily]

"It really puts our scenic area in Changzhou's backyard," Yang says.

Maoshan Mountain received 4.53 million visits in 2019, up 18 percent over the previous year.

Tourism revenue stood at 710 million yuan, up 23.5 percent year-on-year.

"Maoshan Mountain is a celebrated Taoist site. And we've focused on integrating Taoist culture with health preservation," Yang says.

The tourism boom has also brought transformative changes to villagers' lives.

Jiang's farm has hired over 200 locals, most of whom earned only 3,000 to 4,000 yuan a year cultivating the land.

Most now receive around 50,000 yuan a year from leasing their land to the farm, Jiang says. And they grow and cook food for his guesthouse, help at the hotel or transport the farm's produce to customers.

Local households who sell produce or work in the catering and homestay businesses have significantly increased their incomes.

Homestay owners earn about 300,000 yuan a year on average, Yang says.

"Most villagers have come back from working in cities," he says.

Zhang Lijun changed her rural house into a homestay that offers seven guestrooms in 2018.

The homestay business has more than doubled her family's income.

"We're always fully booked on holidays," Zhang says.

Zhang made the decision after seeing a growing number of visitors to her village of Jinniushanzhuang, about a 10-minute drive from Jiang's farm.

"Many great homestay players from across the country have come to my neighborhood, which increased my confidence to start my own business," Zhang says.

Locals run about half of Jinniushanzhuang's more than 60 homestays.

"It's clear everyone is paying attention to offering better environments and services," Zhang says.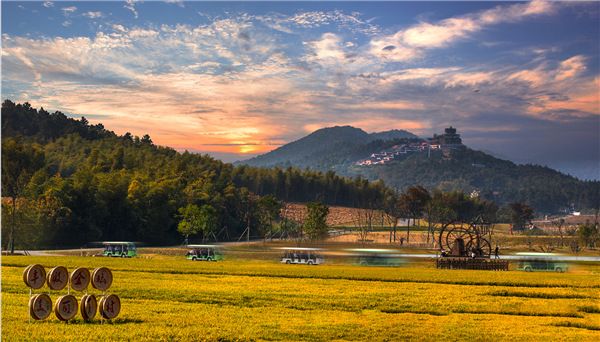 Maoshan Mountain scenic area in Jiangsu province's Changzhou city is a hot tourist destination for its natural landscape, Taoist culture, well-developed facilities and homestay business.[Photo provided to China Daily]

Most households have planted flowers in front of their doorsteps and take the initiative to treat travelers as friends.

During the Dragon Boat Festival last week, Zhang prepared zongzi (glutinous rice wrapped in bamboo leaves or reeds), dumplings and barbecue for guests.

"I wanted to let them feel the holiday here," she says.

Zhang says she's considering opening an eighth guestroom but will only do so if she can be sure it won't compromise her guests' experience.

"I won't raise my prices either because I want to encourage more visitors to come to my place without feeling any pressure," she says.

Yang says a tourism center will open by September.

Diverse products and facilities will be offered, and services will continue to improve.

More hotels will be built to encourage more overnight stays and thus immersive experiences in the Maoshan Mountain scenic area, Yang says.

The goal is to make the scenic area a national-level getaway in two to three years, Yang says.

He expects more people will come once the Yanjiang high-speed railway that will connect Changzhou to Nanjing and Shanghai opens by 2022.

"It will help increase our influence in the Yangtze River Delta area," Yang says.