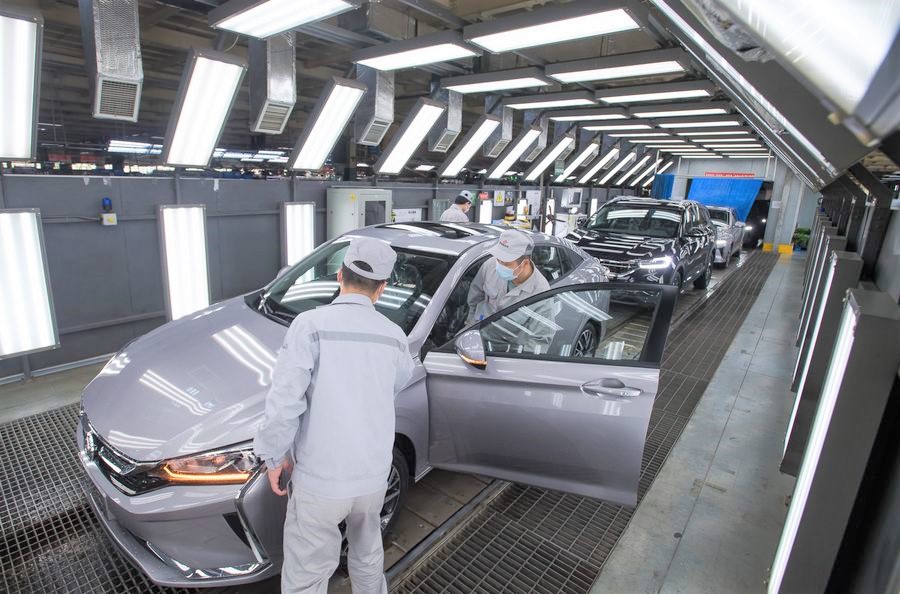 Workers are busy on the production lines at the workshop of Dongfeng Passenger Vehicle Company in Wuhan, Hubei Province, on March 24, 2020. [Photo/Xinhua]
China's factory and service sector activities expanded in June as the economy continued to recover from the shocks generated by the COVID-19 pandemic, data from the National Bureau of Statistics showed on Tuesday.
The country's purchasing managers index for the manufacturing sector stood at 50.9 in June, up from 50.6 in May. The PMI for the non-manufacturing sector came at 54.4 in June, rising from 53.6 in the previous month, according to the NBS.
Zhao Qinghe, a senior NBS statistician, said that the data indicated that the country's economic recovery continues to gather momentum as supportive government policies have helped the economy overcome difficulties amid the COVID-19 pandemic.
The expansion of the country's manufacturing sector in June was mainly supported by the improving market supply and demand, price rebound and the recovery of external orders, Zhao said.
But uncertainties still remain as the sub-index for new export and import orders were still in the contraction territory below 50 despite the rebound in the past two months, the NBS official said.
Meanwhile, smaller firms continued to face greater production and operation difficulties than their larger counterparts as the PMI for small manufacturers stood at 48.9 in June, edging down by 1.9 percentage points from the previous month, according to the NBS.