The 2020 Hunan Energy-saving Publicity Week themed with "Energy Conservation for Green Hills and Clean Water" was launched on June 29. It aimed to promote ideas of energy conservation, create an energy-saving atmosphere, raise energy-saving awareness and encourage all the citizens to participate in energy conservation.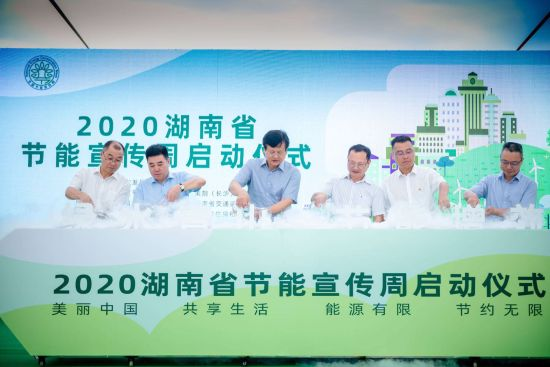 The photo shows the launching ceremony of the 2020 Hunan Energy-saving Publicity Week.
The campaign consists of online and offline activities. The online energy knowledge contest started from June 22. Citizens can participate in knowledge quiz via a mini program. Winners can get an energy-saving product. This will encourage more people to get involved in developing the habit of saving energy. As of 24:00 on June 29, the number of participationnts exceeded more than 30,000 and about 600 of them won the prizes. The sponsor awarded some of winners at the launching ceremony. The offline activity will last until July 5. During this period, typical cases about energy conservation transformation and resource recycling, as well as energy-saving achievements in such key fronts as industry, transportation, housing and urban-rural development, and public institutions since the 13th Five-Year period, are to be exhibited at Changsha Xiangfu Cultural Park. All the cities and prefecture throughout the province carry out a variety of energy-saving publicity events.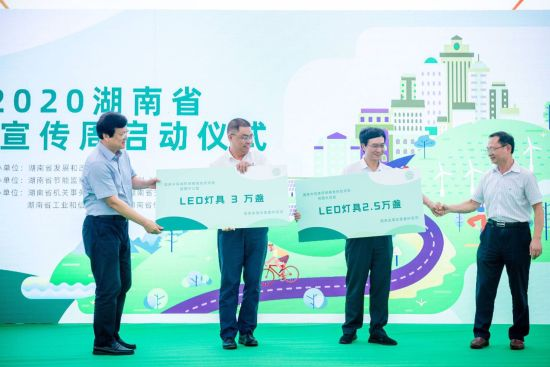 The photo shows the donation ceremony of the National Semiconductor Lighting Project for Targeted Poverty Alleviation.
The donation ceremony of the National Semiconductor Lighting Project for Targeted Poverty Alleviation was also held. The project was initiated by the Department of Resource Conservation and Environmental Protection of the National Development and Reform Commission. It donated 30,000 and 25,000 energy-saving lamps to Pingjiang County in Yueyang and Yongshun County in Xiangxi Tujia and Miao Autonomous Prefecture respectively with the aid funds of China Semiconductor Lighting Promotion Project under the Global Environment Facility. 
Zhou Zhenhong, deputy director of the Hunan Development and Reform Commission noted that in recent years, Hunan has vigorously promoted transformation and upgrading of industrial sector, intensified energy conservation and consumption reduction in key fields, and continuously enhance the sustainability of green development. Thanks to the joint efforts of all departments, Hunan has achieved remarkable progress in controlling both the quantity and intensity of energy consumption. By 2019, the energy consumption intensity dropped by 18.5% and the increased energy consumption was kept at 14.88 million tons of standard coal. All met the requirements of the target.
This article is from Hunan Provincial Government www.enghunan.gov.cn.
Translator: Wu Lirong
Chinese source: hn.chinanews.com