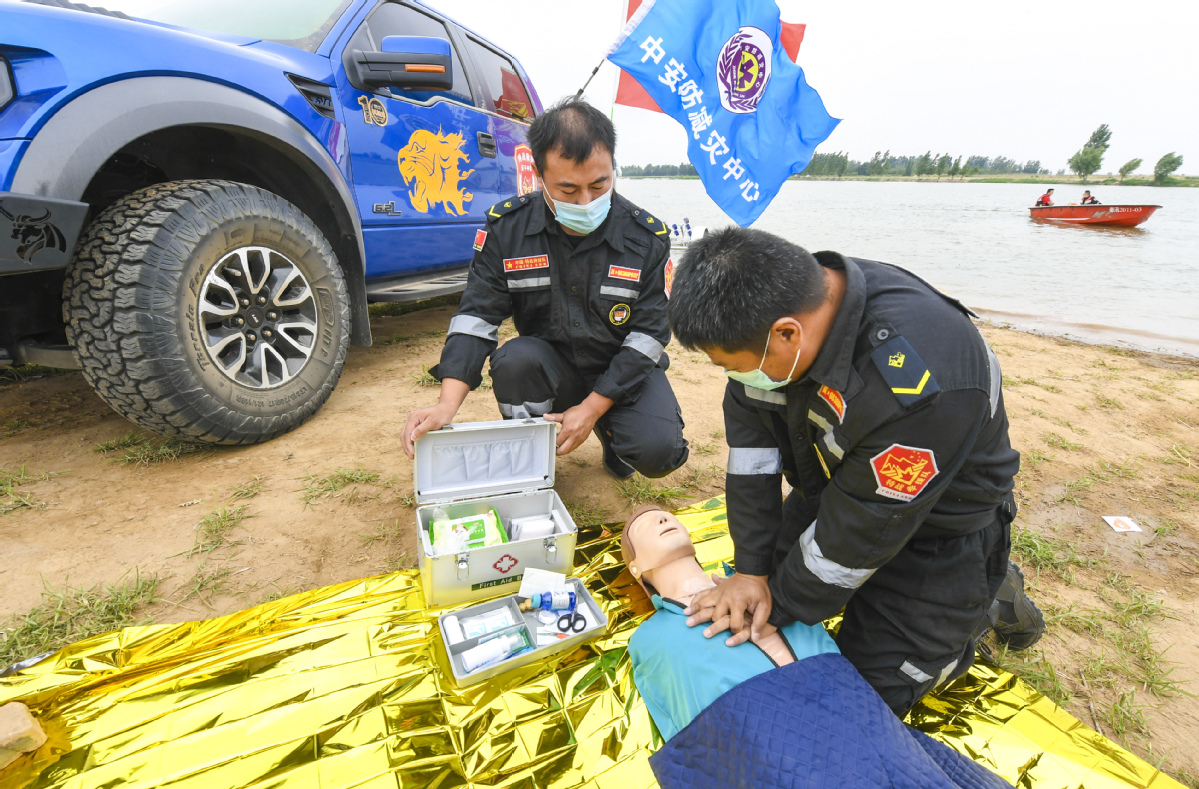 A number of ministry-level departments, including those responsible for responding to emergencies, human resources and social security, and national development and reform, have responded recently to issues of public concern.
Nongovernmental rescue teams' skills valued
Private individuals and NGOs will be encouraged to participate in the country's responses to floods and droughts, according to a notice released by the Ministry of Emergency Management on Saturday.
As the country's flood season has begun, continuous downpours have lashed large parts of southern China and caused serious flooding in some areas. Meanwhile, some other areas have been hit by drought.
The notice said local authorities should involve nongovernmental emergency response forces in rescue missions and make full use of their advantages, such as flexibility and speed. The authorities should also guide nongovernmental forces to strictly implement safety protection measures, seriously assess hidden risks during missions and avoid rescue attempts that lead to new accidents, it said.
The ministry said more than 120 nongovernmental emergency response teams, including 3,500 rescuers and a large number of community volunteers, have participated in flood rescue operations and typhoon response work in several provinces.
Ministries launch private recruitment campaign
Four ministries, including the Ministry of Human Resources and Social Security, will stage a recruitment campaign for private companies this month.
The campaign will provide services for employers, including small and medium-sized companies, and job seekers, including fresh college graduates, impoverished laborers and the unemployed.
During the campaign, local authorities will visit employers and laborers to identify their requirements, issue lists of preferential policies and provide employment and vocational guidance as well as legal services.
Local governments will also carry out various online recruitment activities and organize offline recruitment in an orderly manner according to COVID-19 prevention and control requirements.
3.5b yuan in funding for Hainan free trade port
The central government will provide 3.5 billion yuan ($494.6 million) to promote the building of the Hainan free trade port, the country's top economic planner said on June 23.
The funds will be used for infrastructure construction and public service improvements, the National Development and Reform Commission said.
Targeted support will be offered to long-term projects, including monitoring facilities in comprehensive bonded zones, tourism-related infrastructure and projects related to epidemic prevention and control, it said.
Authorities released a master plan last month for the Hainan free trade port, which aims to build the southern island province into a globally influential, high-level free trade port by the middle of the century.
A free trade port system, focusing on trade and investment liberalization and facilitation, will be "basically established" in Hainan by 2025, and become "more mature" by 2035, according to the plan.
Push to improve hygiene in produce markets
China will step up efforts to improve hygiene in produce markets and other places to reduce novel coronavirus transmission risks, the National Health Commission said in a notice published on its website on June 22.
It said a circular issued by the Office of the National Patriotic Health Campaign Committee required local authorities to comprehensively improve the sanitation of all booths in markets as well as neighboring areas.
Routine cleaning work should be strengthened and trash should be cleared and carted away in a timely manner, the circular said.
It said efforts should also be made to improve the construction and maintenance of infrastructure such as toilets and garbage storage and sewage disposal facilities.
Markets will be encouraged to arrange for third-party agencies to carry out regular environmental monitoring to identify and eliminate sources of infection in a timely manner and avoid the spread of all kinds of infectious diseases, it said.
Xinhua contributed to the story.