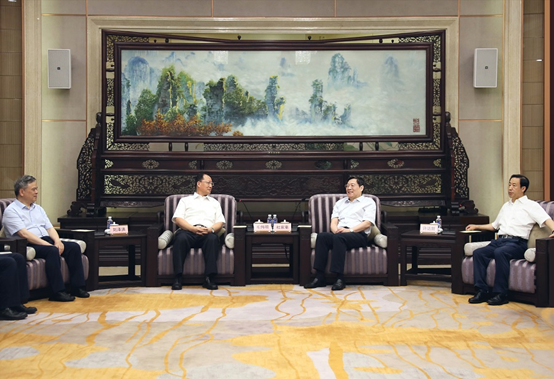 On July 1, Du Jiahao, CPC Hunan Provincial Committee secretary, and Xu Dazhe, CPC Hunan Provincial Committee deputy secretary and Hunan governor, met in Changsha with Mao Weiming, State Grid Corporation of China chairman and CPC Leadership Group secretary.
Provincial leaders Hu Henghua, Xie Jianhui, and Zhang Jianfei, attended.
Secretary Du said that in recent years, with the strong support of State Grid, Hunan's power infrastructure construction has been accelerated, and the safety and stability of the power grid, as well as the power supply guarantee capability have been continuously improved. This has contributed to the provincial economic development, industrial construction, poverty alleviation, and the people's livelihood. Hunan now has made important progress in coordinating both epidemic prevention and control and economic and social development. Guaranteed power supply will ensure Hunan's sustainable development.
He expected State Grid to continue supporting Hunan in building smart grids, reducing electricity costs, developing energy equipment industry, and accelerating UHV and pumped storage power stations construction, so that Hunan will achieve high-quality development.
Mao remarked that, Hunan has maintained a strong economic and social development momentum in recent years. The people's sense of fulfillment and happiness has increased significantly, and the demand for electricity is also increasing. State Grid will take the lead in power supply; combine its development with the national "14th Five-Year Plan"; further strengthen the development of outbound electricity transmission into Hunan; guarantee the reliable supply of electricity; and serve Hunan's strong manufacturing powerhouse construction, poverty alleviation, and energy structure transformation, to promote Hunan's high-quality advancement, he added.
This article is from Hunan Provincial Government www.enghunan.gov.cn.
Translator: Yu Jiangjiang
Chinese source: hunan.gov.cn