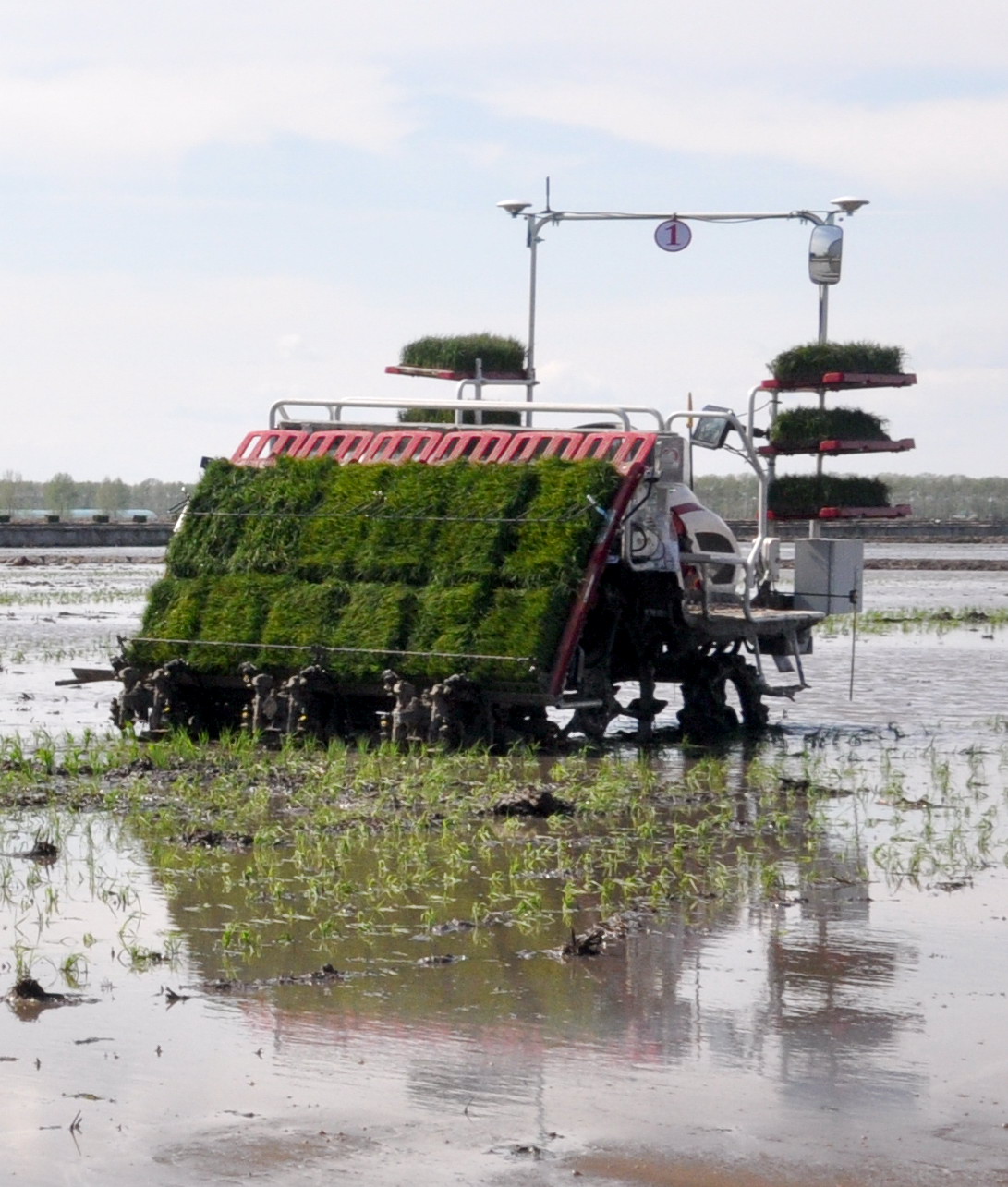 An unmanned rice planter operates on Qixing Farm on the Sanjiang Plain, a major rice growing area in Heilongjiang province, in May, 2020. [Photo by Wang Lijiao/For China Daily]
Editor's note:A xiaokang society, or a moderately prosperous society, has been the dream of Chinese people for thousands of years. Our reporters travel around the country to cover the arduous efforts being made in order to realize the dream.
Over the past 25 years, Zhang Jinghui has harvested more than 10 million kilograms of rice on his farmland in Qixing Farm on the Sanjiang Plain, a major rice growing area in Heilongjiang province.
Zhang, 58, moved to Qixing Farm in Jiamusi city in 1995 from Suihua city in Heilongjiang seeking a better life.
"All six members of my family had only 2 hectares of farmland in Suihua, which could only provide us meager subsistence," he said. "Therefore, when a relative told me that rice planting in the reclamation area might bring high income, I decided to give it a try."
Zhang rented 20 hectares of rice farmland in the first year, yielding a profit of 30,000 yuan ($4,250), which was a large amount at that time.
Then he rented 24 more hectares of rice farmland in the second year and became a famous planter on the farm for his industriousness and innovation.
Zhang was the first one on the farm to switch the power source for the irrigation pump from diesel to electric power around 2000, which helped bring economic gains and lower labor costs.
He also pioneered tests of new species, pesticides and technologies on his farm.
"When other farmers saw my rice production was high quality, they wanted to follow me," he said proudly.
Three years ago, Zhang registered a trademark for his rice. His annual family income has reached about 200,000 yuan.
Qixing, a State-owned farm that is part of the Jiansanjiang Company of the Beidahuang Agricultural Reclamation Group, has 70,000 hectares of arable land used to grow rice.
During a visit to Qixing in September 2018, President Xi Jinping stressed the importance of ensuring China's food security so that the country can always control its own food supply.
Agriculture is a fundamental sector, and China's modernization cannot be achieved without agricultural modernization. Revitalization of agriculture should rely on science and technology as well as talent, he said.
In recent years, the farm increased investment in science and technology, changing from traditional agriculture to modern agriculture and intelligent agriculture.
"We have 43,800 agricultural machines, and the agricultural mechanization rate has reached 98 percent," said Han Tianjia, deputy director of Qixing Farm. "The rice production has been fully mechanized."
With help from the national agricultural Internet of Things demonstration projects, the farm has initiated agricultural big data collection and collation to promote the whole process of intelligent rice planting.
"Qixing is the first farm of the Beidahuang group to establish the Internet of Things integrated service information platform," Han said. "The project includes 200 monitoring points, 20 small weather stations and 20 sets of groundwater level monitoring devices, providing big data that can be used to manage rice growth and enhance brand value."
"We also developed a bookkeeping application for the farmers, giving them the standard of investment in spring sowing, summer management, autumn harvest and autumn land preparation," he said. "According to the data, farmers can easily find the reason if they earn less than others by the end of the year."
With help from the application, farmers can save 3,000 yuan per hectare, he added.
Despite serious floods, the farm's total grain output in 2019 reached 750 million kg, enough to feed all Chinese people for a day.
Boasting a pristine ecology and one of the world's largest black soil zones, Heilongjiang is the most important grain production province in China.
Recognizing the ecological advantages of the black soil, Jiansanjiang adheres to the modern agricultural production mode of intensification, making a great contribution to ensure national food security.
Since its construction in the 1970s, it has produced 108 billion kg of grain with an arable area of 750,000 hectares.
Now its annual grain output can reach 6.5 billion kg, accounting for one-eleventh of the province's and 1 percent of the country's output.
It has become the national key strategic commodity grain production base, safe food production base and modern agricultural demonstration zone.