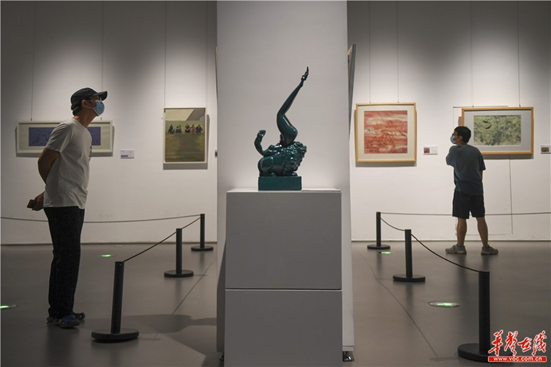 The photo, taken on July 5, shows visitors enjoy the art works on display. The 2020 Hunan College Graduate Art Works Exhibition opened at the Hunan Art Museum recently. It is organized by the museum, the Hunan Artists Association, and the Fine Arts Academy of Hunan Normal University. There are 200 exhibits by graduate students and more than 120 ones by teachers. The works are of several categories, such as Chinese painting, oil painting, watercolor, wood block, calligraphy, sculpture, and comprehensive materials. They represent the achievements of Hunan's art education in the institutions of higher education.
The exhibition will open until July 18. The opening hours are between 9:00 and 17:00 every day, except for Monday. (Photo/Gu Pengbo, Chen Wei, Hunan Daily)
This article is from Hunan Provincial Government www.enghunan.gov.cn.
Translator: Pang Yuehui
Chinese source: hunan.gov.cn