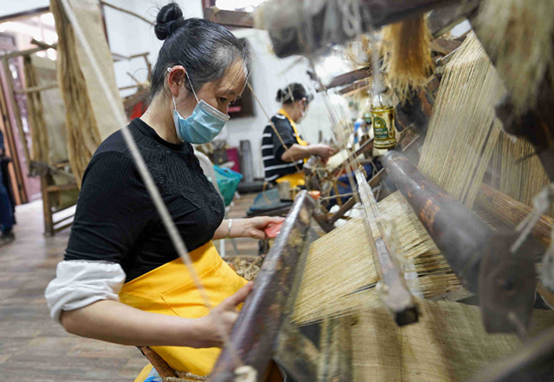 Two workers weave xiabu cloth on traditional looms at a workshop in Rongchang, Chongqing. [Photo/Xinhua]
CHANGSHA-Tan Zhixiang, 54, is witnessing a rise in the popularity of Liuyang xiabu cloth, an intangible cultural heritage item that originated in Liuyang, Hunan province.
The cloth, made of ramie, a type of vegetable fiber known as "Chinese grass", was exported to Japan and other countries as a highly prized commodity as early as the Qing Dynasty (1644-1911). In the 1980s and 1990s, more than 100,000 bolts of the cloth were sold overseas every year.
However, the cloth's production has declined due to its complex processing and other drawbacks.
"More than 60 manufacturing processes are needed to make high-quality xiabu cloth," Tan said. A lot of craftspeople who once made the cloth, including Tan's wife, chose to find other jobs with higher pay.
As an inheritor of the intangible cultural heritage, Tan never gave up his dream of restoring the cloth's past popularity. Born into a family of cloth makers, he started studying the technique to make xiabu, which means "summer cloth", at the age of 12 and was the fifth generation of his family to inherit the cultural heritage.
Lu Songyuan, who also learned how to make the cloth, said: "Every family in my hometown used the cloth, especially in summer, because it was breathable. We should bring the cloth back into people's daily lives."
Lu has founded a company to promote the cloth and also designed bags, clothing and other products featuring it. In 2018, his company's products were shown at a fair in Paris.
Yi Hongbo, a designer from Liuyang, featured the cloth at New York's international fashion week. Now the cloth and related products have been sold to Japan, France and other countries.
Tan has provided raw ramie materials to nearly 200 villagers, including some from poverty-stricken households, and organized them to produce the cloth, helping them increase their incomes.
"As an intangible cultural heritage, the cloth reflects profound culture and wisdom," Lu said.
"We hope to make the cloth a popular product by improving the quality of raw materials, refining the process and optimizing the design."
Source: China Daily