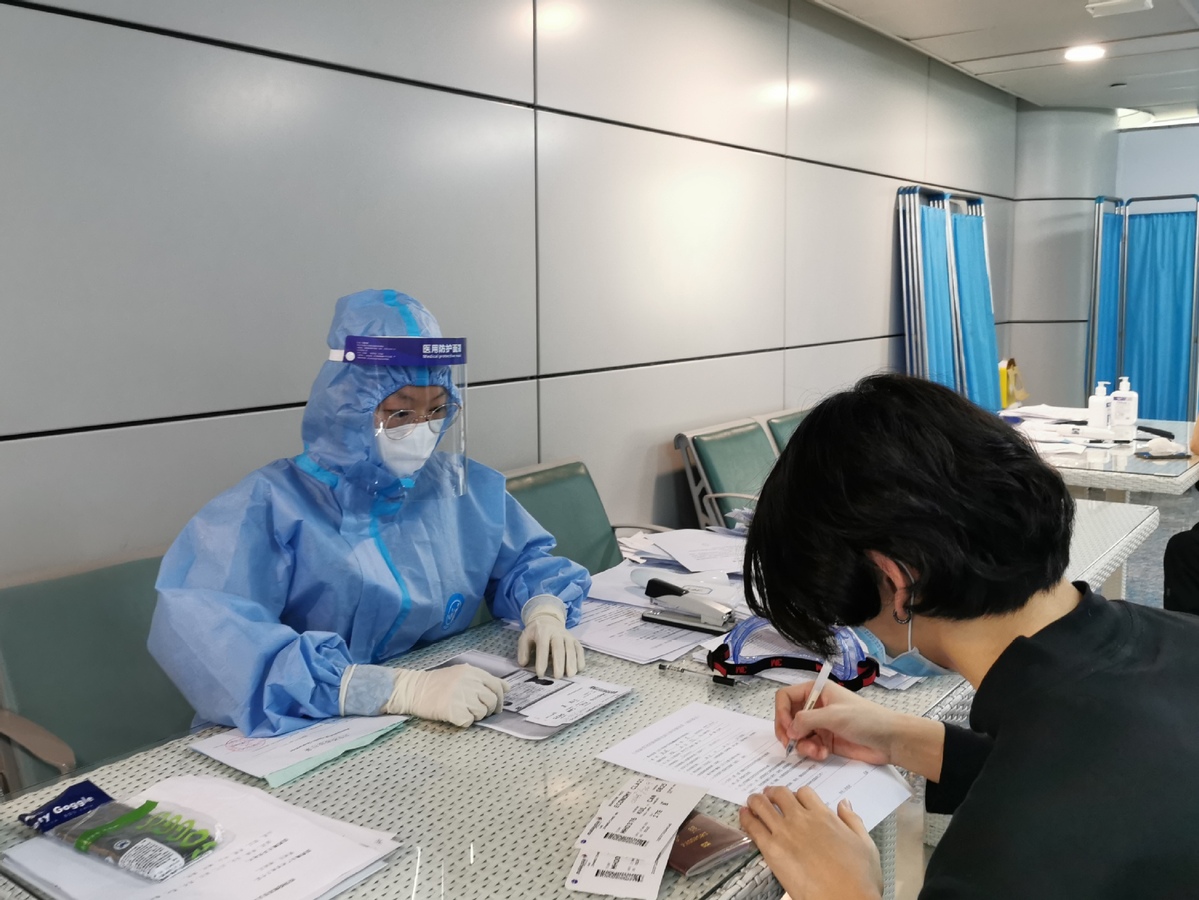 An Inbound passenger fills out an epidemiological investigation form at customs in Guangzhou Baiyun International Airport in Guangdong province. [Photo/Xinhua]
China's civil aviation regulator on Monday issued its third "circuit-breaker" suspension of an international passenger flight since it set up a mechanism to contain the number of imported COVID-19 cases.
The Civil Aviation Administration of China on Monday ordered a one-week suspension of a US-Bangla Airlines flight from Dhaka, Bangladesh, to Guangzhou, Guangdong province, due to some passengers on a recent flight having tested positive for the novel coronavirus, the first circuit-breaker suspension toward an overseas carrier.
A total of five passengers on the June 28 flight from Bangladesh's capital to the provincial capital of Guangdong tested positive for coronavirus, meeting the conditions for a circuit-breaker suspension of the route, the administration said in a statement.
The directive was made in line with an international flights adjustment policy rolled out on June 4.
China eased restrictions on international passenger flights last month under the condition that risks of infection are controlled, highlighting the adoption of a "reward and circuit-breaker mechanism" for the carriers to increase or suspend flights in light of the companies' epidemic control work.
Under the policy, airlines must suspend flights on a route for a week if at least five passengers test positive for the coronavirus. If the number exceeds 10, the airline must suspend the flights for four weeks.
As an incentive, carriers may increase the number of international flights to two per week on a route if for three consecutive weeks no passengers test positive for the virus.
On June 14, the administration issued its first circuit-breaker directive and demanded a four-week suspension of a China Southern Airlines flight, also from Dhaka to Guangzhou, after 17 passengers tested positive for the coronavirus.
The civil aviation regulator issued the second directive for a one-week suspension of a Sichuan Airlines flight from Egypt's capital, Cairo, to Chengdu, Sichuan province, on July 1 after six passengers tested positive.
China has seen confirmed cases involving travelers from overseas outnumber locally-transmitted cases in the past six days, according to data from the National Health Commission.