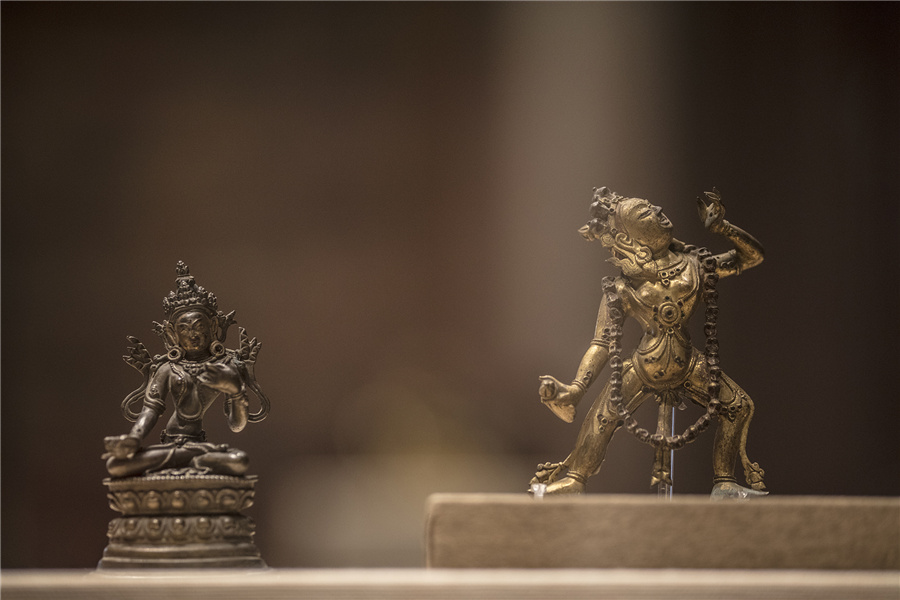 Tibetan Buddhist statues from the Capital Museum's collection are on display at Auspicious Land, an exhibition of Tibetan Buddhist paintings and sculptures at the Tsinghua University Art Museum.[Photo provided to China Daily]
An exhibition of traditional Tibetan Buddhist scroll paintings in Beijing reveals the rich history of thangka.
The late 20th-century author and scholar Shen Congwen is best known for examining regional cultural heritage in his works.
Lesser known is that he developed an authority on the study of ancient Chinese attire.
Shen once donated four vintage Tibetan thangka paintings from his own collection to the Central Academy of Arts and Design, which merged with Tsinghua University in 1999 to become the Academy of Arts and Design.
These traditional Buddhist paintings were then transferred to the collection of the Tsinghua University Art Museum after it opened in 2016. They're now on show at Auspicious Land, an exhibition of Tibetan Buddhist paintings and sculptures that's running through Oct 25.
It displays 38 thangka paintings from the Tsinghua University Art Museum's roughly 13,000 works. The scrolls are displayed in juxtaposition with dozens of gilt-bronze Tibetan Buddhist statues on loan from the Capital Museum in Beijing.
The Tsinghua University Art Museum is temporarily closed because of the COVID-19 epidemic. A virtual tour of the exhibition is available on the museum's website.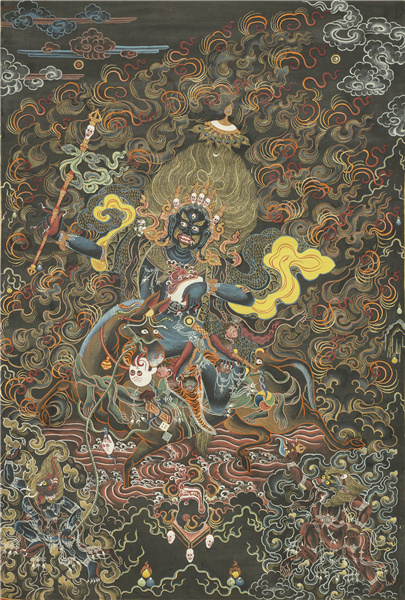 A Qing Dynasty thangka features Palden Lhamo, an iconic figure from Tibetan Buddhism.[Photo provided to China Daily]
Thangka are known for their striking palettes and sophisticated decorative elements.
Fine quality, expensive metallic and mineral pigments have ensured the hues have survived for centuries. Thangka creation demands advanced painting and embroidery techniques. A piece may take artists months, years and even decades to complete.
It's also called "a mobile niche" since Buddhists carry them around to use during meditation.
Well-preserved vintage thangka paintings are highly sought after.
A 15th-century embroidered silk thangka once in the imperial collection of the Ming Dynasty (1368-1644) fetched HK$348.4 million ($45 million) at a Hong Kong auction in 2014.
The exhibition at the Tsinghua University Art Museum reflects a diversity of the styles and imagery of thangka.
An Su, the exhibition's co-curator, says the thangka paintings on show are dated between the 17th and 20th centuries. Most were acquired by the teachers at the initial central arts academy in the 1960s.
"The oldest (displayed) thangka, which is painted against a black background, dates to the late 17th century," she says.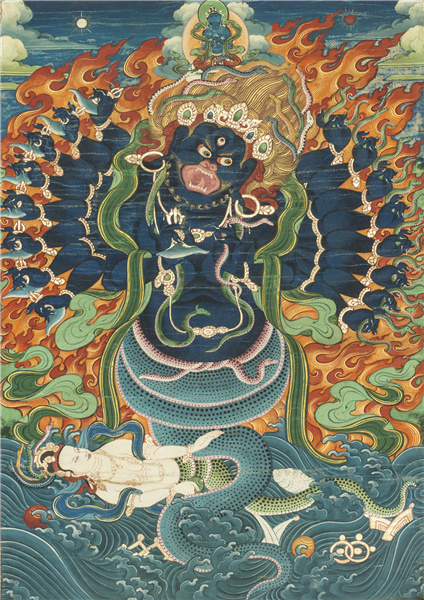 A Qing Dynasty thangka portrays Manjushri Nagaraksha, a deity believed to protect people from plagues.[Photo provided to China Daily]
"It depicts Kubera, a protector and lord of wealth, who's framed with an exquisite brocade decorated with raised floral patterns in gold and silver threads, presenting the most highly developed weaving techniques at the time."
She adds the smallest painting on show depicts Jetsun Milarepa, a Tibetan Buddhist master and accomplished poet. The thangka, which measures 29 centimeters by 20 cm, shows Milarepa clad in white. His skin appears greenish grey because of his solitary lifestyle and strict diet. He strikes his typical pose with his right hand to his ear as he listens to his own singing.
The exhibition shows the museum's rich collection of thangka paintings, depicting famous teachers of four schools of Tibetan Buddhism, such as Tsongkhapa.
It also shows depictions of other major deities. For example, two paintings, including one donated by Shen, depict Nagaraksha who has a wrathful look on his face. He has nine fierce faces and 18 hands, and his lower body is a serpent tail. The deity is believed to protect people from noxious plagues.
A section at the exhibition focuses on various goddesses and protectors portrayed in thangka.
Two paintings, both against a black background, are from Shen's old collection.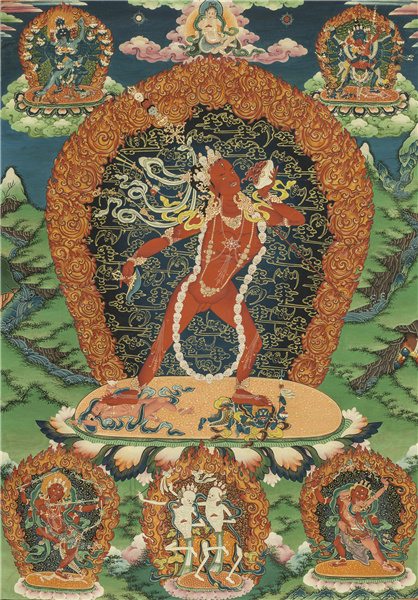 A Qing Dynasty thangka depicts the goddess Naro Dakini.[Photo provided to China Daily]
One features the naked dancing female deity, Naro-mkhav-spyod-ma, also known as Naro Dakini, who often symbolizes wisdom and strength. The other depicts the female deity, Dpal ldan lha mo, or Palden Lhamo, who's the guardian of Lhasa.
An says some thangka paintings on display show exchanges between Tibetan and Han Buddhism. For instance, one created between the late 18th and early 19th centuries that depicts a wrathful Vajrabhairava deity shows the popular adoption of a three-section composition in thangka painting that began in the 15th century.
"A principal Buddhist deity or teacher is in the center, surrounded by associated gods and lineage figures of much smaller sizes, symmetrically placed in the landscapes of the heavens above and the Earth below," An says.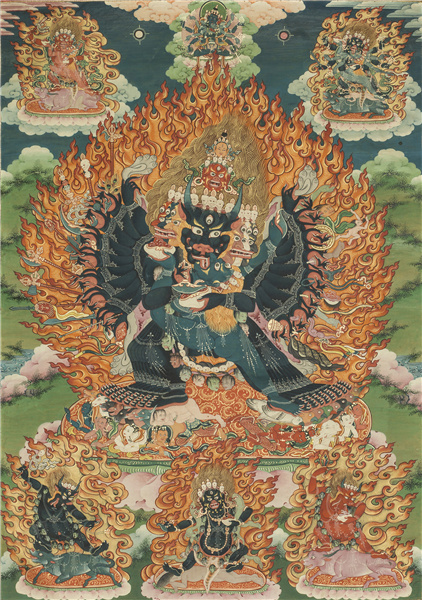 A Qing Dynasty thangka features Vajrabhairava as the center deity.[Photo provided to China Daily]
"The three-section form shows an influence of the creation of hand-scroll paintings in Zhongyuan (the Central Plains region) that divided a landscape into the foreground, middle ground and background."
She says thangka artists at the time also incorporated the precise brushwork of the gongbi genre of classical Chinese paintings.
Many thangka paintings on show are drawn on silk, while two dating to the early 20th century were made using the rare duixiu (piled-embroidery) technique, which requires meticulous skill to cut silk fabrics into various shapes and attach them to the painting to create a three-dimensional effect.
An says the special technique is still preserved by some thangka artists in Qinghai province and the Tibet autonomous region.