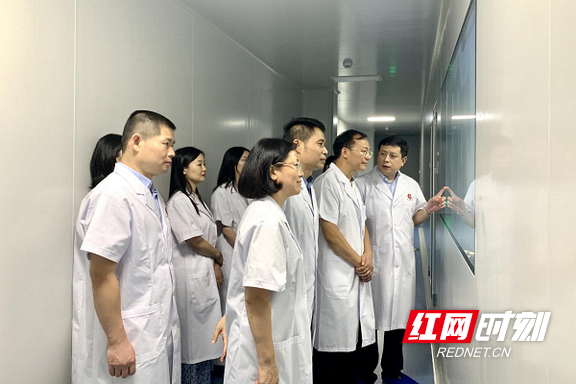 Lui Zuyuan in Yongheyangguang.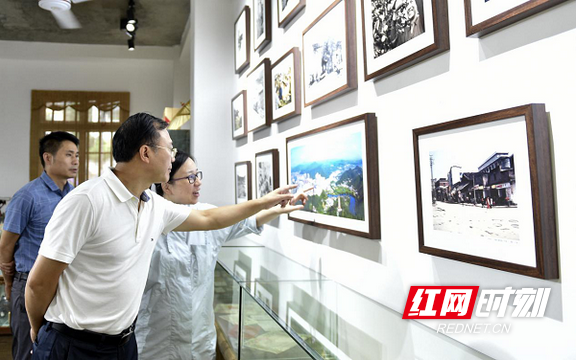 Li Zuyuan in intangible heritage center of the old railway station.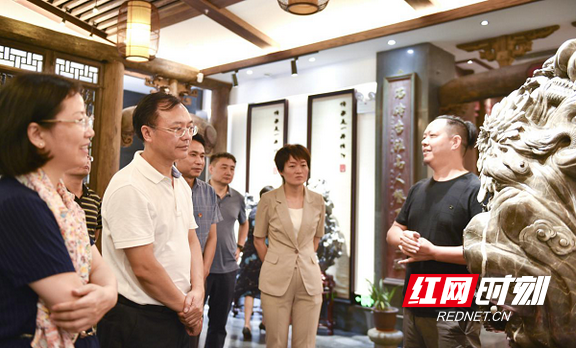 Li Zuyuan in chrysanthemum stone exhibition.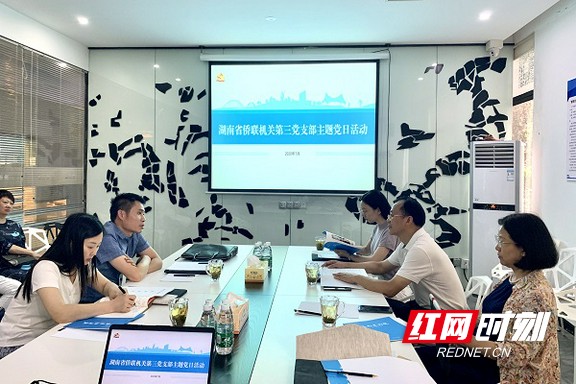 "Theme Party Day" activity of the third Branch of Hunan FOC.
On July 8, Li Zuyuan,party member and vice chairman of Hunan FOC fieldresearched in Liuyang on Yongheyangguang, Huazhong seedling Co, two overseas Chinese enterprises, as well as Liuyang cultural industrial park. The fieldresearch was part of "Theme Party Day" activity of the third Branch of Hunan FOC.
At Yongheyangguang, Li Zuyuan listened to the introduction to the enterprise, in terms of development history, product introduction, market size and development planning, and responded to the relevant requests of the enterprise. Li said that Yongheyangguang, as an enterprise set up by returnees, has achieved good results in the medical industry. Changsha Federation of Overseas Chinese and Liuyang relevant departments should give more support to the enterprise, strengthen publicity and promotion, and play the role of "connecting the bridge" to boost the development of the enterprise. At the same time, it was hoped that enterprises can take the initiative to connect with local departments, understand relevant policies and make two-way efforts to contribute to local economic development.
In Liuyang cultural industrial park, there are dominated by innovative creativity, cultural and economic business incubation platform the wisdom of liuyang river base, have bearing the liuyang city collective memory of the old train station the papers and base, carrying heavy culture and wisdom of grass cloth and center, more hunan chrysanthemum stone carving art treasure in the field of chrysanthemum stone mansion. Li said that as an industrial cluster with local cultural characteristics, Liuyang cultural industry Park should highlight competitive industries and stimulate the vitality of intangible cultural heritage. In the future, the brand activities of Hunan Overseas Chinese Federation can be combined to let more overseas Chinese and Chinese teenagers understand intangible cultural heritage and promote the overseas inheritance of Excellent traditional Chinese culture.
During the trip, members of the third Party Branch of FOC made a discussion and speech on how to guide the work of "Overseas Chinese Cultural Exchange Base". In his summary speech, Li Zuyuan pointed out that the overseas Chinese cultural exchange base is an important position to carry out cultural exchange activities at home and abroad. All the staff should establish the consciousness of serving overseas Chinese, actively understand the difficulties encountered by enterprises in the front line, and carry out targeted assistance. We should establish the sense of service for economic construction and social development, combine the overseas study talents and economic construction closely, and promote the work of attracting investment and wisdom in Hunan. It is necessary to cultivate cultural awareness, combine local industrial advantages and natural and cultural advantages, highlight urban cultural characteristics, and let overseas Chinese and Chinese teenagers have an in-depth understanding of Chinese culture and Hunan culture.
Liu Bin, full-time vice chairman of Changsha FOC, and Guo Rui, Standing committee member of Liuyang Municipal Party Committee and Minister of United Front, participated in the survey.