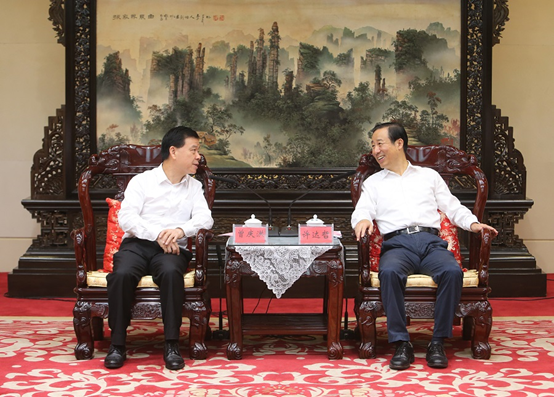 On July 8, GAC Mitsubishi Motors' new energy vehicle project opening ceremony and R&D Building completion inauguration ceremony were held in Changsha Economic and Technological Development Zone. Xu Dazhe, Hunan governor, met with Zeng Qinghong, Guangzhou Automobile Group Co., Ltd (GAC Group) chairman of the board, who came to attend the above activities.
Provincial leaders Hu Henghua, Xie Jianhui, Chen Fei, and Secretary General Wang Qun, attended.
It was said that the new energy vehicle project will take the respective advantages of GAC Group and Mitsubishi Motors, to jointly develop the first new energy vehicle model. The total investment is about 1 billion yuan, and it is planned to achieve mass production in 2021. It will reach full capacity of 100,000 new energy vehicles production annually. The completed GAC Mitsubishi R&D Building is an important part of the GAC Mitsubishi R&D Center. The first phase of the center is scheduled to be put into operation in March 2021 and will provide support for Hunan's automotive industry cluster development, intelligent manufacturing, and local innovation.
Governor Xu congratulated the opening of the GAC Mitsubishi's new energy vehicle project and the completion of the R&D Building. He said, "Hunan is now seizing the strategic opportunities of the rise of central China; focusing on cultivating advantageous industrial clusters such as construction machinery, rail transit, small and medium-sized aero engines; and, developing strategic emerging industries including new materials, digital economy, and intelligent manufacturing, and being committed to creating manufacturing industry high-quality development base. In recent years, GAC Group has been actively deploying automobile and auto parts production, and business logistics services in Hunan, and the cooperation between the two parties has achieved fruitful results. He expected GAC Group to further increase its investment in Hunan; gather supporting enterprises; optimize product structure; strengthen technological innovation; and, make greater contributions to promoting the high-quality development of Hunan's manufacturing industry. Hunan government will open more green channels; increase service efforts; strengthen factor guarantees; and, go all out efforts to create a good business environment for enterprise development, and help promote GAC Group advancement in Hunan.
Chairman Zeng remarked that Hunan has obvious location advantages and sound business environment, which is a hot spot for investment and business development. GAC Group is willing to join hands with Hunan to cope with the COVID-19 pandemic impact; strengthen cooperation and overcome difficulties; and, carry out in-depth collaboration in product R&D and production, industrial supporting capacity enhancement, and major project construction, to achieve mutual benefits and win-win results.
This article is from Hunan Provincial Government www.enghunan.gov.cn.
Translator: Yu Jiangjiang
Chinese source: hunan.gov.cn