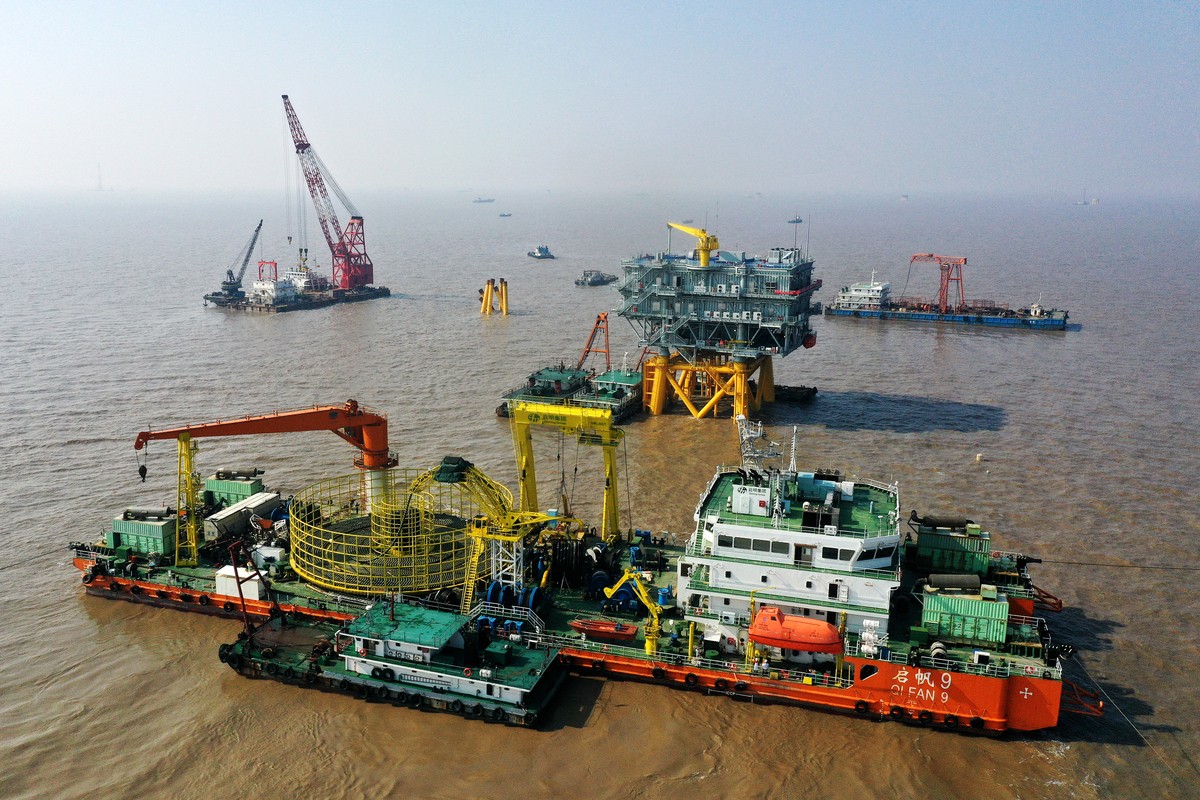 A wind power generation farm is being installed off the shore in Zhoushan, East China's Zhejiang province, on Dec 8, 2019. [Photo byYao Feng/For China Daily]
China General Nuclear Power Corp, one of the country's largest nuclear power companies, said its total installed domestic capacity of new energy is expected to reach 24 million kilowatts by the end of this year, up from 20.54 million kW as of the end of May.
The company's total domestic new energy assets now stand at 194.7 billion yuan ($27.74 billion), with net assets reaching 58.8 billion yuan. It will invest some 40 billion yuan in new energy-related procurements this year with deepening cooperation with more than 50 suppliers and distributors, it said.
The company, also known as CGN, will keep coming up with another 3 million kW of newly added installed capacity annually during the next five years, and total installed capacity of CGN's new energy in the country will exceed 40 million kW by 2025, said Li Yilun, general manager of CGN New Energy, a subsidiary of CGN.
The company has actively promoted clean energy development including nuclear, wind, biomass and solar power in the past few years. It began expanding its clean energy business overseas since 2010 in countries including France, South Korea and Egypt.
With its clean energy business covering 28 countries worldwide as of last year, the company's on-grid power capacity reached 261.6 billion kW, equal to a carbon dioxide reduction of more than 210 million tons.
The company now has 59 new energy projects under construction in the country, including eight offshore wind projects with a total installed capacity exceeding 7.05 million kW, said Zhang Jianzhong, deputy head of the subsidiary firm.
It aims to add another 4.22 million kW of new energy projects in 2020. Despite the outbreak of the COVID-19 pandemic, 50 of all its projects with a total installed capacity of 6 million kW had resumed work as of April 26.
Against the backdrop of the complex international situation and the the COVID-19 pandemic, it's necessary to deepen cooperation with strategic partners, Zhang said.
The company's 19 power plants in Hubei province-which was hit hardest by COVID-19 in China-generated up to 368 million kW of power from Jan 24 to March 27, it said.
An analyst said CGN, like many other power producers, has been very keen to develop clean energy at home and abroad.
It is expected that companies like CGN New Energy will continue seeking more advanced cooperation at home and abroad in the coming years, said Joseph Jacobelli, an independent energy analyst and executive vice-president for Asia business at Cenfura Ltd, a global renewable energy company.