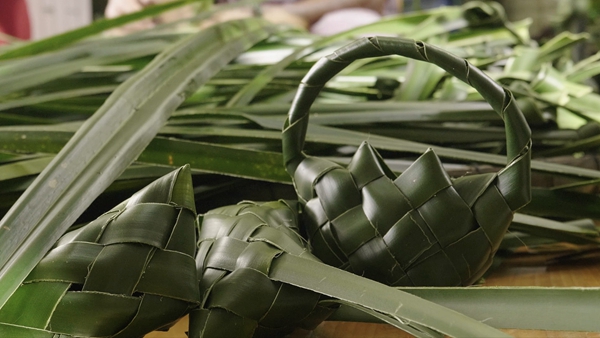 Zongzi, a traditional snack made from glutinous rice and wrapped in pandan leaves.[Photo provided to China Daily]

Documentary series explores the culinary landscape of Dongguan in mouthwatering style, Xu Fan reports.

Tasting delicious food is not only one of life's joys, but sometimes serves as a "window" to the history and culture of a remote area that you have never set foot on.

This was feeling that resonated strongly with documentary producer Li Jie when she traveled to Dongguan in South China's Guangdong province for the first time in July 2017.

As part of the shooting of the documentaryA Bite of Dongguan, she was visiting the city to investigate the local delicacies. The city, little recognized for its food, is known as "the world's factory" due to its being home to thousands of manufacturing enterprises.

The three-episode documentary, which was released on June 21, has garnered a lot of online acclaim, exemplified by its score of 8.6 out of 10 on the popular review site Douban.

The crew behind the production are mainly from DOClabs Beijing, known for the hit documentary franchiseOnce Upon a Bite.

As a veteran with a documentary-producing career spanning two decades, Li has traveled to many places and tried many exotic foods, but neither she nor her crew had ever paid attention to delicacies in Dongguan.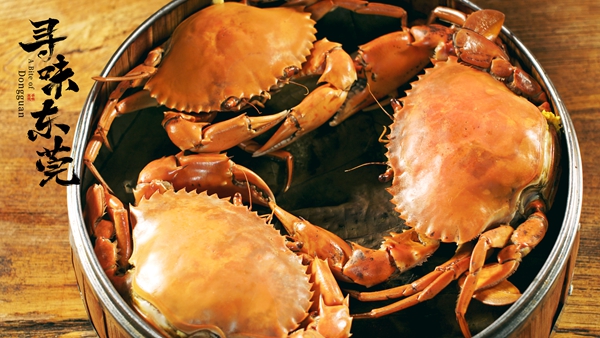 Steamed mud crabs.[Photo provided to China Daily]

So, even three years after her first trip to the city, which is nestled between Shenzhen and Guangzhou on the Pearl River Delta, she still clearly remembers most of the details.

"It was a rainy day. I saw the estuary of the Pearl River and the Humen Bridge, forming a spectacular sight that stirred a sense of awe deep in my heart," says Li.

A town located in southwestern Dongguan, Humen is famous for the deeds of the 19th-century imperial commissioner Lin Zexu, who was assigned by the Qing Dynasty (1644-1911) ruler of the time. It was where he destroyed over 1,000 tonnes of smuggled opium that had been confiscated from foreign traders, an act widely regarded as a turning point in Chinese history.

Aside from that piece of history, which most Chinese are familiar with, it was the local dishes, many of which Li had never tasted before, that stirred her curiosity to explore further.

In Dongguan, fruits are used as ingredients in the cooking of hot dishes.

For instance, locals cut the white, softly scented flesh of litchis into slices, using each one as a layer to mix with roasted chicken, to create a popular dish calledlizhi pianpiji, or, rather literally, "litchi fruits with slices of chicken".

"Dongguan is one of the largest production bases of litchis in Guangdong, with two of the major local species being nuo mi ci and gui wei (shaped like hearts and smelling like blooming Osmanthus flowers, respectively)," introduces Li.

Bananas are also a favorite ingredient for locals cooks. Before they ripen, they are chopped into pieces to be cooked with duck, pork or fish.

"The green-skinned bananas taste like taro, creating an appealing flavor when they are cooked with meat," explains Li.

Perhaps one of the most "strange" dishes in the documentary,xian jiang shui, or salty ginger soup, is a highlight of the whole thing.

With 3 kilograms of ginger roots chopped into little pieces and tipped into a pot, local cooks then add a series of ingredients, including glutinous rice balls, pork liver and fried eggs, before pouring in rice liquor, yellow liquor and milk. Knowledge of the dish, however, is even limited among locals.

"Usually, we follow a rule to mainly feature foods that are 'strange' to most of our audience, which stirs their curiosity to stay with the program," says Li.

For aquatic food lovers, the documentary is also an eye-opener. In the city, people are able to enjoy mud crabs throughout the whole year, but the best time to taste the seemingly atrocious delicacy is the early summer, when a "lucky" one in every 1,000 crabs will see its body transform from green into golden yellow.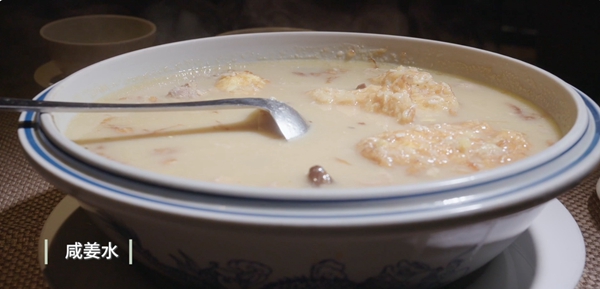 Salty ginger soup, a local delicacy.[Photo provided to China Daily]

Calledhuang you xie(yellowoil crabs), these distinctive decapods are believed to have a much better flavor than their more common counterparts, making them highly sought after among local restaurants.

But for Li, the "secret" that makes Dongguan cuisine attractive to the audience can't just be found in restaurants, where food is cooked in a delicate and complex way, like most Cantonese dishes.

It is the countryside-where locals have inherited the traditions and customs from older generations-that has played a more important role in shaping the distinctive cuisine practices of Dongguan.

Eatingzongzi, a Chinese snack made from glutinous rice stuffed with different fillings and wrapped in leaves, is a traditional custom across the nation during the Dragon Boat Festival.

In Dongguan, rural residents have turned the practice of wrapping the tasty treats into an art. They collect leaves from pandan trees, cutting the stick-studded edges of the leaves. Then they select strips of leaves with similar lengths to weave into shapes like baskets or bags, which are filled with rice and yolk to make the pandan-leafzongzi.

"The native population in Dongguan has been essentially stable (many residents are locally employed) in recent decades, thus making it possible to preserve their traditional cuisines," says Li.

Gao Hao, director of the documentary, reveals that the delicacies are not the only "protagonists" in food-themed documentaries, and sometimes the stories of the people behind the dishes are more interesting.

"For us, the main rule for making a good documentary is to always tell a good story," he adds.