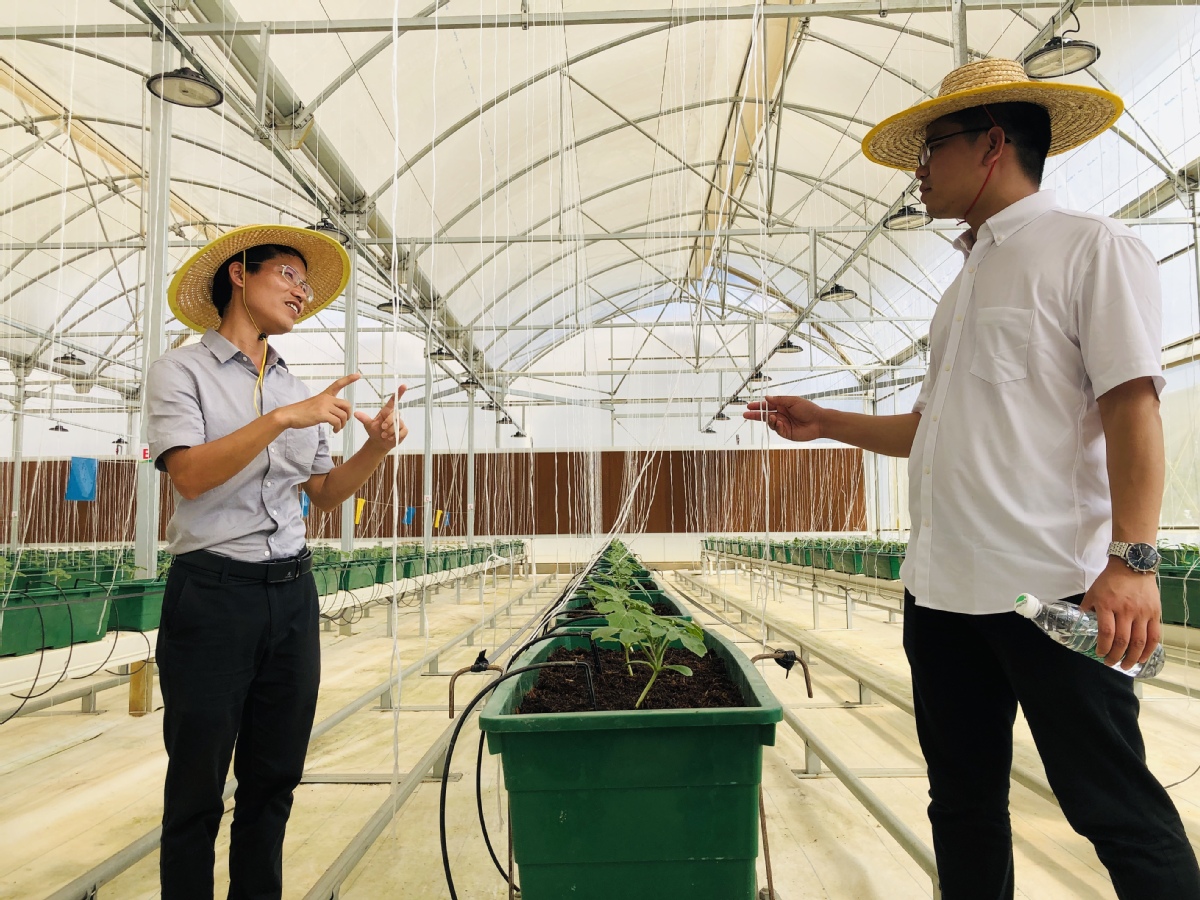 He Wei (left), a worker at the modern agricultural park in Lianzhang village, in Qingyuan, Guangdong province, explains how to plant watermelon to a visitor. [Photo by Qiu Quanlin/China Daily]
Feng Caixia began working at a toy factory in Lianzhang village, her hometown in Qingyuan, Guangdong province, in 2017 after quitting her job of seven years at a shoe factory in the Pearl River Delta region.
"The toy factory now has more than 100 workers from my hometown, helping us to earn a monthly salary of about 3,000 yuan ($427)," Feng said.
Working at the toy factory, established in 2017 with an investment of about 500,000 yuan, has been one of the most efficient ways for farmers in Lianzhang, a formerly impoverished village in the north of the province, to boost their incomes.
"It used to be a school, but now it is a factory that helps provide us jobs at home," said Feng, who is a processing line director at the factory.
She said the factory employs more than 100 workers during peak seasons, with most from Lianzhang and nearby villages.
"Many of us had to work outside our hometown in the past because there were few job opportunities," Feng said.
About 500 meters from the factory, a modern agricultural scientific demonstration park, jointly invested in by the village committee and property giant Country Garden, was put into operation in 2019, encouraging a growing number of villagers to stay put.
Aiming to advance targeted poverty alleviation efforts, a new model integrating agriculture, industry, and poverty alleviation has been launched in Lianzhang, which President Xi Jinping visited in October 2018.
After operations began at the toy factory and agricultural park, the per capita income of the village-which has 482 households-reached more than 22,000 yuan last year, the village committee said, representing a year-on-year increase of 42.3 percent.
"I started working here at the end of 2017, and I have seen great changes in the village," said Zeng Chunlan, an employee at the toy factory.
She said many young people who had taken jobs outside their hometowns had returned to work at the factory.
"The factory has helped solve the problem of left-behind children, as the job allows many women like me to take care of children," Zeng said.
She said a school bus service was put into operation last year.
In many once-poor counties in northern Guangdong, a growing number of modern factories have been set up in recent years, allowing farmers to work in their hometowns.
In Lianzhou, a nearby city, a factory that produces dried bean milk cream in tight rolls has also helped provide jobs for dozens of local farmers.
"The city has a long history of making dried bean milk cream, but there was low production efficiency as most farmers had been making such agricultural products in their family run workshops," said Pan Wenge, general manager of Qilian Agricultural Products.
In 2017, GAC Group, a leading automobile company based in Guangzhou, Guangdong's provincial capital, set up the Qilian company with an investment of 4.5 million yuan to help upgrade the efficiency of producing traditional agricultural products.
"We invited workers, most of whom are local farmers, to visit our automobile factory in Guangzhou to show them what modern production should be like," Pan said.
After upgrades, the factory's production value has increased by more than 300,000 yuan a year, he said.
"In addition to providing jobs for local farmers, we also purchase beans from local farmers," Pan said. "The operation of the factory has helped increase their incomes."
He said the factory is planning to invest more to further upgrade production efficiency, focusing on making high-end dried bean milk cream for sale in the Pearl River Delta region.