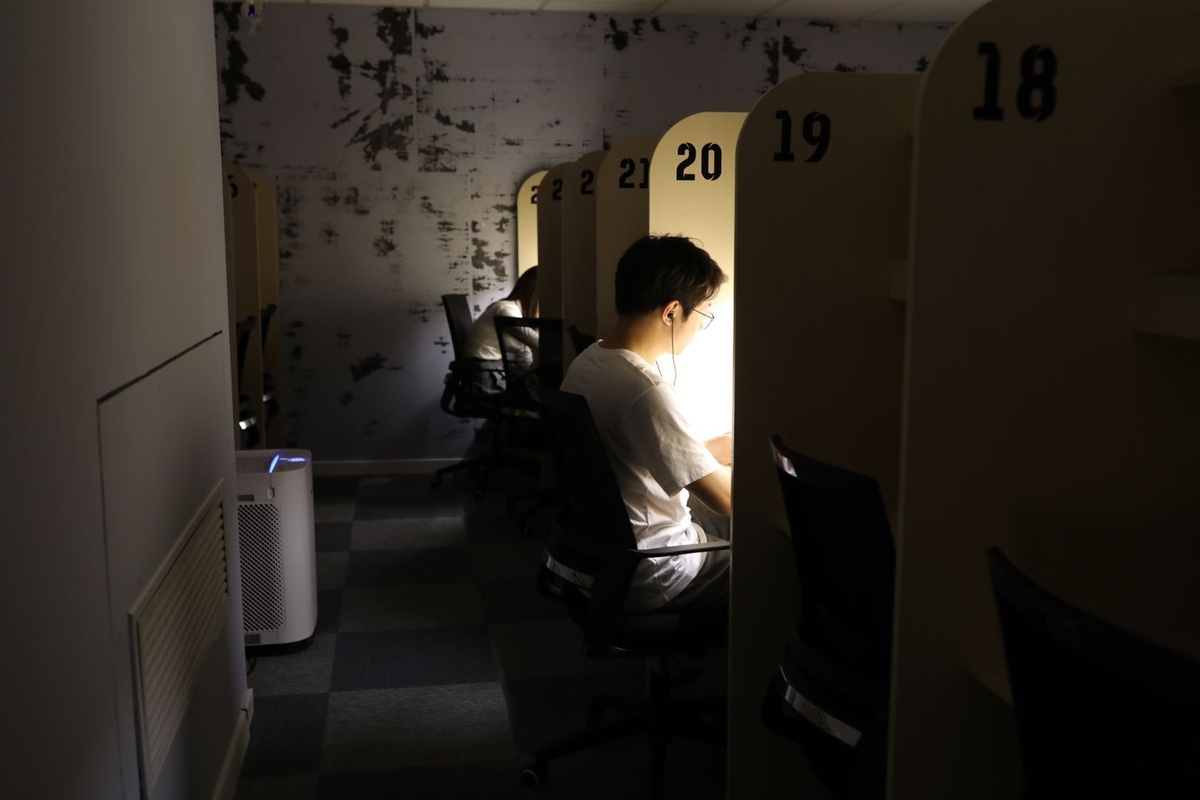 Customers study at the Heizu Self-study Room in the Dongfang Tower in Shanghai's Pudong New District.HE QI/CHINA DAILY
Frustrated by the lack of suitable study venues in Shanghai, Gao Mengjun founded the Heizu Self-study Room in December after seeing one in a Korean television drama.
"I was studying Japanese several years ago and I couldn't find a comfortable place to study in the city. This was why I decided to set up this space," the 28-year-old Shanghai native said.
"There are too many distractions when studying at home and there are just too many students waiting for seats in libraries. Coffee shops, on the other hand, are too noisy while coworking spaces are expensive."
There are many who share the same sentiment.
Huang He, a graduate student, has been going to the self-study room five days a week to prepare for his legal exams.
"It's difficult for me to focus on my studies as I have a kid at home," the 24-year-old said. "Such a facility is ideal for me because it is quiet and cheap and the ambience is conducive for studying."
Located in Dongfang Tower in Shanghai's Pudong New District, the self-study room measures more than 300 square meters and has 83 cubicles. At 980 yuan ($140) a month, the self-study room is cheaper than leasing a coworking office.
Heizu currently has 500 members, even though the business was affected by the novel coronavirus outbreak a month after it opened. Gao said most of her members were born in the 1980s and 1990s.
"White-collar workers are our main clients. Some of them need to prepare for their certification examinations, some have part-time jobs, and some just need a quiet place to do their work," Gao said.
"The market is still in a nascent stage in China compared with Japan and Korea where it has already matured. This is why you'll find many similar spaces in the city, although most of them lack professional equipment."
To stand out from the competition, Gao went for better quality construction and design materials.
She tested 138 types of lamps before settling on a model that has a cooler color temperature of 4,500 Kelvin, which is ideal for studying.
"People won't feel tired when studying for long periods under such lighting conditions," she said. "Our study room also features a large relaxation area and all cubicles have high quality tables and chairs that members will feel comfortable in."
Gao also plans to cooperate with industrial parks so that their workers can have a space to study outside of work.
According to market consultancy iiMedia Research, the sharing economy in China, which includes shared office and accommodations spaces, has been expanding rapidly in recent years, reaching 7.4 billion yuan in 2018 and likely to exceed 9 trillion yuan this year.