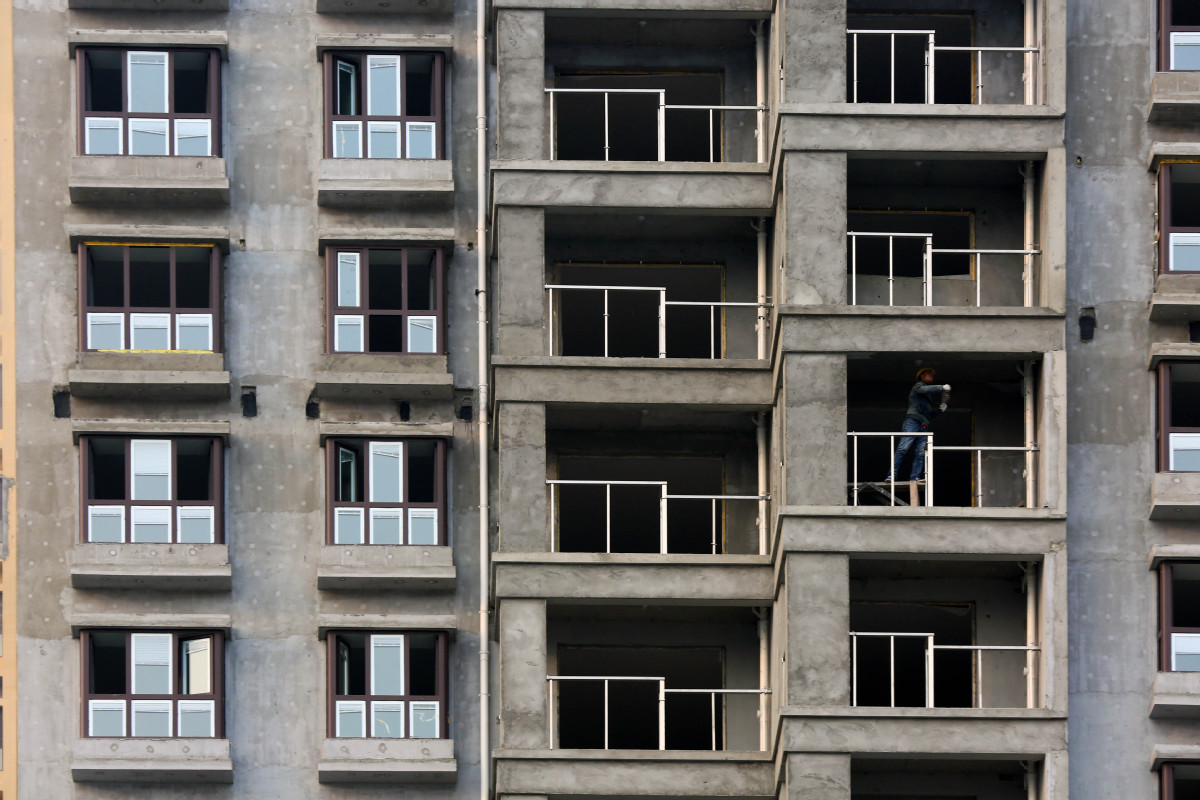 An employee carries out construction work at a housing project in a school district in Huaian, Jiangsu province. ZHOU CHANGGUO/FOR CHINA DAILY
At least 10 cities and provinces have launched measures to cool residential property markets in the neighborhood of sought-after schools, industry insiders said.
Some 21 property agencies were investigated on May 21 by the Beijing Commission of Housing and Urban-Rural Development for suspected speculative transactions in such residential properties and for violating leasing regulations.
This was among the moves by the national capital to tame the prices of apartments in the vicinity of premium schools that tended to rise unreasonably.
In big Chinese cities, families with little children are required to live in homes within a fair distance from schools. School admissions are made on the basis of the residential address of seat applicants. Apartments near schools tend to command higher prices because demand outstrips supply.
Besides Beijing, the city of Shenzhen in South China's Guangdong province launched a three-month crackdown on misinformation and vicious home price hikes after the average price of apartments near schools surged about 20 percent year-on-year in April.
"In certain areas, a good schooling apartment can command 80,000 yuan ($11,404) per square meter, which is more expensive than other apartments only one street away," said Ding Zuyu, CEO of E-House (China) Enterprise Holdings Ltd, a property agency.
Shanghai has also reformed its enrollment policies for both primary and junior-middle schools in a bid to strike a balance between public and private educational institutions.
According to Ding, Zhejiang and Sichuan provinces, and cities or municipalities like Nanjing and Suzhou of Jiangsu province, Shanghai, Shenzhen, Beijing, and Chongqing have announced their own measures to rein in home prices in school districts.
"Recent policy changes in some cities are aimed at cooling the frenzy among parents to find ideal homes in school districts," said Ding.
Under the nation's nine-year compulsory education system, consisting of six years of primary schooling and three years of education in junior-middle school, students are not allowed to pick public schools. They can enroll only into the school nearest to their home.
Chinese parents, eager to give their children a head start in life, tend to buy homes near reputable schools, thus creating demand for realty in the area.
"Most of the homes in school districts are old flats, but cost at least 15 percent more than new properties in the same district," said Lu Wenxi, a researcher with Centaline Shanghai.
Efforts were made in the past few years to give tenants, not just home-owners, in school districts similar rights to children's education.
"Proximity to good schools is always important to families. Demand for residential properties in school districts is not necessarily coming from speculators or investors alone but end-users as well," said James Macdonald, head and senior director of Savills China research.
"It is the uneven spread of educational institutions across a city that distorts demand and supply in certain areas. This is not unique to China. Many developed nations face a similar situation," said Sheng Xiuxiu, residential sector research director of JLL China, a real estate services firm.
Jiang Peng, senior associate director of research in East China with Colliers International, said the central government's principle that "housing is for living in, not for speculation", and policy adjustments are expected to slam the brakes on runaway home prices in school districts of major cities in China. But only time will tell whether or not such measures were effective.
"From a long-term perspective, the scramble for homes in certain districts can be eased by ensuring all schools offer quality education and related services, and are located all over a city," said Sheng.